Found July 19, 2013 on Fox Sports:
A.J. McCarron isn't talking about Johnny Manziel. He is staying above it all, not showing any jealousy or dislike of Manziel, not passing judgment, not playing off of Manziel's sudden infamy, not jabbing at Manziel or expressing disapproval. And by no means is he already starting up the hype for the Alabama-Texas A&M game this season. "I can't answer on Johnny Manziel's part,'' McCarron said. "My name's A.J., so everything that has to do with him. . . . He's his own man. I'm not going to speak on another man's business. That's how I was raised.'' "My name's A.J.'' That seemed like a cry out in so many ways. McCarron spoke at the SEC Media Days on Thursday, and the whole thing had the feel of a parent who was chewing out his kid without looking at him or directly mentioning him by name. McCarron, the Alabama quarterback and national champion, clearly has issues with Manziel. But he isn't saying it. Not at all. On Wednesday, Manziel left the SEC media event to get to the ESPY Awards, where he could continue his year-long Heisman end-zone dance. Johnny Name-Dropper hangs out with the Beautiful People of sports now. "Your right I'm not at the espy's!'' McCarron tweeted Wednesday night. "I don't have to be at a award show to know what my team did. I'm back at school working to get another #16.'' Soon after, McCarron deleted that tweet. He said Thursday it had nothing to do with Manziel, and that he deleted it because of the grammar police on Twitter. No, McCarron's not talking about Manziel at all. Someone asked McCarron if he got a chance to see the guy he's not talking about on TV during the ESPYs. "I didn't watch any of it,'' he said. "I'm busy trying to get my teammates to play the best they can play.'' In the end, it doesn't really matter if McCarron is upset with Manziel. In fact, he makes a good point, that the goal in football is to win championships, which he has done and Manziel has not. McCarron apparently feels that a little thing like the national championship is being overlooked. In some ways, he's trying to remind us of old values, of teamwork and selflessness. Yes, those are virtues. But it was coming across like the loser in a beauty pageant complaining that she thought she had aced the interview category. McCarron's solid, mistake-free football is not what we celebrate in this country. He still can't live down coach Nick Saban calling him a game-manager. Manziel is a scrambler, creator, inventor. And also, Manziel keeps finding his way into small amounts of trouble. McCarron set himself up Thursday as the contrast. Someone asked him if he feels he's strangely under the radar for the national champion. "Being under the radar for me is great,'' he said. "I've never been the type of guy to ask for spotlight or want to be in any spotlight. I'm a team player, and I don't care about my personal goals or my personal stats. "In the world we live in nowadays, everything's about social media and what type of fame you can get off of that, and spotlight and everything. That's just not the way I am. I don't need spotlight. I'm happy in my own skin, the person I am.'' Don't forget: He's not talking about Manziel. "I can't go out and act a fool in public,'' McCarron said. "I can't go out and drink excessively and be wild. I can't do that. "I'm not saying that I want to in any type of way, but I want to be the type of (person) younger kids can look up to me. I just want them to have a role model to look up to.'' The truth is, McCarron was trying to go about this with class. It takes skill to scream something out without actually saying it. It sounded somewhat like Saban. McCarron never sounded sour. He looked you in the eye when he spoke, and just set out his philosophy. Of course, that philosophy was in direct opposition to Manziel, who managed to be the centerpiece of the whole SEC media event. They were roommates at the Manning passing camp. Manziel was sent home early after missing a meeting. He said he had overslept, and that no one could call to warn him because his cell phone was dead. He denied reports that he wasn't even in the room that morning. Wouldn't McCarron have known? And didn't he try to wake up Manziel that morning? On Thursday, then, McCarron was in a great spot to be harsh on Manziel if he wanted simply by explaining what happened that night and morning. But McCarron didn't want to talk about that. "My job's to play football,'' he said, "not to be a celebrity off the field.'' Well then, maybe both guys are getting what they want.
Original Story:
http://msn.foxsports.com/cfb/story/aj...
THE BACKYARD
BEST OF MAXIM
RELATED ARTICLES
 Alabama quarterback AJ McCarron told media during SEC Media Days that he accepts the responsibility that comes with a high profile position, but his position does not qualify him to speak of behalf of Texas A&M QB Johnny Manziel. McCarron and Manziel both served as counselor at Manning Camp last weekend. Manziel's name ended up in the media, after a rumor regarding him partying...
Alabama quarterback AJ McCarron is steering clear of the Johnny Manziel questions. McCarron fielded plenty of them Thursday at Southeastern Conference media day, where his Texas A&M counterpart faced the spotlight a day earlier. McCarron and Manziel were roommates at the Manning Passing Academy, where Manziel left early and blamed missing activities on oversleeping. Asked...
Last weekend, Rumors and Rants reported that Johnny Manziel missed morning meetings at the Manning Passing Camp in Thibodaux, LA and was promptly sent home by Archie Manning. While specifics were not divulged at that time, there were several ensuing reports that did confirm Manziel going back to College Station before the weekend at the camp was over, but denying he was kicked out...
Yesterday, Johnny Manziel was grilled about his early departure from the Manning Passing Academy this past weekend. Johnny explained that he "overslept" the morning meetings, which stirred up quite a bit of controversy. Manziel also revealed that he was roommates with Alabama's A.J. McCarron at the Academy, which caused many people to question why McCarron didn't wake him...
Alabama's star quarterback A.J. McCarron didn't get to go to Los Angeles tonight for the ESPY Awards — and it doesn't seem that he's too upset about it. In fact, McCarron decided to take a shot at the athletes in attendance on Twitter: You're right I'm not at the espy's! I don't have to be at a award show to know what my team did. I'm back at school working to...
McCarron has been sort of swept up in the Johnny Football saga, but basically he told the media in the most polite way "Ain't Nobody Got Time For That". "I can't answer on Johnny Manziel's part," McCarron said when asked to address the situation involving Manziel at the Manning Passing Academy, an event in Thibodaux, La., where McCarron and Manziel served as co-counselors...
AJ McCarron and three fellow Manning Passing Academy quarterbacks pulled the sleeping car ride prank on South Alabama QB Brandon Bridge.
Alabama quarterback A.J. McCarron would not address a report that said he tried to wake up an oversleeping Johnny Manziel at the Manning Passing Academy last weekend because the Crimson Tide QB said he did not want to get into another player's business. But in the process of explaining why he would not comment on [...]
The other star quarterback entering into the 2013 college football season is Alabama Crimson Tide quarterback A.J. McCarron. He was recently seen at the same bar in Thibodaux, LA as the Manning brothers, and his roommate for the camp, Johnny Manziel. Unlike Manziel, McCarron was able to get himself out of bed and arrive on-time last Saturday morning at the Massing Passing Academy...
Here's a surprise: Katherine Webb stole the Red Carpet spotlight at the 2013 ESPYs. The 24-year-old girlfriend of Alabama quarterback A.J. McCarron showed up wearing this mermaid inspired dress. Here's hoping this Diehard Beauty attends many more black tie events. [TBL, @cjzero]
HOOVER, Ala. AJ McCarron is a humble, team-first kid, by nature. For once, though, he seemed genuinely relieved to field questions about typically taboo topics, like dynasties and the Heisman Trophy. Thanks to Johnny Manziel. Last week, Manziel made national headlines when he was a no-show at a few events at the Manning Passing Academy in Thibodaux, La. (July 11-14) and subsequently...
Over the past five years at Alabama, Coach Nick Saban's relationship with quarterback AJ McCarron has flourished, and he's understandably happy to have a fifth-year senior quarterback at the helm. "We have a wonderful quarterback who has developed and become a very good leader on our team," Saban said at SEC Media Days in Hoover Thursday. added that McCarron's role could expand.
Crimson Tide News

Delivered to your inbox

You'll also receive Yardbarker's daily Top 10, featuring the best sports stories from around the web. Customize your newsletter to get articles on your favorite sports and teams. And the best part? It's free!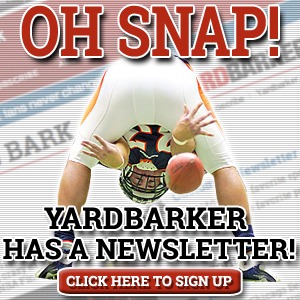 Latest Rumors
The Backyard

Today's Best Stuff

For Bloggers

Join the Yardbarker Network for more promotion, traffic, and money.

Company Info

Help

What is Yardbarker?

Yardbarker is the largest network of sports blogs and pro athlete blogs on the web. This site is the hub of the Yardbarker Network, where our editors and algorithms curate the best sports content from our network and beyond.