Found November 17, 2012 on hardballchat.com:
Following the latest Miami Marlins fire sale that will send Jose Reyes, Mark Buehrle, Josh Johnson, John Buck and Emilio Bonfacio to the Toronto Blue Jays in yet another despicable move by team owner Jeffrey Loria, a couple of the players are speaking out and saying that management lied to them. Reyes and Beuhrle are saying that the Marlins gave them verbal guarantees that they would not be traded. They both signed long term free agent deals with Miami less than one year ago. And now, they are headed to Toronto and very upset. Guess what? Too bad. I will be the first to tell you that this is just another disgusting action by the worst owner in all of professional sports. Hell, I said that this team should be contracted if Major League Baseball cannot take over full control of the organization. That is how strongly I feel about my pure and utter loathing toward Loria and the Marlins. But I do not, however, feel badly for Reyes or Buehrle. Did the Marlins lie and give them verbal assurances that they will not be traded? Maybe. Who knows. It is their word against the Marlins. We all know that this franchise is lined with immoral and unethical characters, so it would not surprise me if they did tell both Reyes and Buehrle that they would not be traded. Still, if either player has been paying attention for more than 15 years, they will know that this is standard operating procedures when it comes to the Marlins. They lie. They are liars. Always have been. Always will be, at least until the league finally steps in and does the right thing. The Marlins sign players, see how things work for a year, and then unload them all. Generally, these such moves have come after the team won the World Series, but management and the owner did not even give it one full season before beginning this most recent fire sale during the 2012 MLB season, followed by this blockbuster to begin the offseason. This is nothing new. Reyes and Buehrle signed for big money. They took the deals in Florida with the added bonus of no state income tax. It makes large contracts even more lucrative and valuable. But you know going into the deal that the Marlins never ever sign players to contracts that include any no-trade clause. Any player can be traded to any team at any given time. That is how this team deals. So, yes, perhaps Reyes and Beuhrle were told that they would not be traded prior to finalizing last winter's huge deals. But they should have known better.   The post Miami Marlins Fire Sale: Jose Reyes And Mark Buehrle Have No One To Blame But Themselves appeared first on Hardball Chat Baseball Blog.
Original Story:
http://www.hardballchat.com/2012/11/m...
THE BACKYARD
BEST OF MAXIM
RELATED ARTICLES
Miami Marlins fans are not the only ones feeling betrayed by ownership's decision to break up the club. Shortstop Jose Reyes and left-hander Mark Buehrle, two of the five Marlins headed to Toronto in a pending blockbuster, are upset that the team broke verbal promises to them regarding trades, according to major-league sources. The Marlins do not award no-trade clauses, but...
BACK-STABBERS
Mark Buerhrle and Jose Reyes did not have no-trade clauses in their contracts, but they reportedly were assured they wouldn't be dealt.
Okay Mets fans; what is your lasting memory of former shortstop Jose Reyes?  For me, a lifelong Mets fan who has been with the team through good and bad (mostly bad), mine is his final game in Queens. With a batting title in his grasp, Reyes laid down arguably the best bunt of his career to date and beat it out for a single.  The hit raised his batting average to .337 and gave...
If you thought Giancarlo Stanton was thinking irrationally when he ripped the Miami Marlins on Twitter earlier this week and would later apologize, think again. The 23-year-old outfielder is still upset, and he was not shy about making his feelings known when speaking with MLB.com's Peter Gammons on Thursday night. "I do not like this at all," Stanton said. "This is the 'winning...
This offseason became a lot more interesting last week when the Toronto Blue Jays and Florida Marlins made a blockbuster trade. Toronto shipped some of it's better prospects off to Florida for three of it's best players: Jose Reyes, Josh Johnson and Mark Buehrle. Toronto, based solely on perception, is now a better team and [...]
There is nothing wrong with Belgians. Belgians are the best. Where are the locked out NHLers playing? HINT: Not the NHL. Mark Buehrle is on the way to Toronto. Can't bring his dogs, though. The word "stunning" is used quite frequently in international soccer. SCOREBOARD Nothing today. Makes you miss baseball, doesn't it?
Jose leaves Miami less then one year after signing his mega deal. Are you kidding me? Ken Rosenthal of FoxSports.com is now reporting that the Miami Marlins made verbal promises to Jose Reyes and Mark Buehrle that they would not be traded. They were apparently told that they were players to be counted on and not to worry about being dealt. The promises made were only verbal, as...
It sure was an exciting week last week, between the blockbuster trade and the signing of Melky Cabrera. You've seen already two different responses to the blockbuster trade, and I do also share the positive feelings about the Melky signing (although I have to respectfully disagree with the lineup configuration described in the previous post and the idea that Kinsler might be...
Days after trading star shortstop Jose Reyes and standout pitchers Josh Johnson and Mark Buehrle to the Toronto Blue Jays for a slew of prospects, the city of Miami remains wrongly outraged at Marlins owner Jeffrey Loria for conducting yet … Continue reading →
Miami Marlins fans couldn't have been happy seeing Josh Johnson, Jose Reyes, Mark Buehrle, Emilio Bonifacio and John Buck get shipped to Toronto, but surely all those negative feelings will dissipate when they learn of their latest free agent signing. Juan Pierre has agreed to a one-year deal, worth $1.6 million, according to Juan C. Rodriguez of the Sun Sentinel. Pierre played...
All Sports News

Delivered to your inbox

You'll also receive Yardbarker's daily Top 10, featuring the best sports stories from around the web. Customize your newsletter to get articles on your favorite sports and teams. And the best part? It's free!
THE HOT 10: Who's Trending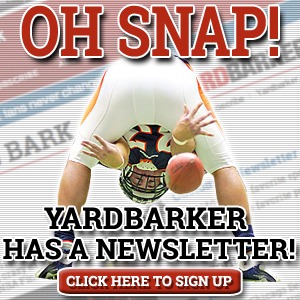 Latest Rumors
Best of Yardbarker

Today's Best Stuff

For Bloggers

Join the Yardbarker Network for more promotion, traffic, and money.

Company Info

Help

What is Yardbarker?

Yardbarker is the largest network of sports blogs and pro athlete blogs on the web. This site is the hub of the Yardbarker Network, where our editors and algorithms curate the best sports content from our network and beyond.