Found December 05, 2012 on Kukla's Korner:
I hold no responsibility if the CBA talks fall apart... from Kevin McGran of the Toronto Star, While optimism rose that a deal to save the NHL season was in sight, there are some questions regarding the logistics of getting 720 players scattered across the world to return to work. Q. Can the two sides make a deal without Donald Fehr or Gary Bettman in the room? A. Yes. Bettman works for the owners, Fehr works for the players, not the other way around. If they players want something, Fehr ought to follow along. Ditto the owners, who have the ability to give Bettman his marching orders. Q. How long will it take both sides to ratify? A. Shouldn't take long and ratification — while an important step in labour situations involving, say, the auto industry — is more a formality in the world of sports. Bettman will recommend the deal to the board of governors, who generally rubber stamp things. (The NHL Board of Governors are very Politburo-like, with everything annou...
Original Story:
http://kuklaskorner.com/hockey/commen...
THE BACKYARD
BEST OF MAXIM
RELATED ARTICLES
CBC hockey commentator Don Cherry is a man of many hats. He is a former minor league player, coach, TV personality, and flashy dresser, but he always tells it like it is and Cherry took to Twitter last night where he went off on the lockout and Gary Bettman being incredibly "livid" after talks broke down. On [...]
Will we have an NHL season after all? While all indications are that there are still some hurdles to clear, reports indicate that there is suddenly a sense of cautious optimism after the league's Board of Governors meeting Wednesday afternoon in Manhattan. NHL commissioner Gary Bettman wasn't willing to address any of what took place on Wednesday, though. Instead, he appeared...
from Michael Grange of Sportsnet, Gary Bettman has been a lot of things over his nearly 20 years running the NHL, but on Thursday night he took on a new role, even for him. He's now the NHLPA's bad boyfriend. There was so much promise in the air these past few days in Manhattan, which is kind of romantic in the crisp December cold, the city bedazzled with Christmas...
Be optimistic or else. If you aren't on Twitter, then you missed a very exciting day yesterday. First, Gary Bettman held a press conference that was so short even John Tortorella blushed. After proclaiming that he was happy with the way negotiations were going, the owners and the players got back into the room to continue talking. This of course, came after a full night of intense...
Watch both sessions in one video.  
Yesterday was a whirwind for the NHL, so lets get a quick recap of everything that went down. To do this, I'm going to quote some paragraphs from this ABC News article on yesterday's meeting. We all know that Gary Bettman spent about 20-30 seconds on a statement he was an hour late for so there's really no need to dig into any of that stuff.  Negotiations resumed...
Categories: BREAKING NEWS Flyers News NHLOn Sunday, I referred to the meetings that were being scheduled starting Tuesday between the NHL and the NHLPA as "gimmicky."  The idea of putting a handful of professional athletes in a room with six billionaires and without NHL commissioner Gary Bettman or NHLPA Executive Director Don Fehr present seemed like a PR stunt more [...](Read more...)
I know that this evening's events have polarized fans somewhat, but Ron Hainsey offers an answer to Mr. Deep Inside's concern about Donald Fehr being the problem for the players. It sounds like Fearing Fehr is instead a divisive issue among the NHL's non-negotiators instead. Fehr's mere presence apparently injected a, "Screw it, we'll take our toys and go...
Sportsnet's Michael Grange and the CBC's Elliotte Friedman posted late-night CBA negotiating insanity gems, but Yahoo Sports' Nicholas J. Cotsonika has taken the cake and then some for encapsulating Thursday's episode of Proskauer-Rose Shore in two simple, eloquent Tweets: Maybe the most bizarre day of my hockey writing career. Fehr misled us. Bettman went...
from Larry Brooks of the NY Post, A sense of what had been described by one source as "cautious optimism" during the midpoint of yesterday's lengthy NHL owners-players meeting was markedly tempered when the session concluded around midnight. As such, even after 7 1/2 hours of interaction between six owners and 18 players, the 2012-13 season remains in jeopardy. ...
Posturing is preposterous. I know that we promised not to cover the blow-by-blow of the lockout, but so much has happened over the past few days, it seemed necessary to at least comment on some of the news. If you missed what happened on Tuesday and Wednesday, I'm not going to re-hash it here, read the recap first. But yesterday, it seemed that all was lost. Any progress made...
NEW YORK (AP) -- Talks in the NHL labor fight broke down after just one hour Thursday night, and it isn't known when the league and the players' association would get back together. After several hours of waiting for discussions to resume for a third straight day, the conversations didn't go well and had none of the momentum that existed Tuesday and Wednesday. NHL deputy...
All Sports News

Delivered to your inbox

You'll also receive Yardbarker's daily Top 10, featuring the best sports stories from around the web. Customize your newsletter to get articles on your favorite sports and teams. And the best part? It's free!
THE HOT 10: Who's Trending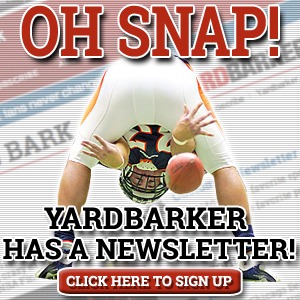 Latest Rumors
Best of Yardbarker

Today's Best Stuff

For Bloggers

Join the Yardbarker Network for more promotion, traffic, and money.

Company Info

Help

What is Yardbarker?

Yardbarker is the largest network of sports blogs and pro athlete blogs on the web. This site is the hub of the Yardbarker Network, where our editors and algorithms curate the best sports content from our network and beyond.