Found October 06, 2011 on Sportress of Blogitude: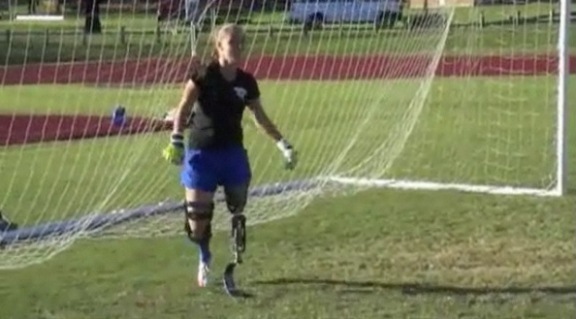 Bree McMahon was working at a fundraising car wash at Freedom High School in Orlando in Sept. 2009 when a car accidentally rolled forward, pinning her against a wall and crushing her lower body. The traumatic injuries left McMahon in a coma which was followed by multiple surgeries. Despite the doctors' best efforts, there was no choice left but to amputate McMahon's left leg, leaving the soccer player unsure what her future held.
Now, two years later, McMahon, despite everything going against her, has made an unbelievable and remarkable comeback. Courtesy of a "running leg" prosthetic, the college sophomore began training with her school's soccer team at Brevard College in North Carolina and through incredible hard work and unimaginable perseverance, McMahon made the school's squad.
From a Click Orlando report (via Off the Bench):
"I have to figure out and adjust my body movements to what I can do instead of what they can do," said McMahon as she talked with Lauren Rowe via Skype.
McMahon is still training and has not hit the field to play a game, but she says she hopes to be ready for that soon.
McMahon told Rowe her coaches have to work hard to get her to slow down.
"I don't want to stop, but my coach is like, 'Bree you're done for the day' and I'm like, 'Ugh,' because I want to keep going," said McMahon.
Amazing. What a brave and strong young woman. The entirety of an interview with the inspirational athlete can be found here.
Local Soccer Star Who Lost Leg Runs Again [Click Orlando (via Off the Bench)]
Also from Sportress of Blogitude:
Hank Williams, Jr. And All His Rowdy Friends Got Canned By ESPN
(Video) Here's Noted Canadian Musician Neil Young Rocking A Winnipeg Jets Jersey
(Video) Brian Wilson Is Acting All Weird Again In A Commercial, This Time For Taco Bell
Original Story:
http://www.sportressofblogitude.com/2...
THE BACKYARD
RUMORS & GOSSIP
Notre Dame basketball player Garrick Sherman had some choice words for Doug Gottlieb after Gottlieb made fun of Notre Dame choking and Sherman's beard. @GottliebShow very well done Doug. Your maturity and class never fails to shine through… got any credit cards I can borrow? — Garrick Sherman (@gsherm11) December 22, 2013 @GottliebShow I have no love for you or respect for...
Former San Francisco 49ers offensive lineman Kwame Harris was sentenced Friday to five days in county jail and three years of probation on misdemeanor domestic violence, battery and assault charges. Harris also must complete 104 hours of domestic violence counseling, KGO-TV reports. The former first round pick (No. 26 overall) out of Stanford assaulted his ex-boyfriend Dmitri Geier...
Grace vows to never have a mug shot required of him again. Former Chicago Cubs and Arizona Diamondbacks 1B Mark Grace is slowly returning to "baseball normalcy" as he comes up on a year since he began serving a 4-month jail sentence as a repeat offender for Driving Under the influence.  According to Matt Snyder of CBS Sports "Eye on Baseball", Grace was named hitting instructor...
Cowboys executive vice president Stephen Jones told KRLD-FM 105.3 in Dallas  that he believes they'll eventually win a championship under his father,  owner Jerry Jones. "We're gonna win a championship sooner than later with Jerry at the helm," Stephen Jones said on , per Jeff Cavanaugh. You have to appreciate Stephen Jones' confidence,  but like his father he doesn't...
Technically, this is true. Rousey has just been rubbing people the wrong way lately, but when she asked her how she felt about her image problem she had this to say. "€œHow long ago was it that Kim Kardashian had (expletives) in her mouth and now she's selling my little sister shoes?"€ Rousey told reporters Thursday in Los Angeles, via Fox Sports. "€œThose examples...
Green Bay received the same piece of news on Aaron Rodgers that they've been privvy to for the last 7 weeks.  Rodgers will again be inactive because of his broken left collarbone. Packers head coach Mike McCarthy referred to the news as bad, but not devestating.  McCarthy told the Milwaukee Journal Sentinel that the Packers can beat the Pittsburgh Steelers with Matt Flynn at...
Looks as though Jay Z is still an inspiration amongst his peers. Everyone knows Lil Wayne is a huge sports fan. Now it appears that his mentor, "Birdman" and his Cash Money Records have plans to open a sports agency. Cash Money Records may be getting into the sports game. The famed record label–home to Lil Wayne, Drake and Nicki Minaj, to name a few–has filed a legal...
alph Vacchiano of the New York Daily News reports that New York Giants safety Will Hill was arrested Friday night in New Jersey on a warrant related to child support. Hill made the trip to Detroit with the team and is expected to play on Sunday against the Lions. Giants S Will Hill made the trip to Detroit with the Giants, despite being arrested last night in NJ on a warrant related...
The SEC expects fans to act like their teams have won big games before, and the conference has fined three teams for allowing fans to storm the field after games this fall. Auburn and Missouri will be fined $5,000 each for their infractions, and Ole Miss will be fined $25,000 because it's the team's second offense, according to CBSSports.com. Auburn is headed to the BCS National...
Here's some words of advice that can apply to anyone: if you're going to get the day off of work, it's probably not a good idea to post a photo on social media of you appearing to hold a blunt in some sort of Bob Marley tribute. Someone needs to pass that advice along to […]
Latest Rumors
The Backyard
Going Viral

Today's Best Stuff

For Bloggers

Join the Yardbarker Network for more promotion, traffic, and money.

Company Info

Help

What is Yardbarker?

Yardbarker is the largest network of sports blogs and pro athlete blogs on the web. This site is the hub of the Yardbarker Network, where our editors and algorithms curate the best sports content from our network and beyond.