Found February 18, 2013 on World Series Dreaming:
"Everybody… LET me hear ya…. A one, A two, A three…. "  It doesn't matter if it's Ozzy Osbourne, Jeff Gordon, or even Da Coach who is in the booth at Wrigley in between the top and bottom of the 7th inning, I don't hear them as Gary Pressy hits those chords on the organ at Wrigley.  I hear Harry.  I hear Harry as loud as I did when I was a kid, even though it has been 15 years (today) since he passed away and left a HUGE void in Cub fan's lives. When I was growing up, Harry Caray was just as much a part of the Cubs and Wrigley as the ivy, scoreboard, and even Ryne Sandberg was.  His humor and sometimes, downright silliness helped me get through some pretty tough seasons.  It didn't matter what was going on between those white lines, if you had Harry on, you were guaranteed a good time!  Season to season, players, managers, coaches all came and went, but the one constant that we could always rely on was that Harry was going to be in that booth entertaining us from pregame to post game. Just last week, my 13 year old son had a friend over.  He was looking at my bookshelves of Cubs memorabilia when he saw my paper Harry Cary mask that I had picked up at the Cubs Convention a few weeks ago.  He asked me why I had a mask of an old man in all of my stuff.  It was at that moment that I realized just how lucky I was to have a chance to say that I grew up getting a chance to "experience" Harry Caray.  I quickly gave him a lesson. Who was Harry?   Harry Christopher Carabina (his given name) was not only just a broadcaster for the Cubs, but in his career, he also entertained Oakland A's, White Sox, and yes, even Cardinal fans.  He grew up in St. Louis and that would be where he got his big break into radio in 1945 and actually spent most of his broadcasting career there.  He spent just a year with the A's, then on to the White Sox.  It was there that he started his infamous "Take me out to the Ballgame" stretch performance.  It was common knowledge, that throughout Harry's career, it was very hard to find color men who could easily work with him.  However, when he was with the Sox, he had Jimmy Piersall in the booth for an interview, who at the time was a Rangers broadcaster.  They had such great chemistry, the Sox hired him the next season to be Harry's partner.   Harry's TRUE fame came in 1981 when he moved his talents over to the North Side.  WGN was the first cable TV Superstation to broadcast it's shows, including the Cub games, all over America.  Harry was then introduced to a whole new population of people when he covered the Cubs for WGN taking Jack Brickhouse's spot in the booth.  Many would think that would be an impossible act to follow, however, Harry didn't disappoint.  He was partnered up with Steve Stone and for 14 years and together, they entertained us for hours on end every day throughout the summer.  One of the best sounds we heard was  "It might be . . . it could be . . . it IS! A home run! Ho-ly cow!".  We also loved to hear him show his affection to Jody Davis.  "You can't beat fun at the old ballpark"… and that's for sure! In 1987, during the off season, Harry suffered a stroke that kept him out of the booth for the first couple of months of the season.  But even a stroke wouldn't keep Harry out of the booth for too long.   When he returned to the booth, he was greeted back by none other, than President Ronald Reagan! However, after the stroke, it was even more apparent that it was becoming a bit difficult for Harry to effectively call the game.  All too often, he would get the players names' confused, especially if the players had similar names, such as Ryne Sandberg and Scott Sanderson.  We would hear Ryne Sanderson, or Scott Sandberg.  But that didn't stop the love of his fans.  It all became a part of the entertainment. That, along with his fascination of saying players names backwards.  "You know Steve..Sammy Sosa's last name spelled backwards is Asos?"   Another time, when Manny Mota had just lined out to a Cardinals fielder who did not even need to move his feet to make the catch, Harry proclaimed: "'Mota' spelled backwards is 'atom' … and that's where he hit it, right at 'im'!"  He never let a name that was a palindrome pass him by.  Dave Otto, Toby Harrah, and Mark Salas amused him greatly!  It was when he tried the names such as Mark Grudzielanek (Kenaleizdurg) or Jason Isringhausen (Nesuahgnirsi) that was so much fun for us fans! Harry's humor kept us laughing and on our toes.   We can't forget this moment: "Aw, how could he (Jorge Orta) lose the ball in the sun, he's from Mexico." The funniest story I remember was when he had asked Ron Santo, on a dare, if when Ronnie went to bed if he wore his hairpiece to bed.  (It's a story on Pat Hughes' cd "Baseball Voices:  Harry Caray, Voice of the Fans", it's a MUST for any Cub fan to own this!) Just a few weeks after the Cubs Convention in 1988, on Valentine's Day , Harry took his wife Dutchie, out to dinner in Palm Springs, California, where Harry suddenly collapsed  . After four days in a coma, Harry Caray died on February 18, 1998.  He was just 11 days away from his 84th birthday.  I was no longer a child when he died, but when I heard the news, I felt as if a part of my childhood passed along with him. So, here we are 15 years after that dreadful day that Harry passed, we are doing what Harry would have wanted us to do, celebrate him.  Take just a moment of time right now and think of your favorite Harry story and smile.  To honor Harry tonight, I ask each person who reads this post to please post your name backwards, then try to say it out loud. Close your eyes and listen to his voice echo through your memory, "Alright!  Let me hear ya… Ah one… Ah two…. Ah three…." Here's to you Harry! (Don't forget… in honor of Harry, please post your name backwards!)
Original Story:
http://worldseriesdreaming.com/2013/0...
THE BACKYARD
BEST OF MAXIM
RELATED ARTICLES
Over the years, Jeff Gordon has learned just how rewarding, difficult, thrilling and disappointing a NASCAR Sprint Cup career can be. He has taken those lessons to heart and used them to make the most of every opportunity that he earns. At 41, some men might be far from their prime. But the four-time champion enters this year with an optimistic outlook with an attitude and enthusiasm...
JEFF GORDON: "Half the battle and goal of this race is to learn something for next week's Duel and the 500. The car was definitely, as far back as I was, they become a handful a couple laps before that. But handling wasn't an issue. We had good handling. We need a little more speed, so we'll work on that. But I can't tell if guys are just getting out of control or if they're...
Jeff Gordon qualified second for the Daytona 500...
Previously on Outside the Boxscore, we featured a video of NASCAR legend Jeff Gordon and his pit crew doing a "Harlem Shake" video. The latest sports-related group to do a video regarding the shake is some NFL Draft prospects at the IMG Academy in Bradenton, Florida. Keep an eye out for Matt Barkley, Bjoern Werner, Tyler Eifert, and even Manti Te'o getting down...
Danica Patrick says when she told Tony Stewart that she was dating fellow NASCAR driver Ricky Stenhouse Jr., Stewart naturally had to prank him. "I was like, "Hey, I have a boyfriend," and he's like, "I know,' " Patrick told USA TODAY Sports with a laugh. "That was an easy conversation.
Dale Earnhardt Jr. has gained a little confidence heading into this NASCAR season, which he says is very important to have in the sport. Last season was one of the overall best for Earnhardt as he won a race
The 2013 NASCAR Sprint Cup season will kickoff Sunday at the Daytona 500, the biggest race of the season. How important is a good finish in the Great American Race to a driver's season? In order to win the NASCAR Sprint Cup championship a driver must be consistent throughout the season. Putting together a string of top five or top 10 finishes is more important than winning one...
All Sports News

Delivered to your inbox

You'll also receive Yardbarker's daily Top 10, featuring the best sports stories from around the web. Customize your newsletter to get articles on your favorite sports and teams. And the best part? It's free!
THE HOT 10: Who's Trending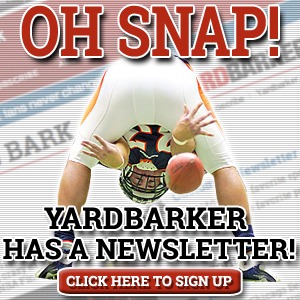 Latest Rumors
Best of Yardbarker

Today's Best Stuff

For Bloggers

Join the Yardbarker Network for more promotion, traffic, and money.

Company Info

Help

What is Yardbarker?

Yardbarker is the largest network of sports blogs and pro athlete blogs on the web. This site is the hub of the Yardbarker Network, where our editors and algorithms curate the best sports content from our network and beyond.