Found August 28, 2012 on Race Review Online:
The NASCAR Sprint Cup regular season is nearing it's end as there's only two races left starting with the AdvoCare 500 at Atlanta Motor Speedway on Sunday night. It will be the 105th NASCAR Sprint Cup Series race at the track and starting up front is usually key there.
Out of the 105 races, 60 of them were won from the first five starting positions with 14 of them from the pole.
With the excitement Bristol brought last week, I expect Atlanta to be even more intense as the Chase is just two races away. I know it's not a short track, but a handful of drivers still need wins and guys like Carl Edwards and Jeff Gordon are still on the outside looking in and are usually good in Atlanta.
Here's my list of drivers to start and to park Sunday night in Atlanta.
Start Em'
Jimmie Johnson
Jimmie Johnson is in a scary place for everyone with two races remaining. He's clinched a Chase berth and now all he has to worry about is winning. He has nothing to lose and that's scary for the rest of the field.
To make things even more scarier, Johnson is statistically the best driver at Atlanta among the Chase contenders. He has a series-high driver rating of 109.5
Johnson also leads a few other categories at Atlanta among active drivers including a series-best average running position at 7.7, series-high average green flag speed (171.979 mph), and series-high 3,775 laps run in the top 15 (88.8%).
Johnson ranks second is fastest laps run (261) and quality pass (497). He also has three wins, 11 top fives and 13 top 10 finishes in Atlanta.
I think Johnson will be tough to beat on Sunday night.
Kasey Kahne
Kasey Kahne has always been strong in Atlanta. Imagine how much stronger he will be now that he has Hendrick power.
Kahne has two wins, six top fives and eight top 10's to go along with two poles at the Atlanta Motor Speedway. He's run 61 percent of his laps in the top 15 and I think the No. 5 Chevy will be tough to beat Sunday night.
Kahne can clinch a spot in the race and like Johnson can just go for a win at the end.
Tony Stewart
"Smoke" hasn't run very well lately, but I think his string of bad luck will come to an end as he begins another possible run to a championship. He won here a few years ago and his incident with Matt Kenseth at Bristol may have awoken the beast, I suspect.
Stewart got kind of complacent with bad handling race cars over the last few weeks and did not run particularly well. When he's mad, though, he's tough to beat, and I think Kenseth woke the giant as Stewart will be driving his heart out to win.
After all, Stewart won the championship last year on a tiebreaker. He knows how valuable points are and he's dangerously close to falling out of the top 10 in the points and losing the bonus points for wins. Atlanta is a track where he's not only good, but is a proven winner.
Stewart has three wins, 10 top fives and 15 top 10's in his career at Atlanta. He has the third highest average running position (10.8), driver rating (102.3), and quality passes (474).
With "Smoke" being good here, don't count him out.
Carl Edwards
The time is now for Carl Edwards to get a win and join the Chase. He can still shake up the entire wild card Chase competition with a win and Atlanta is a good spot for him to do it.
Edwards has three wins here including his first career victory back in 2005. He also has eight top fives and 10 top 10's in just 14 races. If there's anyone who might have better stats than Johnson in Atlanta it's definitely Edwards.
Edwards has the third most laps in the top 15 and the second fastest green flag speed. He's said after each race recently that he's going to race even harder the next week. If he races any harder and with his stats in Atlanta, I'd call him the favorite.
Jeff Gordon
Jeff Gordon is one win away from ending his stress of not making the Chase. He not only is strong in Atlanta, but he has five wins including a win last year in this very race.
Gordon's career stats in Atlanta are, five wins, 15 top fives and 24 top 10's.
He leads the series in quality passes with 501 and ranks second in average running position (10.2), driver rating (104.1), and laps in the top 15 (3,439-80.9%).
With Gordon needing a win badly, I think he can contend with his teammates for it.
Park Em'
Kevin Harvick
Kevin Harvick is another driver in dire need of a good finish or a win. He's one of two drivers along with Edwards who picked up their first career wins in Atlanta. Unfortunately, Harvick hasn't had much success there since.
In 21 races, Harvick only has four top fives and seven top 10s. He has four DNF's and an average finish of 19.9. His driver rating of 83.5 ranks among the worst of the Chase contenders.
I don't expect much from the No. 29 team Sunday night.
Martin Truex Jr.
It's expected that Martin Truex Jr. is going to announce an extension with MWR in a press conference on Friday. You would think that could propel him to a good finish Sunday night.
I don't think it will happen.
Truex Jr. has made 13 starts on the 1.5-mile track and only has two top 10 finishes without a single top five. He has four DNF's and an average finish of 22.8 in Atlanta.
I don't expect Truex Jr. to finish very high and should compete in the 15th-25th positions.
Jamie McMurray
Jamie McMurray hasn't had a very good year and I don't expect that to change this weekend. McMurray ranks 23rd among active drivers at Atlanta and hasn't had much success there.
In 18 starts he has only four top 10's with a best finish of sixth. He has an average finish of 20.28 as well.
If you're looking for a B level driver to start in fantasy, McMurray wouldn't be a wise choice.
Paul Menard
Paul Menard's chances of making the Chase are slimming as he could be eliminated Sunday night. Menard is in the top 20 in points, but fading quickly as I don't expect him to turn it around in Atlanta.
Menard has made 10 starts in Atlanta and only has one top five or 10. He has an average finish of 21.60 and only led two career laps around the 1.5-mile fast oval.
Stay away from Menard on Sunday.
Joey Logano
Like Menard, Joey Logano is fading quickly as well. I've had him on this park em' list quite a bit lately and he's earned his spot on the list once again.
Logano has made five starts in Atlanta and has never cracked the top 20. His best finish is 22nd. His average finish there is 27.60 as I don't expect much out of the 20 team this weekend.
Original Story:
http://sports-at-work.com/NASCAR-fant...
THE BACKYARD
BEST OF MAXIM
RELATED ARTICLES
Carl Edwards squelched rumors that he was a candidate for the No. 22 Penske Racing Ford -- at least for 2013. Edwards called rumors that he could be moving from Roush Fenway Racing to incoming Ford team Penske "impossible," and added the rumblings were so intense that sponsors inquired as to his status. Edwards, who signed a blockbuster contract to remain with Roush last...
A week ago a rumor was started that Carl Edwards may head to Penske Racing to drive the No. 22 car with sponsorship from Shell/Pennzoil. The driver, who is not currently in the chase for the sprint cup, shot down that rumor earlier today. While Edwards declined to talk about the specifics of his contract with Roush Fenway Racing he did say the following. "I will be driving the...
A lot of fans have asked me in recent weeks whether I believe Carl Edwards' Chase of the Sprint Cup dream for 2012 is over since has yet to win a race and there are only two left in NASCAR's regular season. I don't think Edwards is done. Last Saturday night, Edwards and his team had a great opportunity to close the gap on their points situation. I don't think they...
Carl Edwards, driver of the No. 99 Fastenal Ford Fusion, has three NASCAR Sprint Cup wins at Atlanta Motor Speedway, including the first of his career in 2005.  A win this weekend would help Edwards in his quest to make the Chase for the NASCAR Sprint Cup field, which will be determined after the next two races.  He spoke about his chances during a national teleconference this...
Carl Edwards has dismissed a rumor that he will join Penske Racing next season. Edwards brought the rumor up unprompted Wednesday in an effort to silence the discussion. He is in the first year of a new contract with Roush Fenway Racing, but there had been speculation he was trying to negotiate an out to take the opening at Penske. Edwards says he's never had any discussions...
So we leave the short track of Bristol Motor Speedway behind and now head to the 1.5-mile fast Atlanta Motor Speedway for the Labor Day weekend. There are a few guys that I am going to be keeping my eye on this weekend. Brad Keselowski is the first that comes to mind. I think he will be strong at Atlanta. Carl Edwards has his back to the wall and has to win to even possibly make...
Two of NASCAR's major stars, Carl Edwards and Kevin Harvick, have had crew chief changes take place during this season. I don't care who it is, any time you have something new it is something fresh. It can tend to energize a team and a driver. In Kevin's case, it's more like the old is new again. He went back and is paired once again with the crew chief who guided...
All Sports News

Delivered to your inbox

You'll also receive Yardbarker's daily Top 10, featuring the best sports stories from around the web. Customize your newsletter to get articles on your favorite sports and teams. And the best part? It's free!
THE HOT 10: Who's Trending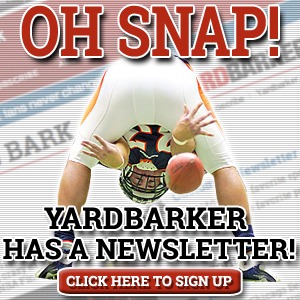 Latest Rumors
Best of Yardbarker

Today's Best Stuff

For Bloggers

Join the Yardbarker Network for more promotion, traffic, and money.

Company Info

Help

What is Yardbarker?

Yardbarker is the largest network of sports blogs and pro athlete blogs on the web. This site is the hub of the Yardbarker Network, where our editors and algorithms curate the best sports content from our network and beyond.