Found August 10, 2012 on Race Review Online:
With automobiles parting the seas and laden skies giving assent, Jeff Gordon took his sixth Pocono win last week. In doing so, he also brought another very intriguing statistic onto the armchair analyst's table. All four Hendrick teams now sit unofficially in the Chase.
A few weeks ago, that would've been considered a bit of a funny proposition. Jimmie Johnson and Dale Earnhardt Jr. were all but mathematically locked in, but Kasey Kahne was just inside the door and Jeff Gordon seemed all but a failed conclusion.
What a difference a few weeks have made. Kahne looks terrifically solid in leading the wild card race with his two wins, and Jeff and Team #24 have suddenly found new life and a bunch of potent energy to put forth, leading to the now-valid question: Will all four teams make it to the postseason?
That's the issue at stake in this episode of Bonus Points, a weekly feature in which Sports-at-Work writers Sam Salo and Luke Krmpotich debate a current issue in NASCAR, giving their takes on the way things ought to be. Sometimes, Sam and Luke will agree; other times, they may have slightly differing opinions; and on occasion, they'll be at each other's throats.
Each writer will also assign a "flag" value to his opinion on the question: checkered flag if it's a slam dunk, green flag if he's mostly convinced, yellow flag if it's a toss-up, red flag if he's pessimistic or black flag if he's dead set against the idea.


Luke: First things first; Jimmie Johnson and Jeff Gordon are safely in the Chase. I'm ready to award Kasey Kahne near-lock status as well. Thus, the question of whether or not Jeff Gordon will do his part and make Hendrick Motorsports the second team to ever put four teams into the Chase (following Roush Fenway's impressive five-for-five performance in 2005).
I touched on this question tangentially earlier this week by predicting that Kyle Busch will miss the Chase, arguing that Jeff Gordon has the best shot at earning the second Wild Card Chase berth. However, that doesn't necessarily mean that I think Jeff Gordon will make the Chase.
There are plenty of drivers competing with Gordon for that final postseason spot, including Busch, Carl Edwards, Ryan Newman and Joey Logano. Any one of those four could claim the second Wild Card entry with a single victory over the next five races. So while Gordon might have the best shot at making the Chase among that group, his odds still might be under 50/50.
And indeed, much as I am impressed by the way Gordon has been running over the last couple of months, I'm not ready to punch his ticket into the Chase. Over the last few races, the second Wild Card spot has been held by Busch, Kahne, Newman and Gordon at various times. The likelihood of it changing hands again is high, in my estimation. Who will be sitting in the lucky seat when the music ends at Richmond on September 8 is anybody's guess.
Much as I like the arguments for Gordon's chances of making the Chase, there are simply too many variables at stake for me to have any sort of confidence in his ultimately reaching that destination. Lady Luck has been fleeting and fickle this season, as undependable as the golden horseshoe that the winless-this-season Kevin Harvick allegedly stole from Jimmie Johnson last year. It's a yellow flag of caution for the odds of the Hendrick boys making it an all-inclusive Chase party in 2012.


Sam: In short, it's looking rather promising for team Hendrick. The main bulk of the argument rests, of course, on Kasey Kahne and Jeff Gordon's ability to stick it out over the remaining five weeks.
Kasey needs to cruise around top-10 for another month, and Jeff needs to do likewise. With the emphasis that is put on wins in the current Chase format, such performance will likely bag each a wild card berth. Kyle Busch, Ryan Newman, Carl Edwards, and Joey Logano form the gist of the competition to both Kahne and Gordon. While Kahne has his second win to rely on, Gordon has his one victory and his current (and mounting) strength to fall back on.
In contrast, Kyle Busch has been inconsistent both mechanically and performance-wise; Ryan Newman has been largely mediocre in speed, with a lucky Martinsville win keeping him in the discussion; Carl Edwards remains winless; and Joey Logano appears to be faltering down the regular season stretch. 
It would be, of course, not totally surprising to see a fellow like Kyle nab a win over the coming five races, considering that there are a number of tracks remaining in the regular season that are candidates for a season-saving win (such as Richmond, where Kyle took the win in the spring).
However, based on current momentum, past savvy, veteran smarts, and rising stock in the 2012 season, the skies are looking cloudy for the competition yet sunny for the rainmakers at camp Hendrick. It might not look great on a weather map, but this here weatherman gives the green to the four fine fellows of Hendrick Motorsports.

Final analysis: Thanks to the inherently uncertain state of affairs on the Chase bubble, HMS gets a yellow flag of caution for their chances of putting all four drivers in the Chase. There are shades of green on the horizon, however, growing ever brighter with each passing race that doesn't see a fellow answering to the name of Busch/Newman/Edwards/Logano in Victory Lane.
Original Story:
http://sports-at-work.com/Bonus-Point...
THE BACKYARD
BEST OF MAXIM
RELATED ARTICLES
A.J Allmendinger former driver of the No.22 Penske Dodge, failed a random drug test during the weekend of June 30; the race weekend at Kentucky. On July 24th, the driver had his "B Sample" tested;  only hours later the sample came back positive as well. Early last week, Allmendinger was released from his Penske Racing contract due to violating NASCAR's substance abuse policy...
With only five races until the 2012 NASCAR Chase for the Sprint Cup field is set, Hendrick Motorsports is on the verge of having all four cars in the championship-determining field. That's a pretty remarkable rebound considering how both Jeff Gordon and Kasey Kahne struggled early on in the season. Obviously there is a lot at stake in the Chase today. Having teammates in the...
THE MODERATOR:  Good afternoon, everyone.  Welcome to today's NASCAR teleconference.  We are joined by Jeff Gordon, driver of the No. 24 Drive to End Hunger Chevrolet for Hendrick Motorsports.  The four-time champion scored his first win of 2012 and his 86th career NASCAR Sprint Cup Series victory Sunday. Gordon has rerouted from a 35th place ranking following the Daytona 500...
With five races remaining before the Chase, Hendrick Motorsports once again is in true championship form. Jeff Gordon, who has four Cup titles and vaulted into a wild-card spot with his win last week at Pocono Raceway, says the recipe is simple: "Hard work, dedication, great engineers. "We're just a great organization." But losing the title to Tony Stewart...
The NASCAR Sprint Cup Series will make both left and right hand turns for the second and final time of the season. The same batch of suspects will be the favorites as road racing is tough on a lot of drivers. Last week, Jeff Gordon finally broke into the victory column and with Kyle Busch's recent troubles, Gordon took one of the wildcard spots from him. With Gordon and Busch...
Jimmie Johnson, driver of the #48 Lowe's Chevrolet, met with members of the media at Watkins Glen International and discussed Jeff Gordon making the Chase, how he has improved his road course racing skills and other topics. TALK A LITTLE BIT ABOUT YOUR SEASON THUS FAR AND GETTING CLOSER TO THE CHASE:  "I'm real happy with the way things have gone here in the last three or...
  Of the two road courses on the Sprint Cup schedule, Watkins Glen International is the older one, having hosted its first race in 1948. This weekend, it will host its 30th Cup event, the Finger Lakes 355, the 22nd race of the season.   Last weekend's winner at Pocono, Jeff Gordon, holds the all-time record for laps led at the 2.454-mile course with 233; in 19 career Glen...
The NASCAR Sprint Cup Series makes it way to Watkins Glen International for Sunday's Finger Lakes 355 At The Glen. Team Chevy is riding high after capturing the first and second positions at the Pocono Raceway. Jeff Gordon led the way by winning the rain shortened race and had teammate Kasey Kahne, on a flat tire, cross the finish line right behind him. Here is a break down on...
  Road Course 101: Love Them Or Learn Them Road courses. Some drivers love them – think Tony Stewart and Jeff Gordon – and others go because they're part of the 36-race NSCS schedule. But no competitor or team takes them for granted. "Yeah, [it's] pretty much just another race now," said Kevin Harvick, winner at The Glen in 2006. "I think everybody knows that...
  It's the time of year when Jimmie Johnson and Chad Knaus are fine-tuning their nefarious operations with the confidence of making the Chase, while other teams are still fighting to make the Chase, and yet others have already thrown in the towel and are thinking about 2013. Okay, I exaggerate. There are several other teams besides the No. 48 that can assume they'll make...
Nascar Evaluating Severe Weather Procedures After Pocono Storm Kills 1, Injures 9 Fans Nascar has decided to work with tracks across the country to come up with a safety plan to allow fans to get to their cars quickly in the wake of tragedy Sunday at Pocono Raceway. Brian Zimmerman, a 41-year-old NASCAR fan from Pennsylvania, was killed by a lightning strike approximately seven minutes...
By Michelle Lesener Each and every point is crucial as all drivers and fans know, especially as we get closer and closer to the Chase cutoff.  What every Sprint Cup driver wantsPhoto – Chris Graythen/Getty Images   Going into Pocono, Dale Earnhardt Jr. held the points lead while Kasey Kahne and Kyle Busch held the two wild card spots. Over the course of the rain shortened race...
All Sports News

Delivered to your inbox

You'll also receive Yardbarker's daily Top 10, featuring the best sports stories from around the web. Customize your newsletter to get articles on your favorite sports and teams. And the best part? It's free!
THE HOT 10: Who's Trending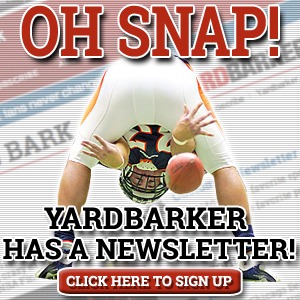 Latest Rumors
The Backyard

Today's Best Stuff

For Bloggers

Join the Yardbarker Network for more promotion, traffic, and money.

Company Info

Help

What is Yardbarker?

Yardbarker is the largest network of sports blogs and pro athlete blogs on the web. This site is the hub of the Yardbarker Network, where our editors and algorithms curate the best sports content from our network and beyond.