Found June 19, 2012 on Race Review Online:
It's finally happened, folks. Junior Nation is in a state of ecstasy and NASCAR officials are thrilled to see their most popular driver back in Victory Lane for the first time in four years.
Of course, plenty of things happened over the weekend, which saw dozens of drivers post record-shattering qualifying runs. But seriously, all you really need to know is this: Dale Earnhardt Jr. won a race!
And so, without further ado, on we proceed to presenting the movers and shakers after Michigan.
Up: Dale Earnhardt Jr.
The man just broke a 143-race winless streak in dominating fashion. Need any more be said?
Down: Kyle Busch
The man Junior replaced at Hendrick Motorsports is suffering through a three-race streak of engine failures. Following engine blowups early last season, Joe Gibbs Racing's engine shop merged with Toyota Racing Development in hopes of avoiding just this kind of problem. KyBu has been fast, but when you are in the garage early with the hood up it doesn't matter how fast you used to be.
Up: Hendrick Motorsports
Yes, Kasey Kahne crashed for the second week in a row. But he's still in decent position to make the Chase with another win or two. And the other three Hendrick drivers placed in the top six, led by Dale Jr.'s winning effort, of course. This team is hot right now with wins in four of the past five races (six of seven if you count the Sprint Showdown and All-Star Race) and I wouldn't bet against one of its drivers taking the checkered flag no matter where the series goes.
Down: Jeff Burton
It's time for another shout-out to the RCR laggard, elder statesman, and one-time title contender. Burton hasn't won since 2008 and has missed the Chase in two of the last three seasons. With just three top-10's on the year, the sunset of a career is approaching for one of the classiest drivers NASCAR has seen in quite some time.
Up: Nos. 16/17 teams
The Roush racing duo of Matt Kenseth and Greg Biffle has been rock solid all year long. They get less attention than teammate Carl Edwards, but have been better than the No. 99 this year (Edwards finished 11th at Michigan and sits 11th in the standings, winless). Kenseth leads the standings and ran third on Sunday, while Biffle led the standings for a couple of months before slipping to third, but ran well at Michigan with a fourth-place effort. Both Kenseth and Biffle have wins on the season and led significant chunks of Sunday's race.
Down: Denny Hamlin
This spot could easily go to JGR teammate Joey Logano, who saw a top-five run ruined by an accident, but Hamlin wins the spot because fiery engine blowups are just cool. Unless you happen to be trapped by the raging inferno, which Hamlin was. Thankfully there are safety crews on hand for the purpose of extinguishing these types of blazes, and all escaped unharmed.
Up: Goodyear tire management
The last thing NASCAR fans hope to see is a repeat of the 2008 tire debacle in the Brickyard 400, where exploding tires forced the race to be run in 10-15 lap increments. Kudos to Goodyear for coming up with a solution to the blistering tires that were an issue in practice sessions leading up the the race.
Down: Hopes for races at 200 mph+
Okay, I know speeds were still insanely fast during Sunday's race at over 190 mph. But for those of us who long to see the hated restrictor plates tossed into the dust bin of history for Daytona and Talladega, it was disappointing to see new tires brought in to keep the speeds down. Too bad Goodyear couldn't just invent some magic potion to keep the tires from blistering at the amazing speeds seen in practice on Thursday and Friday.
But while I mentioned restrictor plates, let me make one other point. The only thing restrictor plates restrict is great racing. There have been just as many spectacular crashes with restrictor plates as there were before NASCAR decided to mandate them to keep speeds under 200 mph. Would you rather have a couple of cars crashing at 205 mph, or half the field wrecking at 190 mph? Hmm.....
Original Story:
http://sports-at-work.com/20120619237...
THE BACKYARD
BEST OF MAXIM
RELATED ARTICLES
So the drought is over for Dale Earnhardt Jr. and the No. 88 team. That really is awesome for them, Hendrick Motorsports and, quite honestly, our sport in general. What we can't lose sight of is that he is an experienced driver, one who has been in championship battles before and won two Nationwide championships. Dale Jr. has been around long enough that he understands what...
Something we haven't seen from Dale Jr. much over the last four years - a smile. He's officially back, will that lead to success in Sonoma? (Photo Credit: Jeff Zelevansky/Getty Images). By: Toby Christie – Follow on Twitter @Tobalical Last Sunday was a moment of jubilation for Dale Earnhardt Jr.'s fanbase, redemption for the driver himself, and a final statement to his...
Well folks, the 143 race winless streak is over. There is joy in Junior Nation and trust me, there is joy in NASCAR. With Dale Earnhardt Jr. finally getting back to Victory Lane after a long four-year drought, all is right with the world. That win last Sunday honestly has moved the needle on NASCAR exposure and interest like nothing we've seen since Trevor Bayne upset the racing...
TIME TO GET NASTY
Danica Patrick's crew chief, Tony Eury Jr., says Danica is not getting enough respect on the track and needs to earn it by not letting other drivers push her around.
Turns out the victory party for Dale Earnhardt Jr. wasn't much of a party at all. Earnhardt snapped a 143-race winless streak at Michigan International Speedway, then celebrated at home in North Carolina with friends and family. He says they played music and stood around talking about the Sunday race late into the night. It wasn't the wild party people expected for NASCAR...
Tony Stewart, sarcastic after someione else wins a NASCAR race? Say it ain't so? Riling up Junior Nation? Doubt it.After Dale Earnhardt Jr. broke his four year winless streak, Tony Stewart was a little miffed to be anwering questions about the #88's win. "No different to anybody else that does it. It's not a national holiday, guys. This morning, they were celebrating...
The winless streak over, Dale Earnhardt Jr. looks for more…
Dale Earnhardt Jr.'s victory celebration is long over and now it's time to look ahead. Members of the Backseat Drivers Fan Council were asked to...
(Eds: With AP Photos.) By JENNA FRYER AP Auto Racing Writer Rick Hendrick gave little warning to his crew chiefs when he decided to make widespread organizational changes after the 2010 season. Among the swaps? Moving Steve Letarte away from four-time NASCAR champion Jeff Gordon after five full seasons for a daunting job - guiding Dale Earnhardt Jr. out of his lengthy slump. &...
All Sports News

Delivered to your inbox

You'll also receive Yardbarker's daily Top 10, featuring the best sports stories from around the web. Customize your newsletter to get articles on your favorite sports and teams. And the best part? It's free!
THE HOT 10: Who's Trending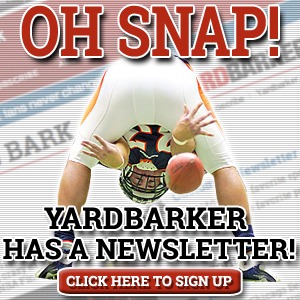 Latest Rumors
Best of Yardbarker

Today's Best Stuff

For Bloggers

Join the Yardbarker Network for more promotion, traffic, and money.

Company Info

Help

What is Yardbarker?

Yardbarker is the largest network of sports blogs and pro athlete blogs on the web. This site is the hub of the Yardbarker Network, where our editors and algorithms curate the best sports content from our network and beyond.