Found August 08, 2012 on Race Review Online:
The NASCAR Sprint Cup Series will make both left and right hand turns for the second and final time of the season. The same batch of suspects will be the favorites as road racing is tough on a lot of drivers.
Last week, Jeff Gordon finally broke into the victory column and with Kyle Busch's recent troubles, Gordon took one of the wildcard spots from him. With Gordon and Busch both being good here did they make my start 'em list?
Many of the top guys in the points also struggle here with none of the top five sporting strong records. This could be the week guys outside the top 10 make gains at getting a secured spot.

Start 'Em:
Marcos Ambrose
Marcos Ambrose could make the wildcard for the Chase very interesting. He's one of the best drivers at Watkins Glen and with a win here Sunday and another win before the Chase he could be in.
This is obviously Ambrose's best track as he has an average finish of 2.25 in four race's. Hes finished in the top five in all four tries to go along with his lone Sprint Cup Series victory.
With finishing in the top five in all four races he'd be my top pick on Sunday.
Juan Pablo Montoya
Montoya has had a difficult season to say the least. He's a world class driver and has competed with success on many difficult tracks around the world. For some reason this year, he can't seem to figure out the tracks. He's been disappointing.
It looked like last week he had it fixed. He earned his first pole of the season and had a good-looking car. Unfortunately, that didn't last long in the race as he fell to mid-pack.
Maybe this weekend will be Montoya's time to shine. If there's going to be a track for him to break out, it's this one. Many drivers struggle here so he should be a lock come Sunday for at least a top-10. In his five races at the Glen, Montoya has four top-10's and two top-fives. He's also been to victory lane here.
Watkins Glen is statistically Montoya's best track and with an 11.4 average finish, so don't be surprised to see the red No. 42 near the front Sunday.
Jeff Gordon
Gordon has had arguably the best cars all season. He just had terrible luck for the first few months that put him in a deep hole. Since the All-Star break, he's been in the top 10 every weekend with good chances of winning. He had a strong car at Indy and failed to win but still finished fifth. Last week, the breaks fell to his side as he finally won and could make the Chase with top-fives from here on out.
I think Gordon can absolutely win though on Sunday. He's been to Watkins Glen 19 times and won four of the races. He also has six top-fives and nine top-10's to his credit as well. Gordon has led 233 laps around the course so he knows how to find his way up front.
Look for Gordon to be around the top five all day with a shot to win at the end.
Tony Stewart
Tony Stewart is good everywhere and with his success at Indy you would think that's his best track. Actually, it's not as Watkins Glen is statistically Smoke's best track the Cup visits.
Stewart, has 13 starts here with five wins, seven top-fives and 10 top-10's. If it seems like either Gordon and Stewart always win here and it's not far from the truth. He's led 225 career laps at the Glen and has a 7.1 average finish in his 13 races.
With having three wins this year already, I wouldn't bet against Stewart on Sunday.
Kyle Busch
Kyle Busch has struggled basically all season as his lone win came all the way back in April. He lost the second wild card spot to Jeff Gordon last week and needs a good run to stay in the hunt. I think Busch can turn it back around on Sunday.
Busch has one win, three top-fives and six top-10's in seven starts at the Glen. Only once has he finished outside the top 10. Watkins Glen is the third best track for Busch so he's comfortable here.
His average finish of 9.3 puts him near the top in that category as he has also led 116 laps.
 
Park 'Em:
Matt Kenseth
Matt Kenseth has had a disappointing two weeks. He lost the points lead in Indy after getting caught up in a wreck and after Dale Earnhardt Jr.'s struggles in Pocono, Kenseth was caught up once again in a wreck while battling for the lead on the final restart before the rain. Look for the Wisconsin native's struggles to continue for a third straight race.
Road racing isn't one of Kenseth's strong suits. In his 12 starts at Watkins Glen he only has three top-10's and zero top-fives. He basically just stays out of everyone's way and hopes to salvage a good finish at the end of the race off of other guys' misfortunes.
Don't expect Kenseth to finish near the front on Sunday.
Ryan Newman
Ryan Newman is starting to heat back up, but it's almost too little too late. After winning at Martinsville in April he was in the top 10 and looked to be a championship contender. But from there to the end of June at Kentucky he only had one top-10 finish, dropping him outside the top 10 and too far behind for a wild card spot. Now, he's finished in the top 10 for four straight races, but unless he gets to victory circle it will likely be too little too late.
Don't expect Newman to win on Sunday.
Newman has made 10 starts at the Glen and has only one top-five and three top-10's. He's finished 20th or worse four times and has a dismal 16.3 average finish. I don't like the No. 39's odds on Sunday.
Dale Earnhardt Jr.
This won't make Junior nation happy, but don't expect him to be up front this weekend. Luckily, many of the other contenders stuggle here so he shouldn't lose the points lead.
Junior has made 12 starts here and has only cracked the top 10 three times. His 22.3 average finish makes Watkins Glen his second worst statistical track with only Homestead being worse.
Don't expect Junior to risk anything but to just ride around and hope others wreck each other out and allow him to move up spots that way.
Kasey Kahne
Kahne is the second Hendrick driver on this list. After Hendrick has been dominating the schedule since Darlington, two of their drivers this weekend shouldn't contend.
Kahne should be in the Chase comfortably and that's good since in his eight starts on the road course he has zero top-10's. In fact he's never even led a lap here. If you count in Sonoma Kahne has 17 road race starts and only has two top-10's.
He has an average finish of 19.1 at the Glen so don't expect Kahne to finish much higher than 15th at best.
Greg Biffle
Biffle is the third driver in the top five of points that I'd stay away from. For the most part, this late in the season that's unusual, but we're talking a road course and there's no way I'd touch them. Biffle has nine starts here with just one top-five and two top-10's.
This is statistically Biffle's worst track as he's finished worse than 20th seven times.
Biffle is high enough in the standings where a bad finish won't hurt him, and don't expect the Biff to finish well on Sunday.
Original Story:
http://sports-at-work.com/NASCAR-fant...
THE BACKYARD
BEST OF MAXIM
RELATED ARTICLES
The way qualifying had played out at Pocono Raceway, I felt Sunday was going to bring us some interesting storylines. I also believed we were going to have some comers and goers. And that's how it all played out. In fact, if you look at our top-five finishers from Sunday, three of those drivers started outside the top 25. Race winner Jeff Gordon finished 27th. Fourth-place...
A.J Allmendinger former driver of the No.22 Penske Dodge, failed a random drug test during the weekend of June 30; the race weekend at Kentucky. On July 24th, the driver had his "B Sample" tested;  only hours later the sample came back positive as well. Early last week, Allmendinger was released from his Penske Racing contract due to violating NASCAR's substance abuse policy...
THE MODERATOR:  Good afternoon, everyone.  Welcome to today's NASCAR teleconference.  We are joined by Jeff Gordon, driver of the No. 24 Drive to End Hunger Chevrolet for Hendrick Motorsports.  The four-time champion scored his first win of 2012 and his 86th career NASCAR Sprint Cup Series victory Sunday. Gordon has rerouted from a 35th place ranking following the Daytona 500...
With only five races until the 2012 NASCAR Chase for the Sprint Cup field is set, Hendrick Motorsports is on the verge of having all four cars in the championship-determining field. That's a pretty remarkable rebound considering how both Jeff Gordon and Kasey Kahne struggled early on in the season. Obviously there is a lot at stake in the Chase today. Having teammates in the...
  Of the two road courses on the Sprint Cup schedule, Watkins Glen International is the older one, having hosted its first race in 1948. This weekend, it will host its 30th Cup event, the Finger Lakes 355, the 22nd race of the season.   Last weekend's winner at Pocono, Jeff Gordon, holds the all-time record for laps led at the 2.454-mile course with 233; in 19 career Glen...
  Road Course 101: Love Them Or Learn Them Road courses. Some drivers love them – think Tony Stewart and Jeff Gordon – and others go because they're part of the 36-race NSCS schedule. But no competitor or team takes them for granted. "Yeah, [it's] pretty much just another race now," said Kevin Harvick, winner at The Glen in 2006. "I think everybody knows that...
The NASCAR Sprint Cup Series makes it way to Watkins Glen International for Sunday's Finger Lakes 355 At The Glen. Team Chevy is riding high after capturing the first and second positions at the Pocono Raceway. Jeff Gordon led the way by winning the rain shortened race and had teammate Kasey Kahne, on a flat tire, cross the finish line right behind him. Here is a break down on...
Joey Logano current driver of the No.20 Home Depot Toyota for Joe Gibbs Racing (JGR) is said to be considering two offers for NASCAR Sprint Cup Series (NSCS) rides in 2013. One of the offers is from JGR while the other is believed to be an offer from Penske Racing to drive the No. 22 car. Logano's status at JGR became questionable earlier this summer with reports that Matt Kenseth...
  It's the time of year when Jimmie Johnson and Chad Knaus are fine-tuning their nefarious operations with the confidence of making the Chase, while other teams are still fighting to make the Chase, and yet others have already thrown in the towel and are thinking about 2013. Okay, I exaggerate. There are several other teams besides the No. 48 that can assume they'll make...
  The weekend's action at Pocono featured more dominating performances by the Hendrick drivers, although even though an HMS man won the race, it wasn't either of the two who looked to have winning cars. No matter. All four are now in position to make the Chase. Which drivers are on the move after a wild and wet afternoon in the Poconos? Read on to find out. Up: Jeff...
Nascar Evaluating Severe Weather Procedures After Pocono Storm Kills 1, Injures 9 Fans Nascar has decided to work with tracks across the country to come up with a safety plan to allow fans to get to their cars quickly in the wake of tragedy Sunday at Pocono Raceway. Brian Zimmerman, a 41-year-old NASCAR fan from Pennsylvania, was killed by a lightning strike approximately seven minutes...
The Sprint Cup and Nationwide Series twist their way up to Watkins Glen International this weekend to compete in the road course race at Watkins Glen. Driver like Marcos Ambrose and Tony Stewart have dominated the Sprint Cup race in the past but drivers like Kyle Busch and Brad Keselowski are looking to become new favorites at the track. Wild wrecks filled the Sprint Cup race last...
All Sports News

Delivered to your inbox

You'll also receive Yardbarker's daily Top 10, featuring the best sports stories from around the web. Customize your newsletter to get articles on your favorite sports and teams. And the best part? It's free!
THE HOT 10: Who's Trending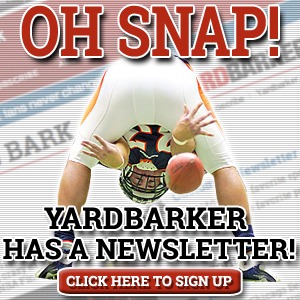 Latest Rumors
The Backyard

Today's Best Stuff

For Bloggers

Join the Yardbarker Network for more promotion, traffic, and money.

Company Info

Help

What is Yardbarker?

Yardbarker is the largest network of sports blogs and pro athlete blogs on the web. This site is the hub of the Yardbarker Network, where our editors and algorithms curate the best sports content from our network and beyond.