Posted March 29, 2012 on AP on Fox
PLAYERS:
Tim Tebow
,
Jeremy Lin
,
Anthony Tolliver
,
Stephen Curry
,
Micah Owings
,
Patrick Ewing
,
Derrick Rose
,
Derrick Williams
,
Patrick Ewing Jr
TEAMS:
New York Jets
,
New York Knicks
,
Minnesota Timberwolves
,
Golden State Warriors
,
San Diego Padres
,
Chicago Bulls
,
New Orleans Pelicans
As Tim Tebow and Jeremy Lin have risen to prominence in the NFL and NBA, the touchstones of professional sports and religion have converged perhaps as never before. Tebow, the New York Jets quarterback known for doing missionary work in the offseason, and Lin, the point guard who came out of nowhere to galvanize the New York Knicks, have been outspoken about the role faith has played in their athletic careers. The conversation couldn't have come at a better time for Minnesota Timberwolves forward Anthony Tolliver and former NBA D-Leaguer Lanny Smith, who have started a company that makes sports apparel with Christian messages. Lin is a big supporter, wearing Active Faith wristbands emblazoned with ''IJNIP'' -- In Jesus' Name I Play -- during games. And the two friends have already recruited Golden State Warriors star guard Stephen Curry and San Diego Padres pitcher Micah Owings as investors in a company that is owned exclusively by athletes. ''It kind of blew up on us overnight and it turned from something that me an Anthony were working on growing step by step to something that turned global,'' Smith said. They have Linsanity to thank for that. Smith and Tolliver were teammates on the Idaho Stampede D-League team in 2009-10, routinely attending church together and becoming friends. Smith suffered a career-ending knee injury that season. While he was lying in bed recuperating from microfracture surgery, he started to think about what he was going to do with a life that had been consumed by basketball since he was a kid. He wanted to meld his faith and love of sports through an apparel line and went to Tolliver when he was looking for investors. ''He said when you're ready to move forward with this if you need any help with it, I'm there,'' Smith said. ''A lot of guys will give you that lip service, and when it comes to the moment of truth they'll disappear. Anthony stood by that word.'' A finance major at Creighton, Tolliver has taken pride in becoming a savvy real estate investor and businessman off the court. He never planned on becoming a cliche by being a pro athlete with a clothing line. But then again, he still doesn't see himself that way with Active Faith. ''I never, ever, in a million years thought I would be involved in a clothing company,'' Tolliver said. ''I was like nah, I would never do that. This is something that's way more meaningful than just making money.'' After the company got off the ground, using the wristbands largely as promotional items and finding a factory in China to make the apparel, Smith was watching the D-League Showcase All-Star game. Lin thanked Jesus during a postgame interview, and Smith immediately thought the two had something in common. Smith got linked with Lin through friend Patrick Ewing Jr., who was Lin's teammate in Reno, and the Asian-American point guard started wearing the wristbands in games. The two first met face to face in Houston, when the Rockets claimed Lin off waivers. Shortly after, Lin was waived again and picked up by the Knicks, who returned for a game against the Rockets less than two weeks later. ''I remember waiting at the Knicks bus and there were all these fans waiting to see Amare (Stoudemire) and Carmelo (Anthony),'' Smith said with a chuckle. ''Lin just walked off the bus and nobody asked him for an autograph or anything. We just stood there chatting. That will NEVER happen again.'' Smith hooked Lin up with some orange wristbands to match the Knicks colors, and Linsanity was born not long after. Lin burst onto the scene with a series of huge games to help the Knicks get back into contention in the Eastern Conference, and his status as the first American-born player of Chinese or Taiwanese descent coupled with his electric skills and outspoken faith to make him an overnight sensation. Lin's picture was plastered everywhere -- on consecutive Sports Illustrated covers, Time magazine, ESPN.com -- and so were the wristbands. ''All these pictures across the world with him rocking our bands,'' Tolliver said. ''Basically at that time, our website launched. It just was crazy after that.'' The website -- MyActiveFaith.com -- crashed three times before they were able to get a dedicated server to handle the traffic and they sold 10,000 wristbands in the first two weeks. ''Nike, Adidas, Reebok, UnderArmour, they'll never make a faith-based product. They'll never really crossover and touch that,'' Smith said. ''We felt that this was a niche and a market that we could create. That's what we plan on doing, almost being the Nike of the Christian sports apparel.'' Smith's aim is to make the company much more than just another catchy wristband maker. Active Faith also has t-shirts and workout tops, shorts, hoodies and polo shirts, all geared to athletes, workout freaks and weekend warriors. They also have a women's line -- Fearfully and Wonderfully Made -- and have high-profile athletes like Lin, Bulls star Derrick Rose and Timberwolves rookie Derrick Williams sporting the bands. The line is sold at Houston's Lakewood Church, which has the largest congregation in the United States with more than 40,000 attendees every Sunday, and at nationwide retailer Family Christian Stores, in addition to the website. ''It's definitely been amazing and scary at the same time how fast it was blowing up,'' Smith said. ''We had to reorder inventory two or three times pretty quickly. There's some stuff selling out in a day.'' The Lin-like rise for Active Faith has led to some significant financial investment offers with one caveat -- the company had to tone down the religious messages and take 'Jesus' off of the apparel to appeal to a wider demographic, Smith said. ''We're not willing to compromise the message,'' Smith said. ''We're staying true to it and that's going to separate us.'' The next frontier? Tebow. Now that the quarterback has been traded to the Big Apple, Smith is hoping his buddy Lin can knock on his neighbor's door and make a pitch. ''We're looking at becoming one of the first companies owned solely by athletes,'' Tolliver said. ''It's a very, very unique thing. We feel like we have a niche that nobody has even touched before and it has unlimited potential.''
Original Story:
http://msn.foxsports.com/nba/story/je...
THE BACKYARD
BEST OF MAXIM
RELATED ARTICLES
SO LET IT BE TWEETED
The new Jets quarterback broke an 18-day silence on Twitter to introduce himself to his new legions of fans in New York and to thank his fans back in Denver for all their support.
New York Knicks guard Jeremy Lin will miss his third straight game because of a sore left knee. Knicks coach Mike Woodson ruled Lin out for Friday night's contest against the Hawks, depriving Atlanta of a chance to get its first sampling of ''Linsanity.'' The team is hoping Lin will return to the lineup next week. The Knicks have been faring just fine without...
New York Knicks guard Jeremy Lin is going to have arthroscopic knee surgery to repair a slight tear in his meniscus. No word on whether his doctor will be able to remove the nail in Linsanity's coffin as well. Lin had missed the last three Knicks games with a "sore knee," but it was obviously found to be much worse at the end of last week. In hindsight, it was always likely...
Jeremy Lin's fairytale season with the New York Knicks has come to an end. Lin had an MRI that revealed a small chronic tear in the meniscus of his left knee. Surgery is required and the recovery time is six weeks. This season, Lin averaged 14 points and 6 assists after catapulting from end of [...]
Jeremy Lin took the NBA by storm late in January as he became the New York Knicks point guard and helped them get back into the playoff picture. But the newest rage of the league appears to be done for the year as the Knicks have announced that he has a small, chronic meniscal tear in his left knee.  Lin will undergo arthroscopic surgery to repair the damage, and expected to miss...
New York Knicks fans could breathe a welcome sigh of relief on Wednesday, as the "New York Post" reported that Knicks power forward Amar'e Stoudemire should be able to avoid season ending back-surgery and the team expects him back on the court within the next two-four weeks. The veteran big man received word from the second physician he was examined by; that the bulging discs...
Tim Tebow will not be switching jerseys as soon as expected. Nike was granted a temporary restraining order against fellow apparel maker Reebok, which was ordered by a judge to stop producing and selling Tebow jerseys. The lawsuit filed by Nike accused Reebok of illegally marketing Tebow's new jersey with the New York Jets. Reebok's licensing agreement with the NFL Players...
Tim Tebow was "excited" to get to his press conference for the New York Jets. Jay Leno and The Tonight Show show Tebow parting the traffic as if he was Jesus parting the Red Sea.  
Denver Broncos fans are be ecstatic that Elway convinced the great Peyton Manning to join their team, but in the same sense they will missed the man who gave them so many great memories. Chad Neidt (wrote this Tebow song featured on Sports Center) gives us another acoustic guitar hit that explains how Broncos fans feel about losing the beloved Tim Tebow, yet welcoming their new...
There is NO offseason for the NFL. There were so many things that happened just in the past week or so: Peyton Manning finally settled on a team. Tim Tebow was traded to another team, and even had a press conference Monday. Related posts: The Fifteen Most Fantastic Arrests Of The NFL Offseason Crazy Brandon Marshall 51-yard Touchdown – Video Philadelphia Eagles Offseason Turmoil...
A quick hitting 12 pack for your Friday afternoon, focusing on twelve New York Jets who will be critical to the team's success in 2012 but aren't receiving the same media adoration of Tim Tebow or media scorn of Mark Sanchez and Santonio Holmes. 1. Muhammad Wilkerson – Last year's first round pick, who had a good not great rookie season. Wilkerson is steady against the...
Win a custom commissioned sports athlete portrait – valued at $300! Top Stories After dealing with "It can never work" all last year with the Tim Tebow offense, I found myself irritated to read that his style of play will now be effective. Apparently, Rex Ryan is the one coach that can make it work.  If you want to know what the East Coast Bias is, well there happens to...
All Sports News

Delivered to your inbox

You'll also receive Yardbarker's daily Top 10, featuring the best sports stories from around the web. Customize your newsletter to get articles on your favorite sports and teams. And the best part? It's free!
THE HOT 10: Who's Trending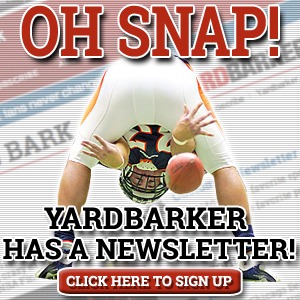 Latest Rumors
The Backyard

Today's Best Stuff

For Bloggers

Join the Yardbarker Network for more promotion, traffic, and money.

Company Info

Help

What is Yardbarker?

Yardbarker is the largest network of sports blogs and pro athlete blogs on the web. This site is the hub of the Yardbarker Network, where our editors and algorithms curate the best sports content from our network and beyond.