Found June 26, 2012 on Fox Sports Ohio:
PLAYERS:
Bradley Beal
,
Ray Allen
,
Dwyane Wade
,
Gerald Henderson
,
Michael Kidd-Gilchrist
,
Harrison Barnes
,
Anderson Varejao
,
Tristan Thompson
,
Kobe Bryant
,
Quincy Miller
,
Marquis Teague
,
Luis Scola
,
Kyle Lowry
,
Terrence Ross
,
Rod Thorn
,
Pau Gasol
,
Andray Blatche
,
Kiki Vandeweghe
,
Danny Ferry
TEAMS:
Boston Celtics
,
Miami Heat
,
Charlotte Hornets
,
Cleveland Cavaliers
,
Los Angeles Lakers
,
Houston Rockets
,
Washington Wizards
,
Memphis Grizzlies
,
Florida Gators
,
Kentucky Wildcats
,
North Carolina Tar Heels
,
Baylor Bears
,
Washington Huskies
If youre the Cavaliers, is Bradley Beal worth your two first-round picks? If youre the Bobcats, do other teams undying interest in your No. 2 pick make you think you should just draft a guy and ship him to the highest bidder? And if youre the Cavs and Bobcats, is Beal even the guy you have in mind? Beal is a 6-foot-4 shooting guard out of Florida. Hes been compared to Celtics sniper Ray Allen. Hes been called a poor mans Dwyane Wade. Those right there are some pretty lofty comparisons, kids. But if Beal really is that good, why dont the Bobcats just draft him and keep him? And dont say because they already have Gerald Henderson at shooting guard. Henderson is a nice young player, but hes not Allen or Wade. He may not be Beal, either. Basically, if youre not as confused as ever entering Thursdays NBA draft, well, its probably because you think you know more than you actually do. Either that, or youre waving your hands in the air like you just dont care. Truth is, nobody knows what will happen. Not even the general managers. Not yet. One rumor has the Cavs trading their two first-rounders (Nos. 4 and 24) to the Bobcats for the second pick, and you guessed it, the right to draft Beal. But it the Cavs do that then what? Then youre bringing in Beal as your lone rookie under contract? Is he really all this team with tons of holes needs? Maybe. Maybe he really is that good. Maybe the Cavs really are that impressed with him. Or maybe not. Having two picks in a draft considered as deep as this, after all, sure cant hurt you. Especially when one of those picks is in the top five. So if the Cavs really are thinking about trading up for Beal, theyd better be sure. As new Bobcats coach Mike Dunlop said, trading down for extra picks makes a lot of sense. So why would the Cavs want to give up that extra first-rounder and potentially more? Its easy when youre a fan to say, Just make a deal already! But sometimes, the best deals are the ones that remain pre-draft rumors, and go no further than that. Sometimes, two first-rounders are better than one. The Cavs need players. When theyre done with the draft, theyll explore free agency and trades. Same goes for the Bobcats, and about 25 others. So dont be too disappointed if your favorite team stands pat. For the Cavs, Bobcats and the rest, this draft is really just the start. Double Dribbles According to multiple sources, Beal is most likely to go third to the Wizards if the draft order stays as is. If the Bobcats take him at No. 2, you can probably assume there is some sort of deal in the works, said one source. Who do the Bobcats take at two if not Beal? One source familiar with their thinking says theyre leaning toward Kansas power forward Thomas Robinson. If thats the case, Kentucky small forward Michael Kidd-Gilchrist could drop all the way to No. 5. But the Bobcats could also take him at No. 2, a source said. Another scenario has the Bobcats taking North Carolina forward Harrison Barnes (seemingly a real possibility), with Beal going to the Wizards and the Cavs choosing between Kidd-Gilchrist and Robinson. The Cavs have two power forwards already in Anderson Varejao and Tristan Thompson, but that doesnt necessarily mean theyd pass on Robinson. Most scouts feel as if hell be the second-best player to come out of this draft in the long run. The Lakers are exploring all kinds of potential deals, having floated every name on the roster this side of Kobe Bryant. They are said to be open to trading Metta World Peace for a late first-rounder, with their eyes on Baylor forward Quincy Miller and Kentucky point guard Marquis Teague. The Rockets talks with the Kings for the No. 5 pick seem to be serious. No word, exactly, on what the Rockets would offer, but odds are, it somehow involves big man Luis Scola. Also, the Raptors are suddenly said to be very open to dealing their No. 8 pick. One rumor has them trading it to the Rockets for point guard Kyle Lowry. Almost every mock draft has the Raptors selecting Syracuse guard Dion Waiters at No. 8, but that could be a smokescreen, said a source. If Waiters isnt selected by the Raptors, theres a chance he could fall out of the lottery (top 14 picks) altogether. Washington guard Terrence Ross and Kentucky forward Terrence Jones are both climbing the draft charts after recent workouts, according to sources. The 76ers are said to be particularly enamored with Jones. Depends on who else is there, of course, said one person familiar with their thinking. Sixers president Rod Thorn said the team isnt likely to draft strictly for need. Essentially, you draft for talent and you trade for need, Thorn told Phillyburbs.com. Back to the Lakers. If the Cavs are able to move up and nab Beal at No. 2, theres talk the Lakers would be willing to make life easy for the Wizards and help them move out of the third spot. It would likely take power forward Pau Gasol. Far-fetched for now, but dont be surprised if its something thats explored in the right situation. Wizards big man Andray Blatche could also be part of that, or another, trade. As for front-office talk, word is Cavs assistant GM David Griffin has removed himself from consideration for the Clippers GM job. Former Nets GM Kiki Vandeweghe is said to be the frontrunner. Expect new Hawks GM Danny Ferry to try to package a player and the No. 23 pick to move up, sources have indictaed. Like the Lakers, it appears the Nets and Knicks are looking to move into the late first round. Also, the Bobcats may try to get another pick in the 20s, even if they make the aforementioned trade with the Cavs. The Heat (No. 27) and Warriors (No. 30) are two teams with late picks supposedly open to trading out of the first round. The Grizzlies (No. 25) are also open to trading out of the first round. Follow Sam Amico on Twitter @SamAmicoFSO
Original Story:
http://www.foxsportsohio.com/06/26/12...
THE BACKYARD
BEST OF MAXIM
RELATED ARTICLES
The 2012 NBA Draft is only a few days away. On that night, the speculation will end and we'll finally learn where former Florida Gators guard Bradley Beal will begin his professional career. Among the teams interested in Beal are the Washington Wizards, the current holders of the third overall pick. It's reasonable to think Beal could be available for Washington, and just as...
We're less than 24 hours from the start of the NBA Draft, and that's when the rumors kick in to high gear.  However, it's not often a rumor gets started because of something a player says during the Green Room interviews a day before the draft.  That's just what happened when Bradley Beal told ESPN that several non-lottery teams, most notably the Oklahoma City Thunder...
Since the Draft Lottery first positioned the Cavaliers at 4th overall, there's been rampant speculation that Charlotte at number 2 could be a potential trading partner for Cleveland. Today John Telich reported that the two teams are currently talking, and that Cleveland is willing to give up picks number 24 and 34, in addition to 4, in order to move up two spots. It is then assumed...
1.Bradley Beal Florida Fr. 6'4" – I really like this kid's game; I think he might be the best freshman in this class. Beal can flat out shoot the basketball that's what he is best at. His stroke is real smooth; he has a quick release. He has excellent range on his shot. Beal is not just a shooter; he can get to the rim, and finish with his strength. He is a...
With the NBA draft slated to happen tomorrow night, let's take a look at three prospects that would help the Washington Wizards out at No. 3 overall: Bradley Beal - Guard, Freshman, Florida Gators Beal is a shooter and there isn't anything the Wizards need more than a guy that can knock down shots. Beal has been compared to Ray Allen, but I'm not so certain he is...
We're currently in the midst of a wonderful Dream Team renaissance period. It's been 20 years since Larry, Michael and Magic joined forces in Barcelona and there's been a flood of reflection and nostalgia for the squad. GQ had a rich oral history in their July issue, NBATV rolled out a fabulous documentary earlier this month, and Jack McCallum has a book from behind-the...
While We're Waiting serves as the early morning gathering of WFNY-esque information for your viewing pleasure. Have something you think we should see? Send it to our tips email at tips@waitingfornextyear.com. On the possibility of trading up to get Beal- "Beal's certainly good, but stop comparing him to Ray Allen: As a Freshman for the UConn Huskies in 1994, Ray Allen shot...
1. New Orleans Hornets – Anthony Davis, Forward/Center, University of Kentucky 2. Charlotte Bobcats – Thomas Robinson, Forward, Kansas University 3. Washington Wizards – Bradley Beal, Guard, University of Florida 4. Cleveland Cavaliers – Michael Kidd-Gilchrist, Guard/Forward, University of Kentucky 5. Sacramento Kings – Harrison Barnes, Guard/Forward, University of North...
All Sports News

Delivered to your inbox

You'll also receive Yardbarker's daily Top 10, featuring the best sports stories from around the web. Customize your newsletter to get articles on your favorite sports and teams. And the best part? It's free!
THE HOT 10: Who's Trending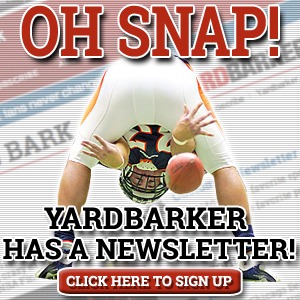 Latest Rumors
The Backyard

Today's Best Stuff

For Bloggers

Join the Yardbarker Network for more promotion, traffic, and money.

Company Info

Help

What is Yardbarker?

Yardbarker is the largest network of sports blogs and pro athlete blogs on the web. This site is the hub of the Yardbarker Network, where our editors and algorithms curate the best sports content from our network and beyond.