Posted February 06, 2012 on AP on Fox
PLAYERS:
Clint Eastwood
,
Eli Manning
,
Seth Meyers
,
Tom Coughlin
,
Tom Brady
,
Bill Belichick
,
Al Michaels
,
Cris Collinsworth
,
David Tyree
,
Mario Manningham
,
Peyton Manning
,
Bob Costas
,
Dan Patrick
,
Nick Cannon
,
Adam Sandler
,
Katharine Mcphee
,
Brian Williams
,
Peter King
,
Steve Gleason
,
Lou Gehrig
,
Hines Ward
,
Aaron Rodgers
,
Tony Dungy
,
Rodney Harrison
TEAMS:
New York Giants
,
New England Patriots
,
Indianapolis Colts
,
Pittsburgh Steelers
,
Green Bay Packers
Clint Eastwood's patriotic pep talk about ''halftime in America'' might just as well have applied to NBC. The languishing, fourth-place network, owned by Comcast Corp., needed more than a touchdown from Sunday's Super Bowl broadcast - that much was assured with a marquee rematch between the New York Giants and the New England Patriots. No, NBC needed to kick-start its own second half. It had little to complain about, getting an increasingly riveting game that came down to the final play, a buzzed-about halftime show with Madonna and no notable flub (except for a middle finger from singer M.I.A. that slipped past censors) that interfered with a solid, well-produced broadcast of the game. But it will surely take more than Eli Manning's heroics to rescue NBC primetime. The cross-promotion had an almost desperate feel, as if some NBC executive had wagered his life on the audience awareness score of the network's two biggest hopes: the reality singing competition ''The Voice'' (which was given the plush postgame time slot to premiere its second season) and the Steven Spielberg-produced drama ''Smash'' (which premieres Monday, after, naturally, another two hours of ''The Voice''). ''It's hard to believe this is the last Super Bowl in the pre-Smash era,'' tweeted Seth Meyers of NBC's ''Saturday Night Live.'' But in between ads for ''Smash,'' the Patriots and Giants played a closely contested game before Manning and Tom Coughlin yet again defeated Tom Brady and Bill Belichick, as they did four years ago in Super Bowl XLII. Since then, the television landscape has changed, as was evidenced by Sunday's broadcast. In a first, it was streamed live online on both NFL.com and NBCSports.com. The feed was a sure forerunner to more streaming sports, but was rudimentary, with variable camera angles, slight social media integration and about a 30-second delay. On TV, the echoes of Super Bowl XLII were sometimes eerie, and play-by-play team Al Michaels and Cris Collinsworth didn't miss any chance to compare the two games. ''Wow,'' said Collinsworth as the teams vied in the tense fourth quarter. ''We should just have these teams play all the time.'' Michaels, not missing a beat to promote NBC's ''Sunday Night Football,'' added: ''On Sunday night.'' That both Giants wins were enabled by remarkable receptions - earlier by David Tyree against his helmet, Sunday by Mario Manningham on the sideline - was fittingly cited. At another moment, when Brady eluded a pass rush and then heaved an interception, Collinsworth, recalling Manning's disappearing act four years ago, said it was ''like the opposite of the last Super Bowl.'' In his second Super Bowl but first for NBC, Collinsworth, the former Cincinnati Bengal and longtime dispenser of no-nonsense, offered proof that he's the best color man in the business. He was most at home in the biggest moments, when commentators are most needed. Before the thrilling final drives, the game at times seemed oddly lacking mojo. Was it the lack of Tebowing? The missing cutaways to Peyton Manning? The broadcast was led by NBC's ''Sunday Night Football'' crew and overseen by producer Fred Gaudelli and director Drew Esocoff. An audience anticipated to top 100 million (last year's drew a record 111 million average viewers) helped NBC sell $250 million in advertising, with 30-second commercials going for as much as $3.5 million. With such high stakes, NBC spared no expense, following the action with some 40 cameras. The usual, bloated six-hour-long pregame show preceded the game, anchored by Bob Costas and Dan Patrick. Though there was plenty of the usual hype that accompanies the Super Bowl, NBC's broadcast benefitted from its stable of respected personalities, all of whom are generally pomp-resistant. Costas and Patrick keep perspective tempered in their own way: Costas, earnestly journalistic; Patrick, sardonically skeptical. Their presences were needed in the pregame, an annual bit of programming excess that does little more than give Super Bowl parties a background image and supply TV critics with something to bemoan. Costas earned the Nostradamus award for his interview with Brady, in which he asked the quarterback if he'd rather be up with a few minutes to go and be in the sideline, or be down with the ball. Brady answered the latter, but after seeing his Hail Mary fall the ground, he might want to reconsider. While NBC kept the festivities closer to the game than some, it still offered the cringe-inducing ''Super Suite'' red carpet show. Singer and actor Nick Cannon awkwardly and superficially interviewed celebrities such as Adam Sandler and Katharine McPhee, the star of ''Smash.'' McPhee hit a low point by trying to force a comparison of her character to a young Brady. Few of NBC's stars didn't make cameos of some kind, from Brian Williams to ''30 Rock'' sketches. NBC also hyped its new NBC Sports Network, as well as its coming coverage of the 2012 Olympics in London. Sometimes, the feature profiles felt very much like an NBC Olympics broadcast. One highlight was Peter King's heart-rending report on former New Orleans Saint Steve Gleason, who has amyotrophic lateral sclerosis, also known as Lou Gehrig's disease. Thankfully, King didn't shy away from considering the link between brain disease and football, a topic that didn't come up in the game broadcast. Pittsburgh Steeler Hines Ward and Green Bay Packer Aaron Rodgers joined regular NBC analysts Tony Dungy and Rodney Harrison, but it was the former Patriot, Harrison, who stood out. Harrison is an odd combination of candid and cocky that improves on often too-soft studio vibe. The nearing of the game (finally!) was also matched by a deeper dive into commercialism as the primetime ads geared up. Aside from the normal animal tricks and male chauvinism, the spots struck a tone of recession-minded nostalgia. Budweiser reflected on the end of prohibition, General Electric touted its old-fashioned manufacturing with its ''G.E. works'' campaign, and even ''Star Wars'' returned in a Volkswagen ad and a trailer for a new 3-D release. When Eastwood gravely intoned about America's second half for Chrysler, some wondered if he was hocking cars or running for president. There were touches of reminiscing, too, in the seemingly lip-synced halftime performance of Madonna, pop royalty at 53. It was during moments like those that it was clear that no number of NBC commentators could match those on Twitter. The social media stream of real-time conversation is now as much a part of Super Sunday as nachos and chicken wings.
Original Story:
http://msn.foxsports.com/nfl/story/NB...
THE BACKYARD
BEST OF MAXIM
RELATED ARTICLES
We were pretty impressed with last year's Chrysler Super Bowl commercial, but it's safe to say that they have outdone themselves this year. I love me some Eminem, but nothing beats Clint Eastwood in all his Gran Torino-esque badass glory. Hell, the only thing missing from the commercial is the 12-gauge. It's halftime. Both teams are in their locker room...
Chrysler's Super Bowl ad featuring a gravel-voiced Clint Eastwood was pulled from the car company's official YouTube channel Monday. Though the "Halftime in America" commercial can still be viewed elsewhere on the site, the video posted on the automaker's channel was replaced by a note that reads, "This video is no longer available due to a copyright claim...
Perhaps the most attention-getting Super Bowl ad — other than that dog blackmailing his owner with tortilla chips to keep quiet over a felinicide, of course — was Clint Eastwood's paean to a resurgent auto industry in Detroit.
Clint Eastwood defended his now-controversial Chrysler ad that aired during the Super bowl, in which he implored the nation to overcome its differences and work together to revive the economy, denying any ties to President Obama and saying that the spot was intended to be apolitical.
The inspirational Chrysler television commercial, "It's Halftime in America," was featured during the 2012 Super Bowl and starred actor and director Clint Eastwood and gritty images of Detroit. Here is the script from the commercial.
Chrysler's Super Bowl commercial featuring Clint Eastwood is not available on Chrysler's YouTube channel because of a "copyright claim," by the NFL.
Super Bowl XLVI will best be remembered for the dramatic conclusion and another victory by the Giants over the Patriots. But that's not to say that its pop culture impact won't reverberate because of the many ads that aired in between the action on the gridiron. Stars like Jerry Seinfeld and Clint Eastwood stole the show during the breaks and they may be remembered by many...
As I watched the Super Bowl, I was moved and impressed by the Clint Eastwood ad for Chrysler. I was proud to think that Chrysler would develop such an inspiring ad. Our country is in trouble and it is nice to see a company that still has pride and confidence in the people and products of our nation.
The ad features an actor speaking in a raspy, deep voice, delivering some of the same lines that Clint Eastwood did in the two-minute halftime ad that ran during the Super Bowl and swirled up a storm of political controversy on Monday.
All Sports News

Delivered to your inbox

You'll also receive Yardbarker's daily Top 10, featuring the best sports stories from around the web. Customize your newsletter to get articles on your favorite sports and teams. And the best part? It's free!
THE HOT 10: Who's Trending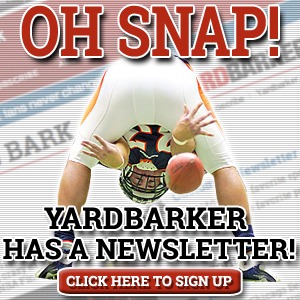 Latest Rumors
The Backyard

Today's Best Stuff

For Bloggers

Join the Yardbarker Network for more promotion, traffic, and money.

Company Info

Help

What is Yardbarker?

Yardbarker is the largest network of sports blogs and pro athlete blogs on the web. This site is the hub of the Yardbarker Network, where our editors and algorithms curate the best sports content from our network and beyond.