Found June 04, 2013 on Purple Jesus Diaries:
Soon after the Minnesota Vikings traded Percy Harvin to the Seattle Seahawks, speculation started doubling as to why exactly Percy was so upset in Minnesota. Was it because the state had failed continuously to legalize marijuana? Was Harvin still disenfranchised over the Brad Childress era? Or was it just that the "future of the franchise" in quarterback Christian Ponder was awful? Many suspected the latter as Harvin had a very public spat with coach Leslie Frazier on the sidelines in a 2012 game, allegedly over the inability of Ponder to get the ball into the endzone. Further comments from Harvin after his trade to Seattle - where he lauded Seahawks quarterback Russell Wilson for his preparation and dedication, something he alluded to not having at the quarterback position in Minnesota - only added fuel to the fire.  But Percy wants to clear all of that up now, as he's finally broken his silence in a recent interview. This week, Percy Harvin appeared on the Jim Rome Show to talk football. He was asked about his relationship with Ponder and about how he had left Minnesota and - officially - he had this to say: "That was false," Harvin said of the speculation. "Me and Christian had a great time together. I respect him a whole heck of a lot."   "I never had a problem with (Ponder)," he continued.  "I've never stated I had a problem with him. I've never seen a problem he has had with me. He has never said he's had a problem with me.  (Ponder and Harvin were) on the same page, it's just a lot of articles that tried to pick up on things that weren't there." But don't for a second think the comments stopped there. When the mics turned off on the Rome Show, it was of course Purple Jesus Diaries who was able to gather an EXCLUSIVE audio sample that included Percy elaborating on his feelings for Ponder. Here is the transcript: ROME: So, really man, you didn't have an issue with Ponder? Come on, bro, you can come clean. Cameras are off. Let's rap. I mean, how awful is that guy? PERCY: Nah, Jim, it's, uh, not like that. As, uh, I've stated before, I think Ponder is fine. We never had any, uh, problems, he and I. We were on the, uh, same football team together, we played together, won, lost, even, uh, went out to dinner together as teammates. It was fine.  "I mean, so what if he, uh, has a noodle for an arm, right? And if he's colorblind at the, uh, quarterback position, which he claims makes him throw all those interceptions, and if his, uh, Master's degree from that OTHER Florida school doesn't actually add up to him being, uh, all that smart or being able to see the, uh, field and find an open receiVER WHO IS RUNNING RIGHT DOWN THE GOD DAMN MIDDLE OF THE FIELD YOU BLIND MORON OR THAT HE CAN'T EVEN THROW A PROPER SCREEN PASS TO A RECEIVERS HANDS BUT INSTEAD ITS 37 YARDS BEHIND THE LINE OF SCRIMMAGE OR AT MY GOD DAMN ANKLES WHERE I CAN'T DO ANYTHING WITH IT THEN YOU WORTHLESS FLAPS OF LOOSE SKIN OR HOW YOU CAN'T EVEN REMEMBER WHICH SIDE YOU'RE NOW HANDING THE BALL OF TO THE RUNNING BACK EVEN THOUGH YOU JUST CALLED AN AUDIBLE BECAUSE YOU THOUGHT YOU WERE GOING TO OUTSMART A DEFENSIVE COORDINATOR JESUS YOU ARE AN IDIOT HOW DID YOU EVER MARRY SAMANTHA STEELE SHE MUST LOVE WEARING PANTS BECAUSE SHE SURE AS **** DOES IN THAT RELATIONSHIP GO TO HELL MINNESOTA YOU IDIOTS.  "But no, uh, Jim, I've never had any personal issue with Christian. He's a Vikings, I'm a, uh, Seahawk, and that's just where we're leaving it, you know? I, uh, wish him the best of luck." [follow]
Original Story:
http://www.purplejesusdiaries.com/201...
THE BACKYARD
BEST OF MAXIM
RELATED ARTICLES
Minnesota Viking quarterback Christian Ponder was forced to miss the playoffs last season after he sustained a deep bruise to his throwing triceps. Five months later Ponder says that there is no "after-effects" from the injury and that it feels "good". That playoff loss was a win-win for Ponder. He wasn't the one embarrassed by the Packers (the injury forced back up Travaris...
Someone a couple of weeks ago on Reddit put together a pretty awesome visual history of the Minnesota Vikings. It's a handy infograph that - in shorter terms - basically says we've never won a Super Bowl. But in more thorough terms, it tells us ... Umm ... Our primary color is purple. Haha, but no really, here are some of the cool highlights that jumped out to us. Full...
EDEN PRAIRIE, Minn. Minnesota Vikings coach Leslie Frazier has been around the NFL for a long time and stresses the groundwork put in during the summer to set the standard for the upcoming season. But one player is forcing Frazier to calm himself down and realize it's still only June. Tight end Kyle Rudolph, entering his third year in the NFL, is turning heads at Minnesota...
EDEN PRAIRIE, Minn. Jeff George has been a name that has tantalized Minnesota Vikings' fans since his 12-game run with the team back in 1999. George, the 12-year NFL quarterback and former first-overall pick in the 1990 draft, was back on the field for Minnesota this week. But hold off on any thought the 45-year-old is challenging for Christian Ponder's starting spot. George...
EDEN PRAIRIE, Minn. In an offseason in which the Minnesota Vikings made several tough, and somewhat unpopular, business decisions with several veteran players, the team left Jared Allen and his 17 million-plus cap hit alone. Allen, entering the final season of a six-year, 73 million contract, is due a 14.28 million base salary. He's coming off a season with depressed numbers...
According to Tom Pelissero of 1500ESPN.com, Vikings wide receiver Greg Jennings was back at practice today after missing some time due to an ankle injury. According to the #Vikings website, which is granted access not afforded to reporters, Greg Jennings (ankle) returned to practice today. — Tom Pelissero (@TomPelissero) June 4, 2013 I know it's only June, but I really hope...
Vikings running back Adrian Peterson recently came out and stated that he doesn't believe in gay marriage. Now he says if he wouldn't be comfortable taking a shower with a gay teammate. The star Minnesota Vikings running back told The Oklahoman on Monday that having a gay teammate "really wouldn't bother me that much."   He, however, admitted to the newspaper that having...
(Eds: APNewsNow. Will be updated.) By DAVE CAMPBELL AP Pro Football Writer Kevin Williams is still with the Minnesota Vikings, 10 years after they made him the ninth overall pick in the NFL draft. Williams has played through all kinds of ups and downs. The most recent low point was the pay cut the burly defensive tackle was asked to take two months ago. Staying with the team, though...
Lance Schultz figured he'd slide the envelope through the mail slot and never hear from its intended recipient again. He wondered how many times a fan had written his favorite athlete a letter, only to come away disappointed when it failed to yield a response. Besides, Schultz thought, Brett Favre was probably busy anyway. "I said, 'What do I have to lose?'&quot...
Brian Robison's shoulder injury last year has left him with bone protruding from his shoulder that could be permanent. Plus, the Vikings had a big day helping others and notes from an open-access OTA.
Vikings wide receiver Greg Jennings was asked to compare Christian Ponder to both Brett Favre and Aaron Rodgers from his playing days with the Packers.  It certainly doesn't sound like he thinks very highly of Rodgers any longer. "When you talk about comparing quarterbacks, it's hard to compare guys. I'll take Brett. He did it for so long. I got there in a period of time...
When the St. Louis Rams made the trade to move up to No. 8 overall in this year's NFL Draft, the entire city buzzed with excitement, knowing that the Rams were about to select electrifying wide receiver Tavon Austin out of West Virginia with the pick. After waiting for years to acquire a play-making, explosive wide receiver for quarterback Sam Bradford to play with, many feel...
All Sports News

Delivered to your inbox

You'll also receive Yardbarker's daily Top 10, featuring the best sports stories from around the web. Customize your newsletter to get articles on your favorite sports and teams. And the best part? It's free!
THE HOT 10: Who's Trending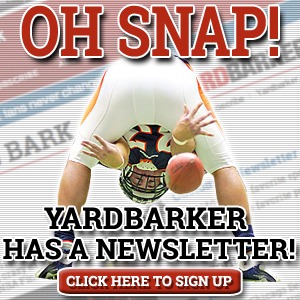 Latest Rumors
Best of Yardbarker

Today's Best Stuff

For Bloggers

Join the Yardbarker Network for more promotion, traffic, and money.

Company Info

Help

What is Yardbarker?

Yardbarker is the largest network of sports blogs and pro athlete blogs on the web. This site is the hub of the Yardbarker Network, where our editors and algorithms curate the best sports content from our network and beyond.