Found November 21, 2012 on Buckeye Empire:
Well, he's certainly well-insulated. I'm going to be perfectly honest with you guys. This was far and away the easiest "10 Things" article that I've written all season. It's That School Up North and there are literally hundreds of reasons to hate them. I have tried to avoid some of the obvious ones like the ugly women, goofy helmets, and inflated sense of self worth. So let's come together and Embrace the Hate as we count down 10 Reasons to Hate Michigan! 1.      They're A Little Too Excited about Last Year's Game – Last season the Wolverines' long national nightmare ended. The team miraculously ended its losing streak to the Buckeyes, earning its first victory over Ohio State since George W. Bush's first term. Hamburgler turned head coach Brady Hoke was the new sheriff in town, and to hear the Wal-Mart wolverines describe it, he had just announced his presence with authority. Of course, if you look a little bit closer, the win loses a little bit of its luster. Thanks to offseason upheaval The Game last year featured the worst squad that the Buckeyes had fielded in at least a decade. It also featured a lame-duck interim head coach and an offensive coordinator that was more walrus than man. It also featured the best team that TTUN  had fielded in half a decade. Still, it took every minute of regulation for the Wolverines to eek out a home win. Congrats guys, you had your moment. Now Urban here and things will be getting back to normal. 2.      Their "Total Wins" Lead is Misleading –   Were you to talk football with any self-respecting M*chigan man, odds are it wouldn't take long for them to bring up TSUN's record for total wins. That 60-plus win lead that they have on the Buckeyes is a major point of pride. What they won't mention is the 11-year head start that the Wolverines had on the Buckeyes. If Michigan were to stop playing today, Ohio State would need to average just over 6 wins per season for the next 11 years to catch up. Six. The number after five. Also known as Ohio State's win total after six games this season. So go ahead wolverines, keep pounding your chest over that one. 3.      Lack of Self-Awareness re: "Ohio" – The "Ohio" instead of "Ohio State" thing, they're still doing it. And to be honest, it bothers Ohio University fans as much if not more than it bothers Ohio State fans. Last year even UM basketball coach John Beilein got in on the act, repeatedly calling Ohio State "Ohio". Then, a funny thing happened. Beilein and his wolverines drew Ohio University in the NCAA tournament and the Bobcats ended their season. You would think that this would have taught the Wolverines to give the Bobcats their due. Of course, that would indicate that your typical UM fan is capable of being taught. Alas, "Ohio" is still a thing, and the whole state of Ohio is laughing at just how lost the irony is on those fans up north. 4.      Brady Hoke, a Little Bit Overrated – Just by virtue of his not being Rich Rodriguez, Brady Hoke is an upgrade for TSUN, but really his track record is far from stellar. In his 10 years as a coach, Hoke has posted five winning records and five losing records—the definition of mediocrity. He caught some breaks last season and Michigan ended up 11-2, but this season the team has regressed. After Saturday Michigan will be 8-4, on the outside looking in when it comes to the Big 10 Championship game, and headed for a mid-tier bowl. Some will point to his recruiting success, but I'll point to Urban Meyer pulling in a better class than Hoke last season despite only being on the job for two months. Who knows, he may end up being a great coach, but let's hold off on building the statue. 5.      Bo Was No Woody– It was the coaching rivalry that defined The Game, and head-to-head, no coach truly bested the other. Who was the better coach, though? We can go back and forth on this one, but I'll present two stats that will end the argument. Win percentage in bowls: Woody .500, Bo .294. National titles: Bo ZERO, Woody 5. Bo was a great coach (credit the year that he spent in Columbus), but he's no Woody! 6.      Browns Coach Pat Shurmur is from Ann Arbor – What he has done to Browns fans is a crime against humanity, and Ann Arbor, he's your fault. 7.      Speaking of Crimes Against Humanity – Michigan athletic director Dave Brandon is the former CEO of Dominoes Pizza, the restaurant whose whole marketing campaign is centered around how awful their food used to be. If it wasn't enough that his glorified Totinos pizza is giving America diabetes, Dominoes also gave us the Noid, a creature that still haunts the dreams of many children of the 90s. Seriously. I've tried to shake my memories of that thing, but I just can't do it. 8.      The Wal-Mart Wolverines – I could try to explain this phenomenon to you, but this video does it better than I ever could. 9.      The "Maize and Blue" Myth – Would you believe that Michigan is so incompetent as an institution that it lost the rights to its own colors? Well, when captain Dominoes (see above) took over the athletic department he spearheaded a change in uniform suppliers from Nike to Adidas. There was only one problem: Nike also copyrighted the color "Maize," so Adidas actually had to make a new version of [Michigan's] school color, now known as "Sun" That's right, they're no longer the Maize and Blue, they're the sun and blue. Way to go guys. Fortunately, I don't think we'll ever have to worry about "cheering on the Rouge and Grey." So next time you hear a wal-mart wolverine praising the Maize and Blue, be sure to correct them. After all, it is copyright infringement, and you know they can't afford a lawyer.10.  Last but Not Least – And not to be too corny, but we hate Michigan because we love the rivalry. It truly is the best one in all of sports.
Original Story:
http://buckeyeempire.com/blog/2012/11...
THE BACKYARD
BEST OF MAXIM
RELATED ARTICLES
Once upon a time, ''The Game'' was just another game. When Michigan and Ohio State played, sure, it was important. After all, the schools put it at the end of their schedules in 1935 in recognition of that fact. But it never really was an epic battle until two longtime friends ended up on opposite sides and transformed it into an over-the-top grudge match. '...
Michigan Head Coach Brady Hoke doesn't blame opposing fans for being excited and trying to rattle his team in road situations. Saturday at Ohio State won't be any different (well, maybe a little).
Big Tentacles  -  The SWRT look at the Big Ten, and its sway over the college football landscape. Welcome to the planet.  Andrew Coppens defends Maryland and Rutger's admission into the Big Ten. (Delany's Dozen) That Don't Impress Me Much. Jeff Seidel isn't too overwhelmed about Maryland and Rutgers joining the Big Ten. (The Detroit Free Press) Apocalypse...
Rutgers and Maryland? To paraphrase Brady Hoke, this is definitely not your father's Big Ten. The old Western Conference is now moving into New York and Baltimore, with plans for a league office on the East Coast. And they probably aren't done. Remember, during the height of conference realignment craziness, pundits predicting we're headed for four 16-team super-conferences...
ANN ARBOR, Mich. -- Michigan fans and players don't know if Denard Robinson will start at quarterback Saturday in Columbus, Ohio. More important for the Wolverines, neither does anybody at Ohio State. In his weekly news conference, Brady Hoke continued to play coy about his injured quarterback. Robinson played a "superback" role in Saturday's 42-17 win over Iowa...
Urban Meyer has been away from the rivalry dubbed ''The Game'' for a long, long time. He's glad to be back. Now he's embracing his first Michigan-Ohio State game as a head coach. Meyer, like Michigan's Brady Hoke, grew up in Ohio. Both were steeped in the legends and lore of Bo Schembechler and Woody Hayes, of playing for bragging rights in November...
  Starting at a young age we Buckeye fans are taught to hate Michigan.  We are also taught never to say **********.  Well only one of those lessons stuck because we ******* HATE MICHIGAN.  Welcome to your one stop shop for hating Michigan.  If you aren't quick witted like us and struggle with the comebacks we have you covered.  Of course no guide to hating Michigan would...
All Sports News

Delivered to your inbox

You'll also receive Yardbarker's daily Top 10, featuring the best sports stories from around the web. Customize your newsletter to get articles on your favorite sports and teams. And the best part? It's free!
THE HOT 10: Who's Trending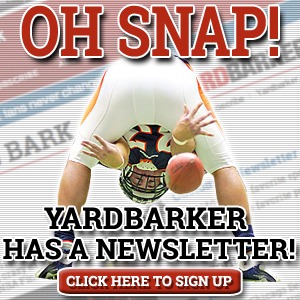 Latest Rumors
Best of Yardbarker

Today's Best Stuff

For Bloggers

Join the Yardbarker Network for more promotion, traffic, and money.

Company Info

Help

What is Yardbarker?

Yardbarker is the largest network of sports blogs and pro athlete blogs on the web. This site is the hub of the Yardbarker Network, where our editors and algorithms curate the best sports content from our network and beyond.