Found July 25, 2013 on Champions League Talk:
It's not every day that you get a chance to attend two international semifinals on the same night, in the same stadium.  Wednesday evening was a rare soccer spectacular at Cowboys Stadium, aka Jerry World, in Arlington, Texas, just a short drive from where I live in suburban Dallas.  Big time international soccer doesn't make it to the Dallas area very often, so fans have to jump at the chance when it does. Last night, an eclectic mix of over 81,000 U.S., Honduras, Mexico and Panama fans did just that. Cowboys Stadium may have been built for American football, but it makes a fantastic soccer venue.  I was there for the first-ever sporting event at Cowboys Stadium in 2009 — a pre-season friendly between Chelsea and Club America.  The crowd and atmosphere were impressive then, but that match pales in comparison to last night's carnival atmosphere.  I'm not sure the stadium staff were prepared for the deafening chants, drums, whistles, and impromptu dances that filled the vast concourses, creating a constant, echoing din throughout the evening.  After two full consecutive matches, I'm pretty sure I lost some hearing. American fans were out in decent force for the evening's first match between the U.S. and Honduras, though Honduran fans also made a respectable showing.  Landon Donovan deservedly received the loudest roars from the crowd every time he appeared on the legendary Texas-sized high-definition screens above the field.  While I've seen Donovan play several times for the Galaxy at FC Dallas Stadium over the years, I've never seen him play as captivatingly as he did last night.  He is a player fully reinvigorated after his much-publicized (and criticized) soccer sabbatical earlier this year.  If there was any doubt before yesterday about his place on the U.S. team, it is surely gone after his assist (his seventh assist of the Gold Cup tournament) and two goals in the 3-1 U.S. victory. Donovan had plenty of help, of course.  The U.S. dominated possession with a high-pressing and aggressive attacking style. And their passing has rarely looked sharper.  For a supposed "B" version of the national team, the Americans have dominated their Gold Cup opposition (with the exception of their 1-0 win over Costa Rica in group play).  Head coach Jurgen Klinsmann now has the best kind of squad selection headache on his hands going into the last round of World Cup qualifiers. I'm not sure if every fan in attendance bought the same kind of match ticket I did (which was good for both semifinals), but for whatever reason, the majority of Mexican fans did not bother watching the U.S./Honduras match.  That meant the stands weren't quite full for the U.S. game.  But by kickoff time for Mexico/Panama, there was barely a seat left, and Jerry World had turned decidedly green. In the hour between matches, I walked around the interior of the stadium with my brother, enjoying the sights and sounds of the Mexican fans announcing their arrival.  Several friendly mosh pits of bouncing, dancing fans broke out around the main concourses.  In a couple of them, American and Panamanian fans jumped in with the Mexicans, creating a potentially volatile, but ultimately jovial mix.  My favorite sight of the evening, aside from the on-field action, was a very tall gentleman dressed from head to toe as Uncle Sam who spotted one of the largest of these mosh pits, made a beeline for it, and somehow danced his way right through the eye of the chaotic huddle of bodies.  His Uncle Sam hat bobbed above the dancing crowd as he impressively held aloft his beer, not spilling a drop.  The crowd roared approvingly as he made it through the dancers and continued on his merry, patriotic way. The throngs of Mexican fans made it clear why U.S. Soccer never chooses Dallas as a World Cup qualifying venue.  Thank goodness the U.S. wasn't playing Mexico last night because their fans provided an impressive, overwhelming atmosphere of support for El Tri.  It was like Estadio Azteca, with plasma TV screens.  I love my team and fellow American fans, but we still have a long way to go to catch up with our Mexican brethren when it comes to national team support.  While U.S. fans were scattered about in pairs, trios, and small groups of mostly over-18 males – the Mexican fans came as entire families, both sexes, from babies to grandparents.  My favorite Mexican fan sighting was a toddler riding on his dad's shoulders, with the little guy wearing a green Mexico jersey and a tiny sombrero.  My hat's off to the Mexican fans – they definitely know how to support their team. From the beginning of the match, every time Panama's goalkeeper Jaime Penedo took a goal kick, Mexican fans yelled out something in unison that I couldn't make out.  After the fourth or fifth time this happened, I leaned over to the guy wearing a Mexico jersey sitting next to me and asked him what everyone was yelling during the goal kicks.  He grinned, looking a little embarrassed.  "It's something that's not very nice," he replied.  We laughed.  "But if you really want to know…" and he proceeded to translate. He was right about it not being very nice.  Welcome to international soccer. Unfortunately for the Mexican fans, Panama was stubbornly impervious to the derisive roar aimed at them from the stands.  FC Dallas striker Blas Perez scored first for Panama.  The moment immediately following his goal was the quietest of the night.  Minutes later when Luis Montes equalized for Mexico, the explosive volume of the Mexican supporters' celebration was the kind of aural magic soccer fans live for. Panama's underdog determination persisted however, and paid off in the 61st minute with Roman Torres' shocking headed goal off a corner kick that put Panama ahead and ultimately sealed victory. Some testy moments between Panamanian and Mexican fans flared over the last half hour.  The worst I saw didn't progress beyond shoving and throwing food and drink, but the incidents were enough to make my brother and I decide to slip out with three minutes left in the match to avoid any potential wrath.  As we made our way out of our seats wearing our U.S. jerseys, a group of Mexican fans sarcastically heckled us, "Hope you enjoy your win…" and "Enjoy your night…" We did, thoroughly.  And whether their team won or lost, everyone else seemed to have a pretty good time too. One Night Ticket to Jerry World's Gold Cup Soccer Fiesta, Semi-Final Style is a post from World Soccer Talk.
Original Story:
http://feedproxy.google.com/~r/EPLTal...
THE BACKYARD
BEST OF MAXIM
RELATED ARTICLES
The United States advanced to the final of the CONCACAF Gold Cup with a 3-1 win over Honduras on Wednesday, with Landon Donovan scoring two goals and setting up another. The U.S. will face either Mexico or Panama in the final, with those teams to play later Wednesday. The Americans struck first when Donovan found Eddie Johnson running through the middle. He dribbled the ball then...
Burned out and exhausted from more than a decade as the standard bearer for the U.S. football team, Landon Donovan needed a break. For four months last winter, football was the last concern for the Americans' career scoring leader. He spent time with family and friends, making up for all those holidays and get-togethers he missed over the years. He traveled to far-flung places...
He may not be on the World Cup qualifying team right now, but that isn't going to stop one of the greatest players in U.S. Men's Soccer from elevating his game and his team. Landon Donovan did just that by scoring his fourth and fifth goal in CONCACAF tournament play while leading the U.S. to a 3-1 win over Honduras. "It's the most relaxed I'...
No matter the chore, no matter the challenge, the United States men's national team has proved irrefutable during this 2013 CONCACAF Gold Cup . Honduras huffed and puffed, but in the cavernous Cowboys Stadium, the Americans never wobbled, booking their place in the final with a 3-1 win . Everything has been tried to throw them off their game. Defensiveness, rough play and all...
ARLINGTON, Texas — By even the very high standards of coach Jurgen Klinsmann, Landon Donovan is regaining top form after taking a break from the national team. Donovan scored two goals and set up another on Wednesday night, helping the United States beat Honduras 3-1 to advance to the CONCACAF Gold Cup final. Klinsmann said the performance was "wonderful to watch." "I have...
USA 3-1 Honduras   he U.S. Men's National Team advanced to its ninth CONCACAF Gold Cup Final and will be shooting for its fifth title following a 3-1 semifinal victory against Honduras at Cowboys Stadium. Landon Donovan scored twice and assisted on Eddie Johnson's opening goal to lead the Americans to their fifth straight Gold Cup Final appearance. With the victory, the USA...
Originally posted on Top-soccer.comEddie Johnson score inside the 10th minute to give the United States a 1-0 lead in their Concacaf Gold Cup semifinal at Cowboys Stadium. Landon Donovan who provided the pass for Johnson's opening goal added two goals of his own to put the impressive US team 3-1 up and pushing game beyond the Hondurans reach. Honduras who had few clear chances...
At last, a complication. Things had been rather easy for the U.S. men's national team during this 2013 CONCACAF Gold Cup. The Americans had swished through the tournament, winning all their games fairly easily, mostly playing good soccer. Opponents had crumbled. Goals had fallen in bunches at the right side of the field for a +15 goal difference. A record winning streak was...
The United States men's national soccer team won it's record 10th consecutive game in dominating fashion Wednesday night, topping Honduras 3-1. The victory came in the semifinal of the 2013 CONCACAF Gold Cup, which means the U.S. has reached the final of the tournament for the ninth time in 12 tries. Landon Donovan led the way for the Americans, scoring two goals and assisting...
The 2013 CONCACAF Gold Cup has been some sort of resurrection for USA striker Eddie Johnson. He has found his scoring touch and is taking the Western Hemisphere by storm. Wednesday night was no different when Johnson took a beautiful set pass from forward Landon Donovan and blew by his defender en route to a 1-0 lead in the 11th minute of the Gold Cup semifinal game versus Honduras...
And then there were two. Two sides that faced each other twice in the last Gold Cup now square off in an unexpected final for the CONCACAF crown in Panama and the United States Coming into their semifinal match against Honduras the USMNT was rocking and rolling. They had scored more goals than in any other Gold Cup. The match was much the same as the USMNT soundly beat Honduras 3...
It's rare to see the U.S, not a World Soccer Power, in the finals of any tournament. But the own the CONCAF Cup, winning it 5-times. Sunday they will be playing for number 6, but will be doing it without their head coach Jurgen Klinsman. That's because Klinsman will be serving a one-game suspension after slamming a soccer ball on the ground during the U.S semi-final...
All Sports News

Delivered to your inbox

You'll also receive Yardbarker's daily Top 10, featuring the best sports stories from around the web. Customize your newsletter to get articles on your favorite sports and teams. And the best part? It's free!
THE HOT 10: Who's Trending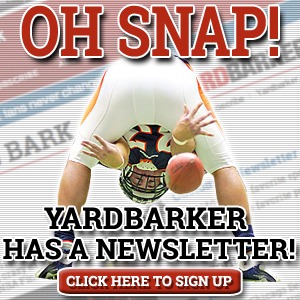 Latest Rumors
The Backyard

Today's Best Stuff

For Bloggers

Join the Yardbarker Network for more promotion, traffic, and money.

Company Info

Help

What is Yardbarker?

Yardbarker is the largest network of sports blogs and pro athlete blogs on the web. This site is the hub of the Yardbarker Network, where our editors and algorithms curate the best sports content from our network and beyond.