Found January 02, 2013 on Fox Sports Detroit:
DETROIT -- DeMarcus Cousins is a very talented NBA player. That doesn't mean the Pistons should try to get him. Cousins was chosen by the Sacramento Kings with the fifth overall pick in the 2010 NBA Draft, two slots ahead of Greg Monroe. Because the two play the same position and the Pistons were interested in Cousins back then, people often link the two players. With Cousins collecting three suspensions since the Pistons and Kings last played in Sacramento in early November, there has been some talk that Cousins might be available in a trade. Cousins, 22, had 21 points, 14 rebounds, two assists and three steals in Tuesday's game, a 103-97 Pistons victory. Cousins is averaging 16.5 points and 9.7 rebounds, so you can certainly understand why any team would be interested in the 6-foot-11, 270-pound behemoth. At one point in the game, Cousins had three Pistons standing between him and the basket, yet he was able to muscle his way in for a dunk. But Monroe isn't exactly a slouch, despite giving up 20 pounds to Cousins. Monroe, who had his 11th double-double of the season with 18 points and 11 rebounds in Tuesday's win, is averaging 15.2 points and 8.9 rebounds. The always affable Monroe said after the game that he wasn't going to answer any questions about Cousins. Monroe's probably just tired of the comparisons. He was perfectly happy to address the rest of the game, the heady play of Austin Daye and the bench, among other topics. Monroe, also 22, has never been suspended for yelling at his own head coach, not even in the John Kuester era when there was often open rebellion. Monroe, a rookie back then, just put his head down and kept working. Coach Lawrence Frank never has anything bad to say about Monroe. You also never hear of Monroe confronting another team's broadcaster, which Cousins did to San Antonio's Sean Elliott. Cousins apparently didn't like some comments Elliott made about him and Spurs big man Tim Duncan. Cousins served a two-game suspension for that. No, quite the contrary. Monroe actually fits into the "Goin' to Work" philosophy that made the Pistons so successful in the mid to late 2000s. That was Monroe's reputation when he was drafted, and nothing has changed since then. Plus, now that the Pistons have 19-year-old Andre Drummond (7 points, 11 rebounds, three blocks in 21-plus minutes Tuesday), they don't really need to go looking for that athletic big man. They have one and one who's providing a nice yin to Monroe's yang. The Pistons are also a young team, and when you have a young team, it's best to have steady, mature players around to influence the younger players -- not someone who lacks self-awareness. Monroe is one of the younger guys, but already is that steady, mature guy. I'm not saying that Cousins is a bad person who will never help a team win. Someday down the road he might figure it out and be the player he's capable of being all the time. I'm just saying that he doesn't fit the Pistons' needs right now and Monroe does.
Original Story:
http://www.foxsportsdetroit.com/01/02...
THE BACKYARD
BEST OF MAXIM
RELATED ARTICLES
STAYING IN SACTOWN
A recent suspension fueled speculation that the Kings would consider trading DeMarcus Cousins, but the team's GM says that won't happen.
The Celtics need a big man. But so do a bunch of other teams, so acquiring one could be problematic. Enter DeMarcus Cousins. The beleaguered Kings forward has been ticking people off recently, but his talent level is undeniable. And according to Kentucky Sports Radio, the Celtics are one of the teams looking to acquire Cousins. The C's, Mavericks, Magic and Bobcats are reportedly...
Take all DeMarcus Cousins rumors with teaspoons of salt, but Kentucky Sports Radio (solid reporting on all matters University of Kentucky) says that a source close to D.M.C. says four teams are in play. Today KSR (Kentucky Sports Radio) has spoken with a source close to Demarcus Cousins both that confirms trade talks are ongoing and Cousins is hoping a deal will be worked out...
CLEVELAND -- DeMarcus Cousins is standing near his locker in the visitors dressing room, dancing and playfully yelling at teammates scattered across the room. Hey, stop singing in the shower, man, Cousins says, to no avail. Its as if hes making noise just for the sake of it. Since no one is actually responding, its fairly evident the fourth-year center hasn't quite emerged...
It's being reported that Demarcus Cousin's agent is shopping him to four teams, the Celtics being one of them. Kentucky Sports Radio, which reports on all things University of Kentucky which is Cousin's alma mater, reported and shared by SacTownRoyalty: Today KSR has spoken with a source close to Demarcus Cousins both that confirms trade talks are ongoing and Cousins is...
Kurt Helin had a good update on the ongoing DaMarcus Cousins situation over at NBC Sports. A few interesting things from the article; first, that Kings GM Geoff Petrie flat out said that Cousins was not on the trading block. You can put that one to rest. He's not going anywhere. You can lay that to rest. Some of that stuff lives in its own reality. While this is what a lot of...
DeMarcus Cousins was suspended one game by the Sacramento Kings for his actions in an altercation with head coach Keith Smart.  He was suspended for kicking O.J Mayo in the groin.  He was fined for getting into an altercation with broadcaster Sean Elliot.  He's been a mess.  And the Kings may not want to deal with it much longer.  They could look to trade him. As we mentioned...
Well it's been awhile since I compared Boogie Cuz to Marvin from The Hitchhikers Guide to the Galaxy (and I'm right dammit!), but well, apparently DeMarcus Cousins got the message about what passing actually means from the right spots on the floor. It's amazing (and depressing) that the best passer on this team is Cousins who also leads the team in Field Goal attempts...
In the grand "That NBA Lottery Pick" highlight vault, let's mark this clip from Wednesday night's Cleveland Cavaliers/Sacramento Kings game as a "right place, right time" moment.Nearing the three minute mark of the fourth quarter, Kings center DeMarcus Cousins came up with a steal of Cavaliers guard Kyrie Irving and appeared to have an easy lay-up.That...
The DeMarcus Cousins rumors continue to swirl, and it's getting to the point where the old "where there's smoke - there's fire" adage is coming into play. One name that is consistently popping up as a possible trade chip for the Celts is Avery Bradley. Bradley is ready to return from shoulder surgery (double shoulder surgery at that) as soon as Wednesday night...
OPENING TIP The Kings arrive as one of the leagues most discussed teams, but for all the wrong reasons. DeMarcus Cousins, their talented young center, has been suspended for a shouting match with coach Keith Smart, one of the most laid-back people in world history. Itd be a surprise if Cousins is still with the team following the trading deadline. The Cavs, meanwhile, have lost...
Jason Thompson scored 19 points and DeMarcus Cousins had 18 points Wednesday night, leading the Sacramento Kings to their second road win of the season, 97-94 over the Cleveland Cavaliers. John Salmons' 3-pointer from the corner with 52.9 seconds remaining gave Sacramento the lead for good, 92-90. The win broke a seven-game losing streak away from home for the Kings, who are...
All Sports News

Delivered to your inbox

You'll also receive Yardbarker's daily Top 10, featuring the best sports stories from around the web. Customize your newsletter to get articles on your favorite sports and teams. And the best part? It's free!
THE HOT 10: Who's Trending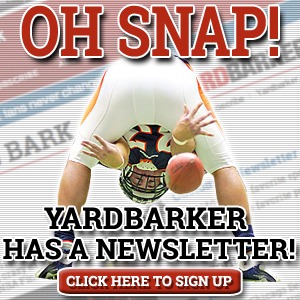 Latest Rumors
The Backyard

Today's Best Stuff

For Bloggers

Join the Yardbarker Network for more promotion, traffic, and money.

Company Info

Help

What is Yardbarker?

Yardbarker is the largest network of sports blogs and pro athlete blogs on the web. This site is the hub of the Yardbarker Network, where our editors and algorithms curate the best sports content from our network and beyond.