Found July 19, 2012 on Pitt Blather:
We have been inundated with opinions regarding the possible penalties that could or should be given to Penn State as a result of the cover up for 14 years of child sex abuse that happened in the university's football facilities and eslewhere by Jerry Sandusky.
They have ranged from the NCAA washing their hands of the responsibility of oversight by doing nothing because "It is a criminal matter not a football issue" to the NCAA giving PSU a five year death penalty and a 14 year bowl ban.  Both are ridiculous in their extremes.  Somthing is going to happen here and we await their decision.
Here is an article that lists four alternatives other than the Death Penalty.  Sorry, but I read these and it makes my skin crawl with the preemptive assumtions that PSU somehow deserves lienency.
"Realistically, there is no form of justice the NCAA has the authority to hand down that could rectify the horrors that unfolded for the victims of Jerry Sandusky; the major players in the case have either passed away or are already, or may soon, face trial, leaving behind only a shattered shell of what once was Happy Valley.

To impose the Death Penalty on Penn State would not only punish those left behind, but potentially cause economic chaos in a town driven greatly by the existence of the Penn State football program. "
Huh, "the shattered shell of what once was Happy Valley".  Well, he certainly knows how to turn a phrase as well as turn his back from the actual perpetrators in this case witch is the University itself.  Sandusky was just the public face of the horrors and to deflect either blame or punishment from where it rightfully lies is perpetrating the damage.
"Realistically, there is no form of justice the NCAA has the authority to hand down…"  Really, does he somehow miss the fact that as a voluntary  membership organization they certainly do 'have the right' to impose any punishments they see fit.  Of course on the flip side PSU has the right to appeal the punishment, not accept the punishment and withdraw from the NCAA or file suit against the NCAA.  There are always options in business matters when it comes to group organization.
By and large the most common answer I've read is a loss of bowl games, usually four years worth,  and allowing the "innocent" PSU players to transfer without a loss of a year's eligibility.
I have to shake my head at this thought and try to keep my anger level down.
Four years without a bowl game would mean just about zero impact for PSU in the long run. It would be business as usual with one less game per year.  As the author above states "A season without a bowl bid can often feel empty; no fancy trip, no national TV audience, no relevancy in the national spotlight."
Cry me a friggin' river.  The Penn State family would feel empty., with no fancy trip.  God, if this isn't the worst bit of football-centric self centered tripe I've every read… but it gets worse.
"TV is a powerful marketing tool and the NCAA could use it as a way to hurt Penn State without giving them the Death Penalty. No TV contracts, no prime time Whiteouts…
Oh hell, can't do without prime time whiteouts, can we?  What he really means is that the rabid PSU fans won't be able to force that now vomit inducing chant "We Are… Penn State" down  national TV audience's throats for a year.
So, they would perhaps not make their normal $53M per year but would still rake in a ton of money from TV, conference shares and gate receipts.
PSU would not change their ways one iota with those penalties. They might just have to strap themselves into their chairs to keep from falling on the floor laughing after hearing that news from the NCAA.
Others are calling for these types of penalties but also allowing players to transfer at will to avoid the effects of that punishment.
I ask why should the NCAA allow players to transfer in this case when they haven't allowed it in other less serious cases they have administered sanctions? Please, if you would evoke the wrist slap bowl ban for four years is telling a player that he'll have 48 games in four years vice 52 some sort of life crippling punishment for that kid? No and there shouldn't be exceptions made for them.
Those kids will CHOOSE to remain at PSU or they will not.  Each one of them already has the option to leave the PSU program and either transfer to a lower division and play immediately or sit out a year and play D1 football. It is done every year by D1 players and none of them have had to have therapy because of it. Hell, for most of those kids on that roster it would actually mean more playing time in the long run.
Should the players not exercise that option then they play one less game a year. Again, big friggin' deal. Good God – that would put them in the same predicament that over 50% of D1 schools are in each year!!!
Let's cut to the chase here. Sometimes life rears its ugly head and people get hurt even though they had nothing to do with the central issue. This is one of those cases. But every PSU player, every PSU fan and every small business in Happy Valley tied their futures to PSU's coat tails knowing full well they did so.
And in doing so they placed themselves in harms way should PSU fail. PSU failed in its basest duties and that is just a fact. It is too bad for them it happened I suppose but that truly is life.
Ask anyone who has been laid off, ask anyone whose apartment has burnt down due to to negligence by others close by, ask anyone whose investments in companies whose stock prices tumble because the SEC levied sanctions against it.
This kind of thing happens every single day in America and somehow, through a false romantic visions of college football, these 'innocents' should be immune to life's vagaries?
If you truly believe that then click your ruby slippers together three times and say 'There's no place like home…"  Especially if home is Happy Valley apparently.
Nothing short of a death penalty stopping the football program in its tracks for at least one season and the public humiliation that ensures from that would make any difference at all.
Original Story:
http://www.pittblather.com/2012/07/19...
THE BACKYARD
BEST OF MAXIM
RELATED ARTICLES
The fate of the Joe Paterno statue outside of Beaver Stadium has been at the center of a firestorm of debate since last week's release of the Freeh Report. Now the person responsible for creating the statue has weighed in. Angelo Di Maria sculpted the seven-foot, 900-pound bronze statue, which was unveiled in 2001, and has mixed feelings on what should become of his work. "I...
Penn State's president is methodically seeking input from trustees, alumni and other constituencies about the fate of the Joe Paterno statue outside the football stadium. The monument has becoming a lightning rod since the release of an investigative report claiming the Hall of Fame football coach concealed child sex abuse allegations against Jerry Sandusky more than a decade...
Here is yet another entry for the "Bad groom's cake" department. This was one comes from Darren Rovell's twitter feed. And this one might just be the winner: A Joe Paterno groom's cake. It's hard to tell which if the worst idea here is the actual concept of a Paterno Cake. The fact it exists, or that Paterno looks like a Muppet. Luckily, this...
After former Penn State coach Joe Paterno passed away in January, cartoonist Rob Tornoe drew a cartoon of Bear Bryant welcoming Paterno into the pearly gates. Fast forward seven months later, Tornoe updated his cartoon and this time it was less heartfelt. Much less heartfelt. Tornoe also wrote, "Like Sandusky in prison, Paterno is now in a place that knows how to deal...
A member and former chairman of the Penn State board of trustees resigned on Thursday, becoming the first board member to do so in the wake of the Jerry Sandusky child sex abuse scandal. Steve Garban said in a letter his presence on the board had become ''a distraction and an impediment'' to its efforts to move forward. Garban, who had stepped down as board chairman...
You'll notice a lack of posts on here about Joe Paterno and Jerry Sandusky of the Penn State Nittany Lions. Not something I like talking about. It's nothing you can make a joke about without being a pretty terrible person. Well, someone decided to make a cake for their Groom's wedding rehearsal and it has gone viral. Not to make a statement on Joe Paterno because Everyday...
If you have a radio or a TV you know the big dilemma is about JoePa, moreover, the conundrum his standing statue in Happy Valley, PA presents. "Leave it up," and "take it down," each have their camp. I have listened to their supporting logic. No matter where we stand, we understand both arguments. Sure, we may not agree, but we understand. After careful consideration...
Alex is back from his vacation, and embarks on episode number nine of  "Football Nation Today:"   1st Down: With training camp coming up at the end of the month, Alex looks at the high profile contract disputes that have been settled (and not settled) around the league.  Alex discusses the implications of Drew Brees' recording setting contract, the extensions handed to running...
A plane flying over the University Park Campus of Penn State University in State College, pulls a banner reading "Take the statue down or we will" on Tuesday, July 17, 2012. The Paterno statue outside Beaver Stadium has been a point of much contention. Critics have called for the statue to be taken down after the Freeh report concluded that Paterno was aware of a 1998 allegations...
In light of everything that has been revealed regarding the Sandusky incident, Penn State University has taken down legendary head coach Joe Paterno's statue Sunday morning: Construction vehicles and police arrived shortly after dawn Sunday, barricading the street and sidewalks near the statue, erecting a chain-link fence then concealing the statue with a blue tarp. [...]
When Central Dauphin High (Harrisburg, Pa.) linebacker Zayd Issah committed to Penn State in late June, it gave the Nittany Lions a strongside linebacker it wanted badly in the class. So, what does Penn State like about him? FOXSportsNEXT takes an in-depth look at Issah.
All Sports News

Delivered to your inbox

You'll also receive Yardbarker's daily Top 10, featuring the best sports stories from around the web. Customize your newsletter to get articles on your favorite sports and teams. And the best part? It's free!
THE HOT 10: Who's Trending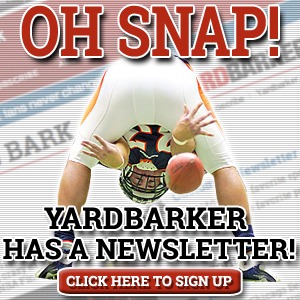 Latest Rumors
The Backyard

Today's Best Stuff

For Bloggers

Join the Yardbarker Network for more promotion, traffic, and money.

Company Info

Help

What is Yardbarker?

Yardbarker is the largest network of sports blogs and pro athlete blogs on the web. This site is the hub of the Yardbarker Network, where our editors and algorithms curate the best sports content from our network and beyond.