Found July 10, 2013 on Waiting For Next Year:
Kevin Griffin (left) and Zak Gilbert (right) are two new faces in Berea this year Yesterday the Cleveland Browns reportedly delivered a Lou Groza jersey to the family of the Browns fan who put a joke about the team in his obituary. Yesterday, Will Burge reported that the Browns are changing many of the features of the Cleveland Browns game-day experience for the upcoming season including (wait for it) wiener dog races and drum lines. I'll admit that I have my doubts about some of the things that came up in the game experience rumor mill, but that's where my doubts end. Over the last couple days with these two stories, we might just have a glimpse at the beginnings of a changing of the tides in Berea. As I said in the podcast last night, the Browns might fail miserably with a few of their game-day experience initiatives. Yes, Kevin Griffin, Browns Vice President of Fan Experience & Marketing might fall flat on his face with the wiener dog race. Fear of failure isn't very endearing, and many people who end up being defined by failure never gave themselves an opportunity to succeed. In order to succeed, sometimes you need to take some chances. Plus, if Joe Banner taught us one thing last year, it's that he's not afraid to adjust on the fly. Remember that he's the one who stepped up and nixed the "white flag" giveaway. So, if by chance the wiener dog race or the drumline are utter busts, expect another attempt to show up in its place. That's my expectation anyway. The one argument that I commonly hear against this stuff is a non-argument in my mind. 1 "The only good PR and game-day experience the Browns need is to WIN," they say. "Everything else will take care of itself!" It would help, obviously, but overall I don't buy it. I think it would be wrong for a winning football team to slack on PR and game-day experience too. Winning football games is hard. You have to draft well, organize the roster with free agents, hire exceptional coaches and then execute week-in and week-out. Game-day experience should be something much easier to figure out. It takes effort and research and a commitment to try different things until you hit a sweet spot. And then it takes the knowledge that you need to constantly pay attention and continually change things. The reason that people are so critical of the game-day experience at Cleveland Browns stadium (now FirstEnergy) is because it hasn't changed enough. The music seems stale. The player intros seem stale. It's true that Browns fans are a traditional bunch, but that doesn't mean nothing should ever change. It's the same with PR. The Browns could have been defensive about the old pall bearer joke that hit that fan's obituary this week. They could have ignored it, despite the fact that it became a pretty viral, national story. They also could have gone too far in embracing it and embarrassed themselves. In the end, I think they hit the mark in terms of acknowledging it and owning the story and the message. They managed to engage the story and involve themselves in a way that seemed both classy and also respectful of previous regimes. That's ultimately what all this comes down to. As a football team and as a sports organization the Browns have left their identity to the people talking about them for the most part since 1999. Whether it was analysts blasting organizational moves in player personnel or the handling of Colt McCoy's concussion, the Browns let everyone talk about them rather than showing a willingness to speak to each story. When Romeo Crennel was flipping coins for QBs or Eric Mangini was moving murals in Berea, the rumor mill defined the team and what they were doing. No matter the reason, it came off uncaring or arrogant, which was further enraging to a fan-base that endured endless numbers of losing seasons. Owning the message is about organizational leadership that cares about that part of the business and drives the organization to put effort into it. Of course all those things would be easier (IE less visible) if the team was just winning lots of football games. That's not really the point. I've argued for a long time that none of these things are mutually exclusive. It seems that right now the current crop of leadership in Berea agrees. ___________________________________ I don't think it's a straw man, by the way. I've heard this refrain time and again even if I haven't quoted anyone specifically here.
Original Story:
http://www.waitingfornextyear.com/201...
THE BACKYARD
BEST OF MAXIM
RELATED ARTICLES
NICE GESTURE
After hearing about how recently deceased Browns fan Scott E. Entsminger zinged the team in his obituary, the team had a customized jersey made in his honor.
The Cleveland Browns went 5-11 last year, so expectations for the team this year with actual game film a distant memory, are understandably tempered. Grantland decided to look at some of the basement dwellers to see which would have a chance to make that leap and potentially even make a playoff appearance. The Browns were listed fourth after the Lions, Eagles and Chiefs. Most of...
The Cleveland Browns have made some splash moves on defense this offseason in hiring coveted defensive coordinator Ray Horton, paying big money to free agent pass rushers Paul Kruger and Desmond Bryant, and drafting linebacker Barkevious Mingo with their first round pick. While the Browns' pass rush should be significantly better because of these acquisitions, the secondary has...
The Cleveland Browns have been making some much-needed upgrades over the offseason.  While most of the focus has appears to be on repairing a roster that won just five games in 2012 and hasn't made the playoffs since 2002, Will Burge of ESPNCleveland.com reports that Browns CEO Joe Banner and his team "have also been busy repairing a game day experience that was antiquated...
Amid the FBI investigating his company, Pilot Flying J for fraud, and it's huge debt to creditors, Cleveland Browns owner Jimmy Haslam says there's no chance he's selling the team. "Absolutely not," Haslam told Tony Grossi ESPNCleveland.com. "We plan on owning the Browns for a long time."  "Since October, we put together a completely new front...
Scott E. Entsminger's obituary included a request to be let down by the Cleveland Browns one more time. The Browns organization got word of Entsminger's request and has acted to lift up his family in its time of mourning. A day after Entsminger's request for six Browns players to serve as pallbearers went viral, a Browns spokesman confirmed Tuesday that the team reached...
A good-humored Ohio man who was taken from us too soon isn't getting his final, tongue-in-cheek wish granted by his beloved Cleveland Browns, but they're honoring him despite the fact he took a shot at them on his way out. After he died at the age of 55 last week, it was noted in Scott Entsminger's obituary that the lifelong Browns fans "respectfully requests six...
We just found out that Broncos front office executive  Matt Russell of the Broncos was charged with DUI. Now Broncos pro personnel director Tom Heckert has been busted for DUI on June 11th, according to ProFootballTalk.com. Either the Broncos have bad luck, they hired the wrong guys, or they overlooked some serious off the field issues with both Russell and Heckert. I can't wait...
Cleveland Browns running back Dion Lewis learned on Wednesday that it is probably best to simply ignore the Aaron Hernandez murder investigation on public forums like Twitter. The subject is a sensitive one, so comments like this are not bright: Lewis quickly realized he had made a mistake and deleted the tweet, but not before [...]
Hot News for FO Tom Heckert
Browns News

Delivered to your inbox

You'll also receive Yardbarker's daily Top 10, featuring the best sports stories from around the web. Customize your newsletter to get articles on your favorite sports and teams. And the best part? It's free!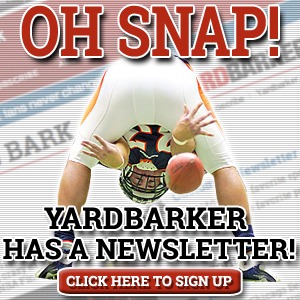 Latest Rumors
Best of Yardbarker

Today's Best Stuff

For Bloggers

Join the Yardbarker Network for more promotion, traffic, and money.

Company Info

Help

What is Yardbarker?

Yardbarker is the largest network of sports blogs and pro athlete blogs on the web. This site is the hub of the Yardbarker Network, where our editors and algorithms curate the best sports content from our network and beyond.