Found January 13, 2013 on Patriots Life:
So it didn't take long for the very mouthy Ravens to start trash talking the Patriots.This time it wasn't Ray Lewis, it wasn't Terrell Suggs. Nope, it was someone you've never heard of. Ravens linebacker Brendon Ayanbadejo. He pretty much pulled out all the hard hitters on this one.New England does some suspect stuff on offense. Can't really respect it. Comparable to a cheap shot b4 a fight— Brendon Ayanbadejo (@brendon310) January 13, 2013Their offense is good enough to be successful with out that— Brendon Ayanbadejo (@brendon310) January 13, 2013You know the same organization that did spygate and cut a guy the day b4 the Super Bowl— Brendon Ayanbadejo (@brendon310) January 13, 201318-1— Brendon Ayanbadejo (@brendon310) January 13, 2013I guess he'll just have to learn to respect that offense this weekend. I remember the Jets complained about this before the Patriots beat them in Week 7. The beef with the Patriots offense stems from the fact that they run it ...
Original Story:
http://www.nepatriotslife.com/2013/01...
THE BACKYARD
BEST OF MAXIM
RELATED ARTICLES
Ravens linebacker (but, in all honesty, most special teamer) Brendon Ayanbadejo couldn't even wait for the Patriots to finish their smackdown of the Texans before unleashing some trash talk in preparation of Sunday's upcoming AFC Championship. Ayanbadejo took to Twitter during the Pats-Texans games to give his wonderful thoughts on the Patriots "gimmick" offense: New England...
Ray Lewis is going to make a lot of money as a motivational speaker in a few weeks when his playing days are over.  We all know Ray Lewis the leader, the tackling machine, and premier middle linebacker in NFL history. Many of our younger NFL fans are not aware of the Ray Lewis that fought for his life in a double murder trial in 2000.  Lewis was eventually charged with obstructing...
Last Friday night, the Baltimore Marriott Waterfront Hotel paid tribute to Ravens linebacker Ray Lewis, who is retiring from the NFL at the end of the team's postseason run, with a laser light show on the front of the hotel. Between 5:30pm and 9pm, the laser images displayed across 15 floors of the building, alternating between the number 52 and an animated version of Lewis...
The New England Patriots did not have much to say in response to the tweet by Baltimore Ravens linebacker Brendon Ayanbadejo, who called the Patriots' hurry-up offense "a gimmick," added a Spygate reference, and jabbed the Patriots for cutting Tiquan Underwood the day before the Super Bowl last year. None of the Patriots' players paid much attention, according...
Not that the Pats need any bulletin board material, but if they did Ravens Brendon Ayanbadejo just gave it to them via Twitter. Just in case you thought Brendon was misquoted, he made his position even more clear. After a few Patriots fans started to blow up his mentions. Call me crazy, but I don't think Tom Brady will be sending Brendon any UGGS. If it is a gimmick should be...
If Ravens linebacker Brendon Ayanbadejo was looking to get a rise out of the Patriots' locker room, he failed miserably. Ayanbadejo sent out a series of critical tweets during Sunday's Patriots-Texans divisional round playoff game that took aim at Spygate, the Patriots' infamous 18-1 season and New England's decision to cut wide receiver Tiquan Underwood a day before the...
Denver Mayor Michael Hancock lost a bet when the Baltimore Ravens defeated the Denver Broncos in double-overtime on Saturday, but an injury may prevent him from paying up. According to the Denver Post, Hancock had a friendly wager going with Baltimore Mayor Stephanie Rawlings-Blake that was supposed to result in him doing Ray Lewis' famous pregame warmup dance (which can be seen...
The Ravens and Broncos battled into two overtimes for one of the most memorable NFL playoff games in history, and the leaders of each team played their hearts out. Peyton Manning and Ray Lewis, each a little long in the tooth, put forth an amazing effort, and eventually the Ravens preveiled by a score of 38-35. Peyton paid Lewis the ultimate show of respect by sticking around (with...
After losing in double overtime and losing to the Baltimore Ravens 38-35 after skipping his post game interview, met with Ray Lewis in the locker room. Let's consider what it is they could've discussed. Perhaps Peyton was asking Rev Ray tips on a speech to give his team next year. [...]
Peyton Manning and his family took some time to congratulate Ray Lewis following their Divisional Round playoff game on Saturday. This photo was taken over 90 minutes after the game by the Ravens Director of Media Relations, Chad Steele. Most of America was either asleep or watching Colin Kaepernick run over the Packers defense by this time.
I don't know what to say. It's really hard to defend Peyton Manning, like I have done for years, when he seemingly shrunk late in the fourth quarter and OT in the Denver Broncos' loss to the Baltimore Ravens. So I won't. Instead, we can talk about this picture with Peyton and Ray Lewis at the end of the game.
The Ravens and Broncos will feature a bit of a chess match between Peyton Manning and Ray Lewis, two of the biggest names in the game. The night game, Green Bay at San Francisco, features quarterbacks with two very different levels of experience.
Ravens News

Delivered to your inbox

You'll also receive Yardbarker's daily Top 10, featuring the best sports stories from around the web. Customize your newsletter to get articles on your favorite sports and teams. And the best part? It's free!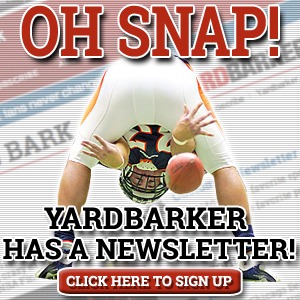 Latest Rumors
Best of Yardbarker

Today's Best Stuff

For Bloggers

Join the Yardbarker Network for more promotion, traffic, and money.

Company Info

Help

What is Yardbarker?

Yardbarker is the largest network of sports blogs and pro athlete blogs on the web. This site is the hub of the Yardbarker Network, where our editors and algorithms curate the best sports content from our network and beyond.