Found October 25, 2012 on Awful Announcing:
  One of the great all-time World Series performances was turned in last night in San Francisco.  A performance that will go down in the ages and be remembered for generations and generations to come.  We will tell our grandchildren, who will tell their grandchildren, who will tell their grandchildren about Game 1 of the 2012 World Series because of the heroics of this man. What, you thought I was talking about Pablo Sandoval? Of course not!  I'm talking about Tim McCarver!!! Wednesday night's opening game of the World Series was quintessential McCarver.  His Barry Manilow line will certainly go down in MLB postseason lore, right along his legendary spelling of the word "strike."  But, that is only scratching the surface of McCarver's magic.  These are just a few of the McCarver quotes that flooded our Twitter timeline last night: "Two fastballs that travelled a combined 190 miles per hour. 95 miles per hour each." "I just said Pandoval. I combined Sandoval and Panda. I think I should coin that." "If you can throw strikes that look like balls, and balls that look like strikes, that's the right formula." "There are very few pitchers that are team oriented." That last quote got under the skin of at least one Major League pitcher.  Royals pitcher Danny Duffy didn't take too kindly to McCarver's blanket assessment and even retweeted a message proclaiming crazed Royals analyst Rex Hudler as being better than Tim McCarver.  I don't know if even I'm willing to go that far... Tim Mccarver: "there are very few pitchers that are team oriented" are you outside your mind? — Danny Duffy (@dduffkc23) October 25, 2012 Ive made the educated decision to watch the rest of the World Series on mute.. #comeatmebro — Danny Duffy (@dduffkc23) October 25, 2012 @dduffkc23 Rex Hudler >>>>>> Tim McCarver — Shea Dawson (@sdiggitydaws) October 25, 2012 Hahahahah.. What can you do but laugh.. That legit upset me though.. Pretty sure id die for every single one of my guys. #Royals — Danny Duffy (@dduffkc23) October 25, 2012 And while we're at it and this is Real Tweets from Real People, we have to include some of the best Tim McCarver tweets from last night from around the Twitterverse... Tim McCarver is not afraid to embrace his inner cornball — Jemele Hill (@jemelehill) October 25, 2012 Up and in/Down and away= the same thing according to Tim McCarver. — Brett Anderson (@BrettAnderson49) October 25, 2012 AND NOW, THE FOURTH AND FINAL PRESIDENTIAL DEBATE BETWEEN JOE BUCK AND TIM MCCARVER. — Not Buster Olney (@TrippingOlney) October 24, 2012 did tim mccarver just try to pretend barry bonds didn't exist, or did he really forget? that was weird. — Bomani Jones (@bomani_jones) October 25, 2012 I wonder how long Tim McCarver stood in the San Francisco zoo's panda habitat last night trying to get a post game interview. #MLB — Brendon (@DaBarbs) October 25, 2012 Tim McCarver sounds like that uncle that everyone just tolerates and politely smiles at his non-sequitur comments. #WorldSeries — Doug Bensing (@dougbensing) October 25, 2012 The FOXtoberfest continues from AT&T Park. Stand by for the Barry Manilow / Tim McCarver concert. — Mike Montfort (@mmontfort) October 25, 2012 What will Tim McCarver do for an encore in Game 2?  We can only hope the powers that be allow him and Barry Manilow to sing God Bless America together.  I wonder what the San Francisco fans would chant then...
Original Story:
http://www.awfulannouncing.com/2012-a...
THE BACKYARD
BEST OF MAXIM
RELATED ARTICLES
For our sanity, let's just pretend that Tim McCarver is in on this joke referencing Barry Manilow as the most famous Barry to play in San Francisco's AT&T Park and not a sign that he's slowly losing his mind.  To McCarver's credit, it's true, Barry Manilow did play at AT&T Park in 2007 and the fans apparenty did chant "Barry, Barry!"  Who doesn...
Tim McCarver is a professional, and even sometimes professionals are allowed to make a mistake every now and then. On Wednesday night during Game 1 of the World Series between the San Francisco Giants and the Detroit Tigers McCarver may have made a mistake, or one of the best jokes we have heard in a while. Either way we love the guy and he played it off with a big laugh. Our...
It is October and the Phillies are not playing baseball. So what did I do in response to this devastating turn of events? I fled the country. Seriously. I recently returned from a 2-week excursion to a variety of places including Italy, Egypt, Greece and Israel. If anyone else out there is totally bummed out by the end of the baseball season, I highly recommend this adventure :O...
I almost spit my beer all over the living room last night when I heard the latest and dumbest installment of what Tim McCarver calls baseball play-by-play. Full disclosure, I can't stand McCarver, he almost makes me sick to my stomach. He's terrible at his job, dropping insightful bombs over the years like, "Booing can be good," and "a change-up is a pitch...
Forget for one moment that Barry Bonds is the poster-child for PEDs. He is probably the most well-known San Francisco Giants player of all-time, outside of Willie Mays. Okay, now add back the whole steroids narrative. Barry Bonds is the … Continue reading →
Those watching Game 1 of the World Series in San Francisco on Wednesday night likely heard chants of, "Barry! Barry! Barry!," yet Barry Bonds was nowhere to be found. The chant instead reigned down at AT&T Park because Barry Zito -- whose $126 million contract has paid for six lackluster seasons in the Bay Area thus far -- twirled 5 2/3 solid innings...
In the middle of the first World Series game on Wednesday night, I needed a break from listening to Joe Buck and Tim McCarver.  Listening to them is like having my head squeezed in a vice while being water-boarded. So, I began channel surfing and found my announcer salvation!…. Fox Deportes! Yes, my spanish is mediocre at best.  But who cares!  I don't need those two bone...
San Francisco Giants pitcher Barry Zito has been pitching pretty well in the postseason. So well in fact that fans are taking notice despite a rough go of it for him in recent seasons. They let their feelings be shown with a good round of "Barry!" chants during Wednesday's Game One of the World Series at AT&T Park.The crowd was reacting to a run-scoring single by...
Detroit Tigers vs. San Francisco Giants FOX Commentators: Joe Buck, Tim McCarver; Reporters: Erin Andrews & Ken Rosenthal FOX Pregame - Host: Matt Vasgersian; Analysts: Eric Karros, A. J. Peirzynski & Harold Reynolds ESPN Radio Commentators: Dan Shulman, Orel Hershiser Game 1 - Wednesday, October 24, @ AT&T Park, San Francisco [8:07PM] Game 2 - Thursday...
We are bridging seasons on this week's edition of Sports Media Weekly. Ken Fang of Fang's Bites and I begin the show with a preview of the final baseball event of the year, the World Series, which will see Joe Buck and Tim McCarver call their 15th Fall Classic as a team for Fox Sports.
Giants News

Delivered to your inbox

You'll also receive Yardbarker's daily Top 10, featuring the best sports stories from around the web. Customize your newsletter to get articles on your favorite sports and teams. And the best part? It's free!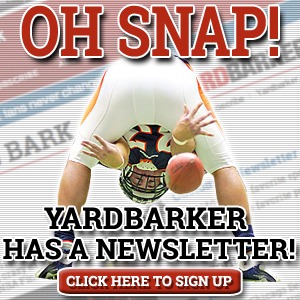 Latest Rumors
The Backyard

Today's Best Stuff

For Bloggers

Join the Yardbarker Network for more promotion, traffic, and money.

Company Info

Help

What is Yardbarker?

Yardbarker is the largest network of sports blogs and pro athlete blogs on the web. This site is the hub of the Yardbarker Network, where our editors and algorithms curate the best sports content from our network and beyond.