Found June 18, 2013 on Red Hot Mama:
Businessweek published its list of America's 50 best cities based on leisure, colleges, economics, and air quality, and Cincinnati made it into the top half. Interestingly, the primary reason for its high ranking seems to be Great American Ball Park. The view from the cheap seats in left field. I'd recommend the cheap seats in right field, since the scoreboard is visible there. Cincinnati Rank: 21 Population: 292,050 Nestled on the Ohio River, Ohio's third-largest city has a picturesque downtown that includes one of the country's most beautiful pro sports stadiums, the Cincinnati Reds' Great American Ball Park on the riverside. Other city stalwarts: the acclaimed Cincinnati Pops orchestra and major employer Procter & Gamble (PG). Bars: 105 Restaurants: 600 Museums: 18 Libraries: 35 Pro sports teams: 2 Park acres per 1,000 residents: 21 Colleges: 8 Percent with graduate degree: 8.9 Median household income: $49,048 Percent unemployed: 7.2 If you're curious about the rest of the NL...
Original Story:
http://www.red-hot-mama.com/2013/06/1...
THE BACKYARD
BEST OF MAXIM
RELATED ARTICLES
An update on Chad Rogers, Robert Stephenson and two reports on hard throwing relievers.
The Cincinnati Reds have activated right-handed starter Johnny Cueto from the 15-day disabled list as he had been recovering from a strained lat injury. The young Cueto has a low 2.17 ERA this season, but has been suffering from health issues all season long. To make room for Cueto, Pedro Villarreal was optioned to Triple-A Louisville and returns to their rotation. Villarreal remains...
After a somewhat quietly impressive rookie season, Todd Frazier was enduring a bit of a sophomore slump until about a week ago. He started off the season off but plateaued at around six home runs despite hitting in one of the best ballparks in the league and hitting in one of the best lineups as well. It is unfortunate that Dusty Baker refuses to hit Frazier ahead of Joey Votto and...
CINCINNATI Its amazing what one swing of the bat can do for a team in a game. And to a column. This was the lead I had ready to go with one out in the ninth inning of Wednesdays Reds game with the Pirates: The Reds are in a collective offensive funk. That perspective shifted when Jay Bruce took Pittsburgh closer Jason Grilli 417 feet deep into the Great American Ball Park seats...
Reds pitcher Mat Latos revealed after Tuesday night's 4-0 loss against Pittsburgh that he had been fined by Major League Baseball for hitting Pirates second baseman Neil Walker on June 2. It is part of the on-going beaning war that has been going on between the two teams since last season. Pirates starter Charlie Morton hit Reds centerfielder Shin-Soo Choo with the first...
CINCINNATI (AP) -- Jay Bruce ended Jason Grilli's saves streak with a solo homer in the ninth, and Brandon Philips singled with the bases loaded in the 13th inning on Wednesday night, rallying the Cincinnati Reds to a 2-1 victory over the Pittsburgh Pirates. Derrick Robinson and Shin-Soo Choo singled off Vin Mazzaro (3-2) with one out in the 13th and Joey Votto was walked intentionally...
When people talk about young, hard-throwing closers, the first names in their heads are Aroldis Chapman of the Cincinnati Reds, and Craig Kimbrel of the Atlanta Braves. These two have come in over the last couple of years and taken over as two of baseball's most dominant closers, with Kimbrel taking away the rookie saves record in 2011 away from Texas Rangers closer-turned...
FOXSports Ohio and the Cincinnati Reds are producing a special game telecast dedicatedto the Reds Community Fund on Thursday, June 20th when theReds play the Pittsburgh Pirates. An addition to FOX Sports Ohios original145-game schedule, this game will air with limited commercial breaks. Firstpitch is at 12:30pm preceded by Reds Live Pre-game Show at 12 Noon. Afull replay of the game...
Mat Latos didn't so much mind his long streak ending. A pitch that plunked his teammate left a mark he won't quickly forget.
After Monday's game — which saw Cincinnati Reds closer Aroldis Chapman throw near Neil Walker's head in the ninth inning — many Pirates fans were looking for retaliation. They got just that in the first inning when Charlie Morton hit Shin-Soo Choo right below the knee with his first pitch of the game. That led to a warning from the home plate umpire, and drew the ire of Mat...
I'm not particuarly interested in the Pirates-Reds HBP shenanigans that have gone on over the last two seasons. It seems pretty obvious to me that the Reds are the schoolyard bully of the NL Central, particularly when it comes to Aroldis Chapman and Dusty Baker. I don't know that they're particularly far into the Pirates' heads in the way that the Brewers seemed to...
Something weird happened yesterday.  Since last season I've seen this idiotic refrain screamed loudly by the "smart" fans and bloggers, "I'd rather retaliate by winning the game".  As if those two things couldn't possibly be done at the same time.  Yesterday proved that.  The strawman was destroyed. Besides, if intentionally hitting batters led to losses…
Reds News

Delivered to your inbox

You'll also receive Yardbarker's daily Top 10, featuring the best sports stories from around the web. Customize your newsletter to get articles on your favorite sports and teams. And the best part? It's free!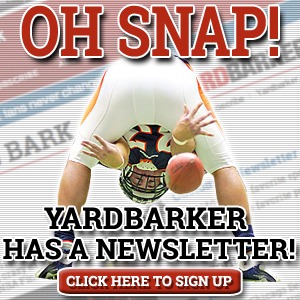 Latest Rumors
Best of Yardbarker

Today's Best Stuff

For Bloggers

Join the Yardbarker Network for more promotion, traffic, and money.

Company Info

Help

What is Yardbarker?

Yardbarker is the largest network of sports blogs and pro athlete blogs on the web. This site is the hub of the Yardbarker Network, where our editors and algorithms curate the best sports content from our network and beyond.