Found November 03, 2011 on NY Daily News:
Maybe Rex Ryan will get to kiss Bill Belichick's Super Bowl rings after all. The brash-talking Jets coach plays, of all things, a New England Patriots fan in an upcoming movie starring Adam Sandler.
Original Story:
http://feeds.nydailynews.com/~r/nydnr...
THE BACKYARD
BEST OF MAXIM
RELATED ARTICLES
AND THE OSCAR GOES TO...
The Jets head coach will portray the dirtbag lawyer of Adam Sandler's character in an upcoming film from the comedian. Playing against type, Ryan's character is also a rabid Patriots fan.
Rex Ryan is teaming up with Adam Sandler for a new movie in which the Jets coach plays - get ready for this - a New England Patriots fan. Sandler told NFL Network's Rich Eisen for his podcast Thursday that Ryan is a Boston-based ''inexpensive'' lawyer in the still untitled movie. Sandler says Ryan was ''loose and funny'' about playing ''...
Adam Sandler, star of the upcoming movie Jack and Jill (which looks absolutely dreadful by the way), was the featured guest on NFL Network's Rich Eisen's Thursday podcast, and he got to talking about a movie of his to be released next summer called I Hate you, Dad, that will feature none other than Jets head coach Rex Ryan in a role that he was born to play. Ryan will play an...
There's not denying that New York Jets coach Rex Ryan is not a fan of the New England Patriots. However Rex Ryan will be a fan of the Pats very soon. The portly Jets coach will appear in the new Adam Sandler movie, "I Hate You Dad." In the movie Ryan trades in his clipboard and headset to be a lawyer. Adam Sandler told NFL Network's Rich Eisen, He's my lawyer. My character...
Adam Sandler is known to be a huge Jets fan and friend of head coach Rex Ryan. The snack-lover will star in a future Sandler movie that is hopefully in no way reminiscent of Jack and Jill. Ryan will play an affordable lawyer that is hired by Sandler's character, so it sounds like a decent [...]
If you've ever watched a news conference take place, you're familiar with what can be termed "media funny." Coaches are generally so boring, so generic and so vague that their meetings with the media can often be dull and painful. Once in a while, though, a head coach with some character comes along and cracks jokes, leading to awkward chuckling and guffawing from...
Rex Ryan is a natural actor. Sure, he believes in all the bravado and the guarantees and the trash talk and the hype, but beneath the exterior you get the sense that those theatrical flourishes are part of the deal, like he's in on the joke. The New York Jets coach will get a chance to act for real next summer when he appears in an upcoming Adam Sandler movie called "I Hate...
NEW YORK (AP) - Rex Ryan is teaming up with Adam Sandler for a new movie in which the Jets coach plays _ get ready for this _ a New England Patriots fan.Sandler told NFL Network's Rich Eisen for his podcast Thursday that Ryan is a Boston-based "inexpensive" lawyer in ...
Jets safety Jim Leonhard gave Rex Ryan some gentle ribbing after learning about his role in an upcoming Adam Sandler movie: My reaction is that any time they put an amateur into a movie they just give him an easy role, something that's natural to them. I think it's pretty obvious over the last couple years he's proven to be a big Patriots fan, a big Tom Brady fan and (Bill...
In an interview with Al Michaels last week, Cowboys' defensive coordinator Rob Ryan said that, when he got his chance as a head coach in the NFL, he would be better than his twin brother Rex--the head coach of the New York Jets, who's taken his team to two consecutive AFC Championship games. That was on Sunday. On Thursday, Rex Ryan finally responded to his brother's claim...
Jets OLB Aaron Maybin has been a spot player for New York thus far this season getting about 10-12 plays a game. But according to Jets head coach Rex Ryan his snap count could be increasing this week. "Yeah that's a real possibility because Buffalo does spread you out," said Ryan. "But it's not like the old spread where you throw out of it. Buffalo spreads you out to run...
Another week, another edition of Know your Enemy: Stinky New York Jets. Today, we have a Q&A and a podcast with Jets writer, Daniel Krieg from Rexsanchez.com. For the podcast, Daniel and I talk about the following: State of Jets. Comparing Fitzpatrick to Sanchez. Rex Ryan's mouth. Fred Jackson's impact I also explain to a Jets fan how the Bills can honor someone...
Patriots News

Delivered to your inbox

You'll also receive Yardbarker's daily Top 10, featuring the best sports stories from around the web. Customize your newsletter to get articles on your favorite sports and teams. And the best part? It's free!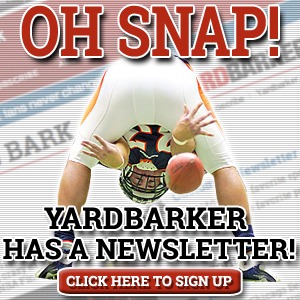 Latest Rumors
Best of Yardbarker

Today's Best Stuff

For Bloggers

Join the Yardbarker Network for more promotion, traffic, and money.

Company Info

Help

What is Yardbarker?

Yardbarker is the largest network of sports blogs and pro athlete blogs on the web. This site is the hub of the Yardbarker Network, where our editors and algorithms curate the best sports content from our network and beyond.