Found February 14, 2013 on NorthWest Sports Beat:
Top Blazers Each and every week I sit down to write this column I feel like I've seen a different Blazers team take to the court over the previous week. Some weeks the non-existent bench shows signs of life, or Damian Lillard shows why he could be an all-world point guard, then other weeks Portland seems lethargic, Nic Batum's wrist costs Portland crucial possessions, or that non-existent bench lives up their namesake. This past week, as Portland began a torrid 6 game road trip, old problems began to show their face again; there's one problem in particular that will not bode well for Portland on this road trip, and that's defense. In all but one of the Blazers' four game this past week, they allowed the opposing team to score over 100 points (in their lone win, Minnesota still managed 98 points). You can't win games by routinely allowing teams to score in the triple digits, it just won't happen. So, by the end of the week, Portland witnessed it's record dip below .500 for only the second time since the middle of December, and happen to be slumping at the wrong time, right before the All-Star break. While it may seem ideal to work out the problems during the break, it's much more optimal to head in to the time off with a head of steam. With Miami on tap next for Portland, that head of steam seems highly unlikely. The next few weeks should provide some insight in to Terry Stotts' mettle, and his true worth to this franchise. Now, on to the awards. First Star: LaMarcus Aldridge (1/4: W @ Minnesota) Damian Lillard continues to wow the crowds in Portland (Photo: Bleacher Report) On a nightly basis, Portland's All-Star continues to shine brightest for this young team. After working off some of the early season rust, Aldridge has settled in as the primary option for this roster. In 39 minutes against the Timberwolves, LA put up 25 points–on 12-17 from the floor and an uncharacteristic 1-5 from the charity stripe–adding 13 rebounds, 5 assists, 2 blocks and a steal in Portlands 100-98 win. The win kicked off Portland's 6 game road stretch, but would be the only time they'd notch a win all week. Aldridge's contributions against Minnesota powered Portland for all four quarters, further proving he was well deserved of a spot on this years Western Conference All-Star team. Second Star: Damian Lillard (1/4: W @ Minnesota) It's beginning to feel redundant, and frankly irrelevant, to continue to point out that Damian Lillard is just a rookie, and seems far beyond his years even though he only has just over 50 NBA games under his belt. What the dynamic Lillard brings to the court, on a nightly basis, is one of the main reasons why Portland is battling for the 8th spot in the west, just past the half point in the season. Last Monday night, against Minnesota, his talents were on full display, yet again, as the rookie poured in 21 points–on 9-17 from the floor and a perfect 3-3 from the free throw line–while also contributing 6 assists, 4 rebounds and 3 steals. A stat stuffing performance from the point guard out of Weber State, and it certainly helped Portland secure a win in their first of a 6 game road trip. Third Star: JJ Hickson (1/6: L @ Dallas) While LaMarcus Aldridge has routinely killed Dallas during his time in Portland, it was JJ Hickson who put in the A level effort for Portland last Wednesday night. Seemingly playing for a big contract next year, Hickson has shown an incredible motor all season long, proving to be the double-double machine scouts thought he could be so many years ago. In 33 minutes, Hickson tallied 14 points–on 5-9 from the floor and 4-5 from the charity stripe–and grabbed 10 rebounds to go along with one steal. Yet another double digit rebounding night for Hickson, who fits perfectly in Portland's frontcourt alongside LaMarcus Aldridge. Neil Olshey proved to make very sound decisions in last years offseason, so re-signing Hickson, again, should be one of his top priorities heading in to this summer. Dunk of the Week: Meyers Leonard vs. Minnesota Meyers Leonard reminds Blazer fans why he was worth the number 11 pick in the draft with this monster alley-oop slam. Enjoy. CLICK HERE TO CHECK OUT THE BLAZERS BLOG IN OUR CLUBHOUSE TODAY AT NWSB!
Original Story:
http://www.nwsportsbeat.com/trailblaz...
THE BACKYARD
BEST OF MAXIM
RELATED ARTICLES
Will NBA hardware return to Portland? It's been a long time since someone in Portland brought home some NBA hardware. In fact, the last to do such a thing was Brandon Roy in 2007 with the rookie of the year award. While the 2012-13 season hasn't been the best in Portland history, there's plenty of standouts on this year's team. Damian Lillard has put up ridiculous numbers...
BUST A MOVE, NOT A HIP
There's a reason why he's referred to as the "Wild One".Renowned for being the only broadcaster to ever have been ejected from an NBA game (on account of Steve Javie's whistle-happy wrath) and representing one half of Portland's esteemed "Mike and Mike" color-commentating duo, Mike Rice joined the BlazerDancers at a recent game for some quality...
In just over a week, the February 21st NBA trade deadline will have come and gone and the Portland Trail Blazers will be the same team then as they are today. The crux of the deal or the anti-deal is the Blazers lack of assets that other teams want or the Blazers are willing to part with. Yes, they have a talented starting five. But as it has been discussed ad nauseam the Blazers...
Four years ago, on Valentines Day in February 2009, the Portland Trail Blazers were the team of the future.  They were 32-20 going into the All-Star break, riding Brandon Roy, LaMarcus Aldridge and a deep bench, playing Nate McMillan's slow-paced, low-risk brand of basketball.  Greg Oden was finally playing, and he'd shown flashes of brilliance.  He was inconsistent and had...
All-Star Weekend nears The Portland Trail Blazers will face off against the New Orleans Hornets to conclude a six-game road trip Wednesday night, and they could desperately use a win heading into All-Star Weekend. Matchup: Portland (25-27) @ New Orleans (18-34) Venue: New Orleans Arena Time: 5:00 PM PT Date: Wednesday, Feb. 13, 2013 The road trip hasn't gone as well as fans...
5.    Clifford Robinson, Forward/Center:  (1989-1997)   Uncle Cliffy ranks number three in total number of points scored as a Blazer with 10,405. Additionally, for the Blazers, he ranks in the top five for all-time games played (644), free throws made (2,041), 3-pointers made (492), and blocks (726). He was a member of the squads that played in the NBA Finals in 1990...
In spirit of Michael Jordan turning 50 this Sunday (February 17th), here are some of the worst decisions made by the Portland Trail Blazers during draft night. By the way, I am only dating this back to that 1984 NBA Draft (four years before I was born). Number 1: Same Bowie over MJ 1984 Needless to say this is by far the worst decision the Blazers have ever made. His...
Veteran Trail Blazers analyst Mike Rice joined the Blazer dancers at halftime of a recent game in Portland.  My favorite part of the video may be Rice talking about different dances in the video open, especially the "Doo-gie", a dance craze perfected by a young medical practitioner.  Rice's moves on the court are pretty terrible, but at least he looks the part with...
Wesley Matthews injured sprained his left ankle, and won't return, according to Hornets sideline reporter Jennifer Hale. The Portland Trail Blazers guard fell hard on his left knee and ankle, but it sounds like his ankle to the brunt of it. Matthews played just two minutes. His replacements aren't to be trusted in fantasy basketball. #Trailblazers Wesley Matthews...
Tweet LeBron James set an NBA record on Tuesday night against the Portland Trailblazers, becoming the first player to score 30+ points in six straight games while shooting over 60 percent. Against the Blazers, LeBron went off for 30 points on 73.3 percent shooting and added nine assists and six boards just for good measure. [...]
Portland rookie Damian Lillard bounced back from a dreadful 1-of-16 performance with 33 points. It wasn't enough to top the Miami Heat; the Blazers fell 117-104. Lillard hit 10-of-18 shots and 10-of-11 free throws in a stellar shooting night. He filled out his line with three 3-pointers, a rebound and three assists in 39 minutes. LaMarcus Aldridge chipped in 29 points...
Trail Blazers News

Delivered to your inbox

You'll also receive Yardbarker's daily Top 10, featuring the best sports stories from around the web. Customize your newsletter to get articles on your favorite sports and teams. And the best part? It's free!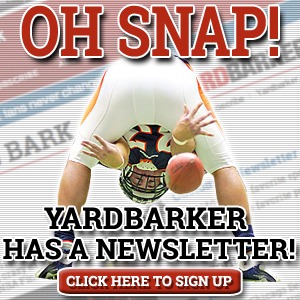 Latest Rumors
Best of Yardbarker

Today's Best Stuff

For Bloggers

Join the Yardbarker Network for more promotion, traffic, and money.

Company Info

Help

What is Yardbarker?

Yardbarker is the largest network of sports blogs and pro athlete blogs on the web. This site is the hub of the Yardbarker Network, where our editors and algorithms curate the best sports content from our network and beyond.