Both Kenseth's No. 17 Ford Fusion and Greg Biffle's No. 16 3M Ford will feature pink colors for this weekend's race at Talladega. The color change is part of breast cancer awareness month and a partnership between RFR, Talladega and the National Breast Cancer Foundation. Talladega Victory Lane: All-in-all Roush Fenway has won in all three of NASCAR's major series at Talladega for a total of six victories, including three in the Cup Series, two in the Nationwide Series and one in the trucks. Two of Roush Fenway's six Talladega wins came in 2009. Roush won its first race at Talladega with a Cup win in the spring of 1995. Former Roush Fenway driver Mark Martin won for Roush at Talladega in all three series. Roush Fenway Unrestricted: Roush Fenway has run a total of 350 Sprint Cup races with restrictor plates, winning 10 times, while totaling 65 top fives and 123 top 10s, and turning almost 150,000 miles and leading 1,843 miles with the restrictor plates in Cup action. Restrictor Plate Resurgence: The Roush Fenway restrictor-plate program has been strong in recent seasons. Matt Kenseth won his second Daytona 500 in four seasons in February. David Ragan won for RFR at Daytona in the summer of 2011 while Carl Edwards finished second in the 2011 Daytona 500, to fellow RFR teammate Trevor Bayne (driving the Wood Bros. Ford). Jamie McMurray posted Roush Fenway's last Talladega win, battling Kenseth for the win down to the final restart in the fall of 2009. Edwards Scores RFR's 700th Top-Five Finish: Carl Edwards scored Roush Fenway's 700th career top-five Sprint Cup finish last weekend at Dover. The team scored its first-ever top-five finish at Bristol on April 10, 1988, when Mark Martin finished second in the No. 6 Roush Fenway entry in only the team's sixth NASCAR start. Greg Biffle, #16 3M Ford Fusion Greg Biffle on racing at Talladega Superspeedway:  "I'm definitely looking forward to Talladega because our restrictor-plate program has been on fire for the last two and a half years.  It's unbelievable how good our engines have been.  I know it's going to be a wild race and there is a lot on the line.  It takes a lot of luck to win at Talladega, but I feel like we can do it this weekend.  First thing you have to do is miss the big one, then have a good drafting partner and you need to be in the right place, at the right time, to win at Talladega." Crew chief Matt Puccia on racing at Talladega Superspeedway: "Talladega is a typical superspeedway race where you're going to have to survive the whole race to be there at the end.  We are taking a brand new chassis this weekend and we've been strong at restrictor plate races so far this season.  The Chase hasn't gotten off to the start we would have liked, but hopefully we can pull off a win this weekend." Think Pink: October is Breast Cancer Awareness month and in honor of that the 3M Ford will run a special pink paint scheme this weekend in Talladega. TV Panel – City of Hope:  Founded in 1913, City of Hope is one of a handful of Comprehensive Cancer Centers in the United States as designated by the National Cancer Institute. U.S. News and World Report has named City of Hope one of America's best medical centers for cancer treatment. In addition, it is one of the world's leading research and treatment centers for cancer, diabetes, HIV/AIDS and other life-threatening diseases. The Car: RK-798 is a brand new chassis. Point Standings: Biffle is currently 11th in the NASCAR Sprint Cup Series driver point standings, 51 points out of first. Matt Kenseth, #17 National Breast Cancer Foundation Ford EcoBoost Fusion Matt Kenseth on racing at Talladega Superspeedway: "For the first time in my career I'm really looking forward to going to Talladega. Our restrictor plate stuff has been extremely strong this year and I think we've led a lot of laps at all three plate races.  We were leading all three green-white-checker finishes at the superspeedways this year, but unfortunately we lost the last two. I messed up both of them and didn't do the right things, but we've had really fast cars. The No.16 and us have been really fast. We've been able to work together and stayed up front the whole time. Hopefully we can do that again and, if there is some trouble, take advantage of that for Greg (Biffle) and I to gain some points." Crew chief Jimmy Fennig on racing at Talladega Superspeedway: "The car we're bringing this weekend to Talladega is the same car that we earned the pole with at Daytona in July.  We have worked on the car a bit since then so I'm hoping for a good result since I think the car has good speed in it.  We're going to race and our plan is not to just ride around in the back of the field.  We want to be able to be at the right place at the right time when it comes down to the finish on Sunday."  Starts: In 25 Cup starts at Talladega, Kenseth has completed 4,442 of 4,735 laps (93.8 percent) and led for 261 laps Average Finish: Kenseth has an average starting position of 21.7 and an average finishing position of 18.6 at Talladega Record: Kenseth has achieved four top-five and seven top-10 finishes at Talladega in the Cup series The Car: This weekend at Talladega, Kenseth will pilot the No. NBCF Ford EcoBoost Fusion Points: Entering the weekend at Talladega, Kenseth is currently 12th in the Chase driver point standings Carl Edwards, #99 Subway Ford Fusion Carl Edwards on racing at Talladega Superspeedway: "This package seems to make it a little harder to bunch up and partner up.  It will keep us, I think, in a big group.  I am torn on that.  It is worse because you have a better chance of being involved in somebody else's wreck but it is more fun and I guess fun is why we do this anyway.  I think it is going to be as good as Talladega can be.  I haven't won a restrictor-plate race in the Cup series yet so this would be a great place to do it." Crew chief Chad Norris on racing at Talladega Superspeedway:  "Talladega is challenging for a crew chief because so much of it is out of our control.  We do the best we can to get the car handling well and create a smart pit strategy, but most of this race depends on the driver and the spotter.  It's always a tense race for everyone involved.  We're taking the same car we raced at Daytona in July so we know it's a pretty good car.  Now all we need is some luck on our side to stay out of trouble." POINTS: Edwards is currently 14th in the Sprint Cup point standings.  He has achieved three top-five and 12 top-10 finishes, along with one pole this season. FOR THE RECORD… In his previous 16 starts at Talladega, Edwards has one top-five and four top-10 finishes. Edwards' average start at Talladega is 15.4, his average finish is 20.9.  Edwards has completed 88 percent of his laps attempted at Talladega, and led 25 laps. ON THE TRACK… The No. 99 Subway team will be unloading chassis RK-792 this weekend at Talladega.  This car ran at Daytona in July where Edwards finished sixth. REWIND, TALLADEGA OCTOBER 2011… After spending the entire race in the back of the field with Roush Fenway teammate Greg Biffle, Edwards avoided the accidents and surged to the front with two laps to go for an 11th-place finish.
Original Story:
http://startnparkblog.com/?p=12294&ut...
MORE FROM YARDBARKER
All Sports News

Delivered to your inbox

You'll also receive Yardbarker's daily Top 10, featuring the best sports stories from around the web. Customize your newsletter to get articles on your favorite sports and teams. And the best part? It's free!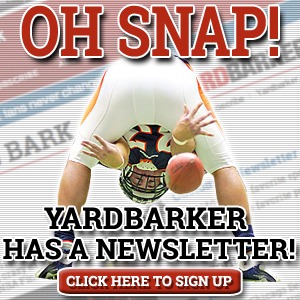 Latest Rumors
Best of Yardbarker

Today's Best Stuff

For Bloggers

Join the Yardbarker Network for more promotion, traffic, and money.

Company Info

Help

What is Yardbarker?

Yardbarker is the largest network of sports blogs and pro athlete blogs on the web. This site is the hub of the Yardbarker Network, where our editors and algorithms curate the best sports content from our network and beyond.