Found October 12, 2012 on Start 'N' Park Blog:
Ryan Newman, driver of the #39 Quicken Loans Chevrolet, met with members of the media at Charlotte Motor Speedway and discussed his special paint scheme for this weekend's race, qualifying under the lights at Charlotte and other topics. TELL US ABOUT COMING BACK HERE TO CHARLOTTE.  YOU ARE ALWAYS PRETTY FAST HERE THIS IS ALWAYS A FAST TRACK AT NIGHT HOW DO YOU FEEL GOING INTO IT? "It's fun for me because it's home.  It's just an awesome race track.  It's kind of a unique race track.  I would say eight or 10 years ago I kind of looked at here, Texas and Atlanta to be kind of sister tracks.  I guess over time they have separated themselves.  It's just so fun for me here at night, especially qualifying when the lights go off, picking up the speed and adjusting your driving style to match the grip.  I've got an exciting paint scheme this weekend with the Quicken Loans cobranded with the Teenage Mutant Ninja Turtles so we are excited about that as well. It's fun, it's fall, it's nice and cool.  Everything is positive." WHAT IS OVER YOUR SHOULDER THERE? (Ryan was joined by a Teenage Mutant Ninja Turtle during his media availability)  "A turtle, a killer turtle." AREN'T THEY SUPPOSED TO HAVE HEADS? LIKE A TURTLE HEAD? "He's popped out right now he's not scared."  (Laughs) A LOT OF TALK ABOUT CONCUSSIONS IN LIGHT OF DALE (EARNHARDT) JR.'S SITUATION THIS WEEKEND.  HAVE YOU HAD A CONCUSSION OR FELT LIKE YOU HAD A CONCUSSION? "The only time I was actually ever close to it and I never got really sick from it or anything,  I would say I was close to it was when I crashed one time in Indy. I got spun around in turn four, left-sided it into the wall really hard. I got out of the car and I felt kind of nauseous, but I never got sick and I was fine afterwards.  I know at that point I guess I was close.  It's kind of a tough deal to talk about because it's something you can't see medically.  It's kind of subjective.  You go off symptoms and you go off your feelings and you go off doctors recommendations.  I guess NASCAR has some sort of guideline as far as what guidelines they follow according to what the doctor says.  I don't know I've never been in that situation, I hope never to be.  I know it's not easy for Dale (Earnhardt) Jr. to step out of the car for two weeks whether the doctor told him to or not.  We will see how it all works out.  It's a part of our sport.  He (Dale Earnhardt Jr.)  said what he said and meant what he said after the race at Talladega.  It's tough, it's dangerous and we know in the end no matter how safe it is we are still putting ourselves at risk whether it's a concussion or a broken bone or whatever.  It's a part of racing always has been always will be, but we have the capabilities, technology wise to help reduce the situations that we are in." GUYS HAVE RACED WITH INJURIES THAT YOU COULD SEE.  THERE IS THIS CULTURE OF TOUGHNESS…"It's no different than anything else.  I could smash my finger with the same hammer that you do and I could still work and maybe you can't.  Maybe you could work and I can't.  It's just everybody has a different threshold of pain.  Everybody has a different threshold of concussions and everybody is different.  Again, a concussion you can only see the symptoms you can't see the actual, I mean I'm no doctor, but you really can't see when you go and talk to Dale (Earnhardt) Jr. a concussion.  You can see that obviously he has had some kind of pain or whatever, but I don't know. It's tough to deal with, it's tough to talk about because number one it's not me, number two I wouldn't want it to be me and it's a big name in our sport." DOES IT BECOME A CONCERN THAT ANY DRIVER CAN HAVE A CONCUSSION AND YOU NOT KNOW IT AND BE RACING AGAINST THEM? "I don't know what the byproduct is of a concussion if it makes a guy crazy then again it might be different for everybody.  I would say that somebody would actually know and not put themselves at risk or put others at risk.  No different than any other kind of disorder weather it was being bipolar or narcoleptic or whatever it is everybody reacts to things different.  I don't know.  To me that is all speculation." DO YOU APPROACH THE OFF SEASON ANY DIFFERENTLY WHEN YOU MISS THE CHASE AS OPPOSED TO WHEN YOU MAKE IT? "No, I won't approach the off season any differently.  Our biggest thing is just to do what we have to in order to make the Chase next year.  That started the day we didn't make the Chase this year.  The off season is just another part of that."
Original Story:
http://startnparkblog.com/?p=12654&ut...
THE BACKYARD
BEST OF MAXIM
RELATED ARTICLES
YOU QUALIFIED THIRD, BUT THIS DOESN'T LOOK GOOD. WHAT'S THE ISSUE WITH THE CAR? TONY GIBSON, CREW CHIEF:  "Something happened there. We started off in Happy Hour to make a long run and we got about six laps into it and it started tightening up on him (Ryan Newman) pretty good, so he shut it off and came in (to garage) and there is definitely something big wrong. I'm not...
It just wasn't Ryan Newman's weekend at Charlotte (N.C.) Motor Speedway. Newman had to forfeit his third-place starting spot and drop to the back of the field before the start of the Charlotte 500 on Saturday night due to an engine change. Then he never could get the No. 39 Quicken Loans Chevrolet to handle to his liking during the race. Newman was forced to settle for a disappointing...
Ryan Newman broke the Charlotte Motor Speedway track record during Thursday's qualifying, but only ended up third when it was all said and done. Greg Biffle and Mark Martin posted slightly faster times than Newman. With the Teenage Mutant Ninja Turtles on board his #39 Quicken Loans Chevrolet, Newman looks for good things for Saturday night's race. Below is post-qualifying reaction...
For a few lucky go-kart drivers, it was the opportunity of a life time. NASCAR drivers Tony Stewart and Stewart-Haas Racing (@StewartHaasRcng) teammate Ryan Newman showed up NASCAR Speed Park at the Concord Mills shopping center and raced the patrons in attendance. The entire event was created by Quicken Loans -- one of the sponsors of Newman's #39 Quicken Loans - Chevrolet...
All Sports News

Delivered to your inbox

You'll also receive Yardbarker's daily Top 10, featuring the best sports stories from around the web. Customize your newsletter to get articles on your favorite sports and teams. And the best part? It's free!
THE HOT 10: Who's Trending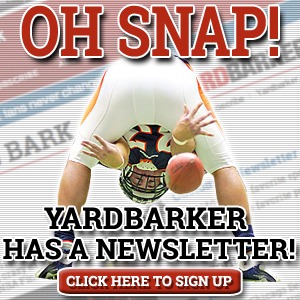 Latest Rumors
Best of Yardbarker

Today's Best Stuff

For Bloggers

Join the Yardbarker Network for more promotion, traffic, and money.

Company Info

Help

What is Yardbarker?

Yardbarker is the largest network of sports blogs and pro athlete blogs on the web. This site is the hub of the Yardbarker Network, where our editors and algorithms curate the best sports content from our network and beyond.