FONTANA, CA - OCTOBER 10: Ryan Newman, driver of the #39 Haas Automation Chevrolet, sits in his car during practice for the NASCAR Sprint Cup Series Pepsi 500 at Auto Club Speedway on October 10, 2009 in Fontana, California. (Photo by Stephen Dunn/Getty Images for NASCAR)
Ryan Newman staged a valiant effort in the final race before the Chase for the NASCAR Sprint Cup, but a good night at Richmond (Va.) International Raceway just wasn't good enough for Newman and the No. 39 Quicken Loans team in the Federated Auto Parts 400. Coming into the NASCAR Sprint Cup Series' regular-season finale Saturday night, Newman and his Stewart-Haas Racing (SHR) team knew they could only make the 12-driver, 10-race Chase one way – by winning. And for a while during the 400-lap race around the .75-mile oval, it looked as if Newman and his No. 39 Quicken Loans team would engineer an amazing rally to take the second of two wild-card spots and advance into the Chase. Despite driving from his 14th-place starting spot to take the lead on lap 300 and stay out front for 13 laps, Newman wound up eighth when the checkered flag dropped. "It's just disappointing," said Newman, who earned his ninth top-10 finish of the season despite missing the Chase. "I really don't know what to say. We really gave it all we had out there with our Quicken Loans Chevrolet. Unfortunately, it just wasn't our year to make the Chase. Now we have to go out there and do what we have to do to be the best of the rest these next 10 races." Newman and his team knew that earning a wild-card spot in the Chase was a tall order. It was "Win, and you're in" for the No. 39 team. Making the job even harder was a racecar that from the drop of the green flag was tight in the center of the track's corners and loose on exit. The car's inability to roll through the center thwarted Newman's efforts to move toward the front. Nonetheless, crew chief Tony Gibson and the Quicken Loans crew tuned the chassis with each opportunity, making a series of air pressure, wedge and track bar adjustments during each scheduled pit stop. The adjustments helped incrementally, but Newman still had to manhandle his car throughout the 400-lap race. He went a lap down early as the leaders set a torrid pace, but Newman tenaciously kept those he was racing against at bay and remained the first car one lap down when the caution flag waved on lap 139. Newman was awarded the Lucky Dog and returned to the lead lap. Later in the race, Newman was assessed a pit road penalty when an errant tire escaped from the grasp of his crew during a green-flag pit stop on lap 232. Then Newman – who had been running in seventh place before the pit stop – had to go to the tail end of the longest line on lap 239 and restart the race in 15th place. When the caution flag waved on lap 277 for rain, Newman was 14th. He pitted for four tires, fuel and wedge and track bar adjustments. With a quick stop by his Quicken Loans crew, Newman restarted in ninth. Thanks to fresh tires, better track position and a much-improved racecar, Newman moved into the top-five shortly after the lap-283 restart. And when he took the lead on lap 300, it marked the first time he had led a race since his victory April 1 at Martinsville (Va.) Speedway. Unfortunately, Newman couldn't hold on to the lead. The faster cars he had beaten with pit strategy finally caught him on the track, and he drifted back to eighth. While still a strong finish, it wasn't the win Newman and Co. needed to earn a coveted wild-card spot in the Chase. Newman's SHR teammate, Tony Stewart, finished fourth in the No. 14 Office Depot/Mobil 1 Chevrolet. Stewart claimed a Chase berth prior to Richmond, as his three wins already this season guaranteed him at least a wild-card spot. Three-time and reigning Sprint Cup champion Stewart stayed among the top-10 in points to grab the third seed in this year's Chase. Richmond marked the seventh time this season the SHR duo has finished in the top-10 together. Prior to Richmond, Newman and Stewart finished among the top-10 March 11 at Las Vegas Motor Speedway, March 25 at Auto Club Speedway in Fontana, Calif., April 1 at Martinsville (Va.) Speedway, July 7 at Daytona (Fla.) International Speedway, July 29 at Indianapolis Motor Speedway and Aug. 5 at Pocono (Pa.) Raceway. Clint Bowyer won the Federated Auto Parts 400 to score his seventh career Sprint Cup victory, his second of the season and his second at Richmond. Jeff Gordon finished 1.198 seconds behind Bowyer in the runner-up spot, while Mark Martin, Stewart and Matt Kenseth rounded out the top-five. Jeff Burton, Brad Keselowski, Newman, Greg Biffle and Kevin Harvick comprised the remainder of the top-10. There were six caution periods for 41 laps, with seven drivers failing to finish the 400-lap race, which was twice delayed by rain. The top-10 drivers in points are eligible to compete in the Chase, along with two wild-card drivers – Kasey Kahne and Gordon – who were admitted to the Chase field by having the most wins among the drivers who were between 11th and 20th in the standings. NASCAR recalibrated the points for the 12 drivers as soon as the Richmond race was over, with each driver getting 2,000 points. With the exception of wild-card entrants Kahne and Gordon, drivers also received three bonus points for each of their respective wins during the 26-race regular season. For drivers starting the Chase with identical point totals, their seed was determined by the traditional tiebreaker of best finishes beyond race victories. Ranked in order of where their bonus points seeded them, the drivers competing for this year's championship are: 1.            Denny Hamlin (2,012 points)
2.            Jimmie Johnson (2,009 points, -3)
3.            Tony Stewart (2,009 points, -3)
4.            Brad Keselowski (2,009 points -3)
5.            Greg Biffle (2,006 points, -6)
6.            Clint Bowyer (2,006 points, -6)
7.            Dale Earnhardt Jr. (2,003 points, -9)
8.            Matt Kenseth (2,003 points, -9)
9.            Kevin Harvick (2,000 points, -12)
10.          Martin Truex Jr. (2,000 points, -12)
11.          Kasey Kahne (2,000 points, -12)
12.          Jeff Gordon (2,000 points, -12) The next event on the Sprint Cup schedule – the first race of the Chase – is the Geico 400 on Sept. 16 at Chicagoland Speedway in Joliet, Ill. The race begins at 2 p.m. EDT with live coverage provided by ESPN beginning with a pre-race show at 1 p.m.
Original Story:
http://startnparkblog.com/?p=11174&ut...
MORE FROM YARDBARKER
All Sports News

Delivered to your inbox

You'll also receive Yardbarker's daily Top 10, featuring the best sports stories from around the web. Customize your newsletter to get articles on your favorite sports and teams. And the best part? It's free!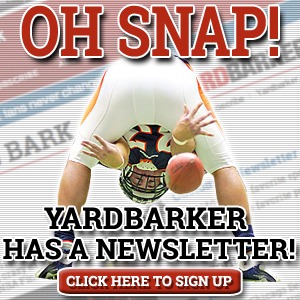 Latest Rumors
Best of Yardbarker

Today's Best Stuff

For Bloggers

Join the Yardbarker Network for more promotion, traffic, and money.

Company Info

Help

What is Yardbarker?

Yardbarker is the largest network of sports blogs and pro athlete blogs on the web. This site is the hub of the Yardbarker Network, where our editors and algorithms curate the best sports content from our network and beyond.