Found July 17, 2013 on Wrestling Truth:
Celtic Warrior on standing out: In a recent interview with South Africa's Tonight, Sheamus discussed making him self stand out when he was a WWE rookie… "I was a brand-new kid who no one knew," Sheamus said. "In the past I had cut my red hair, but I decided to do an image change and let it grow so people would remember me. Also, they saw the pale white skin which became part of my look. My success in a matter of months even had some wrestlers jealous, but I was happy to announce that I was here to stay." Jericho off on another Fozzy tour: Chris Jericho wrapped up his latest run with WWE at Tuesday's SmackDown tapings, as he's off touring with Fozzy in August through mid October. He has free time and some points in-between that may allow him to wrestle, though it's not clear if he will since his current deal has expired. Jericho wrote on Twitter… "So long to @WWE for now…2013 was one of my favorite in ring yrs ever! Thx for always sticking w Y2J & see u on the road soon w @FOZZYROCK!" It's most likely we won't see him again until 2014. WWE 2K14 Screen shots: Here are the first round of screen-shots for the upcoming WWE 2K14 video game, fetauring Ultimate Warrior… Fan writes book we all agree with: Wrestling fan Craig Higham has written a promising looking boo entitled: "Stop Telling Us It's Fake: ​A Wrestling Fan's Journey 1977-2012″ – here is the promotional blurb… If like me you have been a professional wrestling fan for any length of time, then like me you would have heard over and over again that annoying question asked by non wrestling fans "YOU KNOW WRESTLING IS FAKE DON'T YOU?" After over 30 years of hearing that question I have decided to finally answer those non wrestling fans through a well thought out, informative and personal recount on why I (and many other normal people) love this form of 'sports entertainment' and why knowing it is not as real as we thought when we were young continue to watch and enjoy professional wrestling. Enjoy a historical trip down memory lane as a go through the history of wrestling for the past 30 years through my eyes, as I compare the different wrestling eras, compare the main wrestling companies, discuss how the internet has changed how us fans interact with wrestling and explain who my favourite wrestlers, tag teams and matches over the past 30 years have been. And the next time someone asks you THAT question you can simply tell them to go and buy my BOOK!!! You can order a copy Here
Original Story:
http://wrestlingtruth.com/wrestling-n...
THE BACKYARD
BEST OF MAXIM
RELATED ARTICLES
WWE Hall of Famer Jim Ross published a new blog entry on JrsBarBq.com. Here are some highlights. Chris Jericho leaving WWE: Future @WWE HOFer Chris Jericho @IAmJericho is apparently done with WWE for the time being to tour with his band Fozzy which was his plan all along. I wish Chris the best in his 2nd passion and look forward to seeing him again in WWE which I do think will happen...
Dave LaGreca and Mike Riker of Busted Open Nation spoke with Chris Jericho just hours after his WWE Money in the Bank match against Ryback. You can listen to SiriusXM's Premiere Wrestling Show Busted Open every Monday, Wednesday and Friday from 2-4 PM EST on Sirius 92, XM 208 or Sportszone on the SiriusXM App. The interview is below:
- Chris Jericho tweeted the following about his RAW match with Rob Van Dam last night: "Amazing match with @TherealRVD tonight on #raw. He's back and better then ever! Always had great chemistry and always will…" A fan commented that it's scary how Jericho is probably in his prime at 42 years old. Jericho replied: "I agree! 2013 has been one of my favorite in ring years...
- WWE posted this video for Natalya and Total Divas: - Big Show will be returning on Monday's RAW. - Chris Jericho finished up with WWE, for now, at last night's SmackDown tapings. He tweeted: "So long to @WWE for now…2013 was one of my favorite in ring yrs ever! Thx for always sticking w Y2J & see u on the road soon w @FOZZYROCK!" Early Word on Jericho's Return...
Video: Films promo for WWE 2K14
- Steve Austin will be doing an #AskMeAnything chat on Reddit.com today at 1pm EST. - Sheamus tweeted the following about Vince McMahon welcoming The Ultimate Warrior back to WWE on Twitter yesterday: "Just marked-out there. Ultimate Warrior is back in the loving arms of #WWE!! Anyone do good warpaint?" - The new title for WWE's Money in the Bank anthology that comes out in...
Embedded in the videos below are several highlights from the July 15th episode of Raw. Dolph Ziggler breaks up with AJ Lee Randy Orton vs. Fandango The Shield Triple Power Bombs Mark Henry Dolph Ziggler vs. Alberto Del Rio The Wyatt Family attacks R-Truth Antonio Cesaro & Jack Swagger vs. The Usos Christian vs. Damien Sandow Naomi vs. Brie Bella New Raw General Manager...
- Here's another video of The Ultimate Warrior talking about WWE 2K14: - Last night's episode of WWE RAW with the fallout from Money in the Bank averaged 4.1 million viewers, about the same as last week. This week's show drew 3.926 million in the first hour, 4.108 million viewers in the second hour and 4.268 million viewers in the final hour. Backstage Heat on Top...
- Damien Sandow, who is now calling himself Sir Money in the Bank, recently spoke with and talked about cashing in his Money in the Bank briefcase: "I will wait for the perfect moment, and I assure you that once I get the title, I plan on retiring with it. If I revealed my strategy, that wouldn't be very smart, would it?" - As noted, Chris Jericho has finished up...
- Scott Hall tweeted out a new photo of he and wrestling legend Lex Luger: - Chris Jericho was at the Sirius/XM studios today to record two shows. He will be hosting Ozzy's Boneyard this weekend and Liquid Metal this week on Sirius. - The Bella Twins were interviewed by The New York Daily News to promote Total Divas and were asked about their workout routines. Nikki Bella replied...
The WWE recently interviewed The Ultimate Warrior. Here are a few highlights. Getting his start with WWE: "I was in WCCW in Texas and the first time I worked for them, this is a story that you don't even hear no more, while I was working down there Vince had done his first Wrestlemania. He had a guy working for him at the time named George Scott and he was on his way to Florida...
WWE tapes SmackDown & Main Event tonight in Providence, Rhode Island. Here is what is scheduled for the show… * MizTV with Paul Heyman. * Rob Van Dam returns to SmackDown. * More Money in the Bank fallout. * The locally advertised dark match is Chris Jericho, Randy Orton & Sheamus vs. The Shield. We'll have live **SPOILERS** here on the website later tonight. Stay tuned for those!
All Sports News

Delivered to your inbox

You'll also receive Yardbarker's daily Top 10, featuring the best sports stories from around the web. Customize your newsletter to get articles on your favorite sports and teams. And the best part? It's free!
THE HOT 10: Who's Trending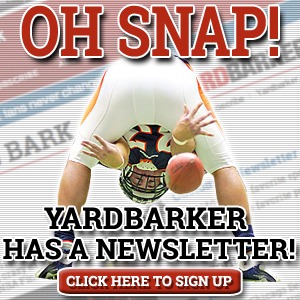 Latest Rumors
Best of Yardbarker

Today's Best Stuff

For Bloggers

Join the Yardbarker Network for more promotion, traffic, and money.

Company Info

Help

What is Yardbarker?

Yardbarker is the largest network of sports blogs and pro athlete blogs on the web. This site is the hub of the Yardbarker Network, where our editors and algorithms curate the best sports content from our network and beyond.