Found August 26, 2013 on FenwayNation:
In an anonymous "survey" of starting pitchers (N=36), ESPN.com is claiming that none of the sample of pitchers would "want to bean Alex Rodriguez". In fact, only one of the 36 said it would be worth a suspension to give The Fraudulent One his comeuppance. And, 83.3% thought A-Fraud should be allowed to continue playing during his seemingly endless appeals process. On the bright side, the pitchers did say that—if put to a vote of the players—43.6% would favor A-Rod's 211-game suspension.
Original Story:
http://www.fenwaynation.com/2013/08/m...
THE BACKYARD
BEST OF MAXIM
RELATED ARTICLES
getty images A-Rod Grocery is changing its name. The grocery store was changed from Pena Grocery to A-Rod Grocery thirteen years ago while the third baseman was still playing with the Seattle Mariners. Rodriguez eventually came to join the Yankees and patrons at the store soon believed that Rodriguez may even had a owners stake in the place. Instead the store is owned by 41-year...
In the end, most things are about money. As long as A-Rod is on the field he is collecting big money, so he is going to try to drag out this appeals process for as long as possible. He hit his 650 homerun last night and if he gets 10 more before the end of the season he will collect a cool $6 million. Alex Rodriguez hit his 650th home run, putting him 10 behind Willie Mays and 660...
Alex Rodriguez homered in Monday night's 5-2 New York Yankees loss to the Toronto Blue Jays. His home run tied the game at the time -- oh, and it was also No. 650 in his career. That puts him 10 homers behind Willie Mays for fourth on the all-time home run list. And if you're already steaming just because A-Rod is able to play while waiting for an appeal of his PED suspension...
Scott Levesque Managing Editor Ask a player/s about the Alex Rodriguez situation outright and they shrink like an introvert in a crowd.  Ask them the same questions - with the shroud of anonymity - and all of a sudden they can't shut up.  So it came as no surprise, when ESPN the Magazine did an anonymous survey regarding Ryan Dempster's plunking of A-Rod, that...
If you fall into the rabbit hole of the media narrative, you might believe that everyone in baseball despises Alex Rodriguez and that everyone would have thrown at him like Ryan Dempster did last Sunday. Well, an ESPN poll of 36 players (admittedly a small sample) revealed that isn't exactly the case, along with some other interesting tidbits. Of the 36 players polled, 35...
The owner of a Brooklyn grocery named after embattled New York Yankees star Alex Rodriguez is succumbing to pressure and looking at changing the name of his business. Two thoughts.  First.  Who knew there was such a thing?  Second.  It should get a name change.  "A-Rod Grocery" is a dumb name.  And, yeah...I realize how childish that sounds. "I got tired...
Ryan Dempster may not be a shoo-in for Most Popular MLBer after all. After Dempster drilled Alex Rodriguez with a pitch the first chance he got when the Yankees and Red Sox met at Fenway Park earlier this month, the initial reaction to the plunking — which Dempster said was not intentional — was a round of bravos from fans and the general feeling that plenty of other pitchers...
Joe Maddon's message was simple. The Rays manager didn't like that Ryan Dempster threw at Alex Rodriguez intentionally. Maddon's Rays pose the biggest threat to the Red Sox in the American League East, so surely he enjoyed watching the Yankees respond to Rodriguez getting plunked by taking down the Sox on Aug. 18. He didn't enjoy the actual incident, though, as he feels that...
(Eds: Updates with Piniella quote. Updates photo links. With AP Photos.) By RONALD BLUM AP Sports Writer Daily threats. Blaring headlines. Charges and countercharges. The New York Yankees have been there before. And Alex Rodriguez vs. Pinstripes is nothing like the bad ol' days of Reggie Jackson vs. Billy Martin vs. George Steinbrenner. ''I don't even know where...
The Iron Law of Wackos says that, as the authorities close in, you mix the Kool-Aid, soak the barricades in gasoline, and make sure everybody has a bullet for himself, and one for each member of his family. That final confrontation, the one where everybody dies in a network-televised inferno: That's the money shot. That's your legacy, Mr. Koresh. Want people to remember your...
Ben and Sam try to come to terms with Matt Harvey`s elbow injury, then discuss a player poll about Alex Rodriguez.
Yankees News

Delivered to your inbox

You'll also receive Yardbarker's daily Top 10, featuring the best sports stories from around the web. Customize your newsletter to get articles on your favorite sports and teams. And the best part? It's free!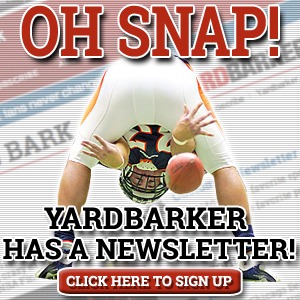 Latest Rumors
Best of Yardbarker

Today's Best Stuff

For Bloggers

Join the Yardbarker Network for more promotion, traffic, and money.

Company Info

Help

What is Yardbarker?

Yardbarker is the largest network of sports blogs and pro athlete blogs on the web. This site is the hub of the Yardbarker Network, where our editors and algorithms curate the best sports content from our network and beyond.