HOMESTEAD, FL - NOVEMBER 20: Kasey Kahne, driver of the #9 Budweiser Dodge, points from the grid during qualifying for the NASCAR Sprint Cup Series Ford 400 at Homestead-Miami Speedway on November 20, 2009 in Homestead, Florida. (Photo by Geoff Burke/Getty Images for NASCAR)
Hendrick Motorsports teamamtes Jimmie Johnson and Kasey Kahne led the way for the Team Chevy drivers for the GEICO 400 from the Chicagoland Speedway. Johnson finished in the 2nd position and Kahne was 3rd. Ryan Newman took home 5th, with Stewart-Haas Racing teammate Tony Stewart right behind him in 6th place. Dale Earnhardt, Jr. was the only other Team Chevy driver in the top ten by finishing in the 8th place. Below is quotes from them and other drivers after the race.
JIMMIE JOHNSON, NO. 48 LOWE'S/KOBALT TOOLS CHEVROLET – FINISHED SECOND
YOU LED THE MOST LAPS TODAY AND HAD A DOMINANT CAR, BUT WHERE DID THAT TWO CAR COME FROM AND WHERE DO YOU THINK HE HAD THE ADVANTAGE IN THOSE CLOSING LAPS?  "The last maybe three runs he was definitely a factor and I was maybe a little better than him on the third-to-last and then on the next-to-last we were about equal, but on that last one, he was just better.  So congratulations to those guys, they did an awesome job but this is a great way to start the Chase for us.  Its ten long races and a lot can happen so to come out of here in second is a great day and of course we want to be over there in victory lane, that is just a given but we will take this second and we will go on to the next one and I am real happy for where this Lowe's team is right now." 
KASEY KAHNE, NO. 5 FARMERS INSURANCE CHEVROLET – FINISHED THIRD
TAKE US THROUGH THE DAY, OVERALL HOW WAS YOUR CAR?"The Farmers Insurance Chevrolet was good all day and we weren't as good as the 48 and we weren't as good as Brad (Keselowski) in the end.  He really got going but we had a great car, the pit stops were awesome and I felt good about it but we couldn't get any better.  We made a lot of adjustments and Kenny did a nice job, but we just couldn't figure anything out to make the car better.  So I just feel like I was lacking today and hopefully we can talk about it this week and get it better for some of these other 1.5 mile tracks. " 
RYAN NEWMAN, NO. 39 GENE HAAS FOUNDATION WORKSHOPS FOR WARRIORS CHEVROLET – FINISHED FIFTH
GREAT RUN FOR YOU GUYS, HOW WOULD YOU CALL IT TODAY?  "Well I think at best we had a fifth-place car and just happy to get that.  The Workshops for Warriors/Haas Automation Chevrolet was decent at times and we had a couple good restarts where we snuck it in on them three wide and it worked but just happy to be in the top five again and stopping on pit lane.  My guys had a great call on strategy on two tires and the tires were great today as far as durability goes so hi to mom and the girls at home, I am going elk hunting with Bill Jordan and the boys at Realtree and I will see you guys at Loudon." 
TONY STEWART, NO. 14 OFFICE DEPOT/MOBIL 1 CHEVROLET – FINISHED SIXTH
HOW WAS YOUR DAY OUT THERE?  "We probably passed more cars than anybody today so not exactly what we were looking for, but we were just a little bit off and we will keep working on it.  But if we can be a little bit off and end up with a top-ten, then we are in good shape." 
DALE EARNHARDT JR., NO. 88 AMP ENERGY/7-ELEVEN/NATIONAL GUARD CHEVROLET – FINISHED EIGHTH
I KNOW EIGHTH PLACE WASN'T WHAT YOU WANTED BUT GIVEN HOW YOU STARTED THAT WAS A PRETTY GOOD EFFORT, HOW DID YOU FEEL ABOUT IT?  "Yeah, I was disappointed with myself in making the mistake with the engine and getting us that far back at the start of the race.  We couldn't really overcome the track position but we had a great car at the start and first half of the race.  For the first 100-130 laps we had a really fast car and we made a couple of adjustments that didn't really help us out how we needed help and we sort of made the car ordinary and just kind of had to maintain track position.  Some guys had some trouble and we were still in the fight so we'll go on to the next one still with a shot." 
NOT THE FINISH YOU WANTED, BUT CONSIDERING YOU STARTED LAST, HOW DID YOU FEEL? "Yeah, I was just disappointed in myself for making that mistake with the engine and getting us that far back at the start of the race. We really couldn't overcome the track position. We had a great car at the first half of the race; the first 100 or 130 laps we had a really fast car. We made a couple of adjustments that just didn't really help us out. We needed help and we sort of made the car ordinary and just kind of had to maintain track position. Then, some guys had some trouble and we were feeling the fight. So we're going to the next one still with a shot." 
YOU STARTED IN THE BACK BUT FOUGHT YOUR WAY UP THERE. YOU'VE GOT TO BE PROUD OF THAT EFFORT TODAY "Yeah, I wish I had not made the mistake with the motor and gave ourselves a better opportunity. I feel like that cost us about four spots today just having to start that far back. We never did get track and gain it all back to where I felt like I had overcome the setback. I take full responsibility for that. We had a good car. At the start of the race, especially, we had a really fast car; real good speed. We made a couple of adjustments trying to help the car and we just kind of made the car ordinary and much like everyone else. It took a little bit of advantage we had in speed away from the car. We just kind of muffled around and held track position the rest of the day."
IT WASN'T A TERRIBLE RALLY THOUGH, TO START THAT DEEP AND FINISH 8TH: "That's how we've been running all year. I'm not getting real excited. To win the championship, we're going to have to turn days like that, those kind of mistakes, around into wins and top threes. We need to be in the media center after all these races as much as possible. Eighth is all right, but I know Brad (Keselowski) is going to run well and the No. (Jimmie Johnson) is obviously going to be tough. You can't run eighth every week and win the championship."
IS IT TOUGH TO GAUGE WHERE YOU'RE AT CONSIDERING THIS WAS SUCH A TRACK POSITION GATE TODAY? "Well, I thought we were great at the start of the race. We had real good speed and I thought we had a good practice. I felt like the car was quick and when the race started, we were. We had great lap times compared to the field. The adjustments I just didn't like; we dropped the track bar, which I never-ever like. It slows the car down. So, I've never liked to make that adjustment. But those guys are smarter than me on that pit box and I believe in what they are doing and we just kind of had a mundane run after halfway. We really didn't have great speed but we didn't have a terrible car either. It was just kind of like wherever you were on the race track is where you ran." 
ARE YOU MORE PLEASED THAT YOU WERE ABLE TO SALVAGE THIS KIND OF A FINISH? "I'm not that disappointed in the car. It was actually a pretty good car. I just know we need to be great and I really believe we've got a shot at winning the championship and we've got to be great." 
ON HIS 1.5-MILE PROGRAM "We run good everywhere. We've been good all year. The only track that stands out is Talladega. We might as well just go in there and draw out of a bag for finishing positions at that place."
WHAT HAPPENED TO THE MOTOR? I made a mistake. We ran a qualifying lap and when you cross the finish line you bump it out of gear, which is what I've done every time I've run a qualifying lap; how every many of those I've ran. In practicing mock runs, I bumped it out of gear and it went in third and over ran the engine way over. The valves and the piston had a little party and they all ended-up with a hangover (laughter)." 
DANICA PATRICK, NO. 10 GODADDY.COM CHEVROLET – FINISHED 25TH
WERE YOU HAPPY WITH YOUR RUN OVERALL? "I think we made a lot of progress in the race. I think Zip (Greg Zipadelli) did a good job of changing the car and making good changes each time.  We got a little bit loose toward the end I feel like lost a little bit of ground in that run.  But then in the last run I felt like we got a little bit of that back if anything we were a little tight be careful what you ask for I guess.  Ultimately I think it was generally a big improvement on overall lap time throughout a run and that is the kind of stuff we need to be doing." 
JEFF GORDON, NO. 24 DUPONT CHEVROLET – SIDELINED DUE TO ACCIDENT ON LAP 190, FINISHED 35TH:
ARE YOU OKAY? "Yeah, I'm fine. We were having a good day. The guys did an awesome job in the pits and tuning on the car and who knows what we could have done with them at the end. But we had a throttle stick. It didn't stick wide-open; I just let off the throttle and it just didn't come all the way back and it's probably about half-throttle, which is enough to do a lot of damage. We're looking at what the issue is right now to see what could have caused it. Something I think in the return spring."
DO YOU HOPE TO GET BACK OUT? "Yeah, we hope to get back out. But in this deal, you can't afford to have issues like that and by the time we get back out; well, we'll make up every spot and every point we can." 
THE THROTTLE STUCK AND ENDED THE DAY. WHAT HAPPENED? "Yeah, we're still looking into it. Something with the return spring where it didn't come all the way back. So, it was a about half-throttle, which is better than full throttle, but it still caused a lot of damage and caused us to hit the wall and end our day with the DuPont Chevrolet. We'll try to get back out there and get some points, but it's disappointing. We were having a good day; coming from 19thto be up there in the top five, and I don't know if we had anything to win the race, but we certainly were giving it everything we had and that's very disappointing."
Original Story:
http://startnparkblog.com/?p=11430&ut...
MORE FROM YARDBARKER
All Sports News

Delivered to your inbox

You'll also receive Yardbarker's daily Top 10, featuring the best sports stories from around the web. Customize your newsletter to get articles on your favorite sports and teams. And the best part? It's free!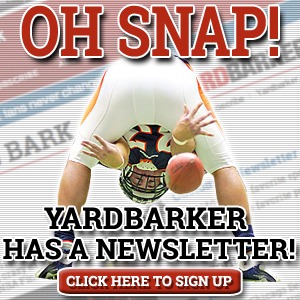 Latest Rumors
Best of Yardbarker

Today's Best Stuff

For Bloggers

Join the Yardbarker Network for more promotion, traffic, and money.

Company Info

Help

What is Yardbarker?

Yardbarker is the largest network of sports blogs and pro athlete blogs on the web. This site is the hub of the Yardbarker Network, where our editors and algorithms curate the best sports content from our network and beyond.