Found May 19, 2012 on Start 'N' Park Blog:
CONCORD, N.C. 2012 – Ryan Newman was the fastest among nine Team Chevy drivers in today's qualifying session and secured a second-place starting spot for Saturday's NASCAR'S Sprint All-Star race at Charlotte Motor Speedway. Newman powered his No. 39 Tornados Chevrolet around the track with a speed of 135.202 in 119.821 seconds.
The Sprint Show Down, which will be held prior to the start of the Sprint All-Star, will determine two additional drivers (finishers 1 – 2) to the field; and a fan vote will determine one more driver to set the starting line-up to a total of 23 drivers.
Four Chevy drivers will attempt to earn a starting position by competing in the Sprint Show Down: Dale Earnhardt, Jr., No. 88 Dale Jr. Foundation/National Guard/Diet Mountain Dew Chevrolet, Jeff Burton, No. 31 CAT/BB&T Chevrolet, Juan Pablo Montoya, No. 42 Target Chevrolet, and Jamie McMurray, No. 1 Bass Pro Shops/Allstate Chevrolet.
The NASCAR Sprint All-Star Race is set to start at 8:00 P.M. and will be live on SPEED-TV.
PRACTICE NOTES:
REGAN SMITH, NO. 78 FURNITURE ROW RACING CHEVROLET – EXPERIENCED AN ENGINE FAILURE DURING NASCAR SPRINT ALL-STAR RACE PRACTICE 
ARE THERE ANY CONCERNS THAT IS TWO ENGINES IN THE LAST THREE WEEKS? "You are always concerned.  It's a situation where we are lucky this week it happened in practice.  We are happy about that.  Looking forward to Saturday night, more importantly the (Coca-Cola) 600 next week it's going to be on our mind now.  When you have two in three weeks it's always going to be on your mind.  The guys at ECR (Earnhardt Childress Racing) do a really good job with the engines.  We haven't had, knock on wood, up until this past two weeks, ourselves as a team haven't had any issues hardly at all.  That is a testament to how hard they work.  I know they are going to work hard and figure out what it was.  I'm sure it's something different today than Talladega's.  We will work hard to figure it out."
SPRINT SHOWDOWN QUALIFIERS: 
DALE EARNHARDT JR., NO. 88 DALE JR. FOUNDATION/NATIONAL GUARD/DIET MOUNTAIN DEW CHEVROLET  – QUALIFIED THIRD 
HOW WAS YOUR LAP? "It was real good in one and two, but I must have not got enough through three and four.  I felt like it was a good lap and good car.  There is just a little bit more out there we just have to find it.  We are better off this year definitely than we were last year at this event.  We really struggled last year."
WE HAVE HAD A LITTLE FUN WITH A FEW DRIVERS HERE ON THE FAN VOTE.  THEY THINK YOU ARE A SHOE IN WHAT ARE YOUR THOUGHTS ON THAT? "I would like to win the race and not have to worry about it.  That would be the greatest thing that could happen to us aside from winning the overall event."
JEFF BURTON SAID HE IS GOING TO TALK TO YOU, IF HE IS THIRD AND YOU ARE SECOND HE SAID YOU BETTER LIFT… "Well, I don't know if I'm second maybe we will talk about it, but for the win I think I would have to take the win (laughs)."
JEFF BURTON, NO. 31 CATERPILLAR/BB&T CHEVROLET – QUALIFIED FOURTH 
HOW WAS YOUR LAP? "It was good obviously we would have liked to have been a little better.  That is going to get us a good enough spot to get done what we need to get done.  I feel like our car is pretty good.  We've got to make some improvements, but I think we are in the ball game."
SPRINT ALL-STAR QUALIFIERS: 
RYAN NEWMAN, NO. 39 TORNADOS CHEVROLET – QUALIFIED SECOND 
DO YOU WISH IT WAS ALMOST OLD SCHOOL WHERE YOU COULD JUST BE HAMMER DOWN COMING OFF TURN FOUR LIKE DARREL WALTRIP AND THESE GUYS USED TO DO? "It's interesting I still like the fact that we integrate the pit crews into an All-Star event.  It's just amazing here.  I think we had a pretty good run with our Tornados Chevrolet.  It was the best I ever got to pit road during an All-Star qualifying session like that.  Just really proud of the guys they had a good pit stop.  I felt like everything was pretty clean.  Our car has pretty good balance.  We didn't have a good practice session so hopefully the Tornados Chevrolet will be up front at the start and the finish of the All-Star Race." 
KEVIN HARVICK, NO. 29 BUDWEISER/RHEEM CHEVROLET – QUALIFIED FIFTH 
TELL US ABOUT YOUR LAP AND YOUR STOP: "Our lap was okay.  The stop was okay at best.  All in all we were just a touch too loose.  Everybody on our Rheem/Budweiser Chevy did a good job.  I could have got on to pit road probably a car length or so, maybe two car lengths deeper there, but all in all we had little things that we probably could have done better.  The speed was okay on the lap. That was a good thing."
JIMMIE JOHNSON, NO. 48 LOWE'S PATRIOTIC CHEVROLET -  QUALIFIED SIXTH 
HOW WAS YOUR LAP AND YOUR PIT STOP? "Everything felt well.  I'm not sure how that will stack up since we went so early.  All in all I feel like it was a respectable two laps or three laps, however it works, and the pit stop." 
DID YOU FEEL LIKE YOU HIT ALL YOUR MARKS GOT EVERYTHING YOU WANTED TO ON YOUR LAPS OUT THERE OR DID YOU LEAVE SOMETHING OUT THERE? "The entry was a bit of a handful.  I can see why the car got out from under Kasey (Kahne).  Coming around to complete my first timed lap I had a moment into (turn) three, lost it getting in there.  Once I got through that area the car was awesome.  Maybe a little slow to pit road, I wish I could have that over again.  Maybe got on the brakes a little too early.  Outside of that things felt pretty strong." 
HOW MUCH FUN IS IT TO HAVE THAT PIT STOP IN ON A QUALIFYING RUN? "It's a lot of fun to have the pit stop.  Really the whole weekend it's just much more relaxed much more involved dealing with the pit stops and what went on last night.  A lot of fun, if you win a million reasons to have a good time." 
OBVIOUSLY YOU WANT TO SEE VICTORY LANE TOMORROW BUT CAN YOU SPREAD THAT LUCK TO YOUR TEAMMATES? "I certainly hope the best for my teammates, but I'm a selfish guy, I want to win everything I can.  Hopefully, we win tomorrow night.  If I don't I'd like for one of them to."
PAUL MENARD, NO. 27 MENARDS/CERTAIN TEED CHEVROLET – QUALIFIED SEVENTH 
HOW WAS YOUR LAP? "It was good.  It was all I could ask for I guess. Never doing this before, this is the most nervous I've been coming into a qualifying run for a long time.  Went pretty seemless, I felt like my timed lap was pretty decent.  I got to pit road good.  The guys had a good pit stop, just a solid lap nothing really stands out."
HOW EXCITED ARE YOU ABOUT THIS RACE TOMORROW NIGHT? "Yeah, it's going to be exciting.  We have a little bit of a science project right now that we are working on.  We will see how it plays out."  
JEFF GORDON, NO. 24 DUPONT CHEVROLET – QUALIFIED EIGHTH 
HOW AS YOUR LAP? "Really nice pit crew effort, I felt like I got to pit road decent, I thought I got off pit road really good.  The guys did an awesome job.  We have been struggling today on the race track.  It continued there but we didn't get to make a qualifying run so didn't know what to expect.  The car felt good coming to the green.  I tried to push it a little harder and it didn't like it.  I kind of had to run a conservative lap there."
KASEY KAHNE, NO. 5 FARMERS INSURANCE CHEVROLET – QUALIFIED 20TH 
FIRST OFF ARE YOU OKAY? WHAT HAPPENED IN TURN "Yeah, I'm fine I just treated that coming to the checkered like I was on my second qualifying lap and they were stickers.  My first lap when I went out to take the green I slid around getting into turn three coming to the green and that is basically what I did again there, but I just forced it a little more because I felt like that was gone.  It's just a bad job by myself.  Our Farmers Insurance Chevy was fast.  I think everyone did a nice job.  I just hit the wall pretty good there with the right side.  We will need the back-up car for sure after that. I just got loose in.  I was just trying to get all I could and went a little too far."
Original Story:
http://startnparkblog.com/?p=6631&utm...
THE BACKYARD
BEST OF MAXIM
RELATED ARTICLES
Kurt Busch felt NASCAR's wrath once again this week - and it wasn't entirely undeserved. Busch was penalized $50,000 and placed on probation until July 25 for "actions detrimental to stock car racing; reckless driving on pit road; involved in an altercation with another competitor after the completion of race" following Saturday night's Southern 500. Certainly...
Kurt Busch doesn't think he endangered anyone last weekend at Darlington Raceway, and he insists he accidentally ran into the back of Ryan Newman's car after the race. And he's baffled as to why Newman has been leveling scathing attacks on Busch's personality in the days since last Saturday night's incident that earned Busch a $50,000 fine from NASCAR. But the...
Kurt Busch doesn't think he endangered anyone last weekend at Darlington Raceway, and he insists he accidentally ran into the back of Ryan Newman's car after the race. And he's baffled as to why Newman has been leveling scathing attacks on Busch's personality in the days since last Saturday night's incident that earned Busch a $50,000 fine from NASCAR. But the...
Could military sponsorships in NASCAR be in danger? An amendment to eliminate such sponsorships from the defense budget could end the trend. Sponsored by US Reps. Jack Kingston (R-Ga.) and Betty McCollum (D-Minn.), the amendment would eliminate military sponsorships in professional sports. The bill has passed the House Appropriations Committee. If adopted, that would impact NASCAR...
NASCAR driver Kurt Busch told USA Today that a recent blowup that occurred with Ryan Newman after the Southern 500 was "WWE-type action" and was "good for our sport." Busch was fined $50,000 and put on probation for the inciden   Follow me on Twitter: www.twitter.com/therealjeffpeckDownload my wrestling podcast "The Still Real to Us Show" every Thursday at www...
Kurt Busch, driver of the #51 Monster Energy Chevrolet, met with members of the media at Charlotte Motor Speedway to discuss last week's incident with Ryan Newman, the additional sponsorship from Monster Energy and other topics.  CAN YOU TALK US THROUGH HOW THINGS ARE GOING? "I'm just happy that Monster stepped up to sponsor us this weekend here at the All-Star Race.  They...
All Sports News

Delivered to your inbox

You'll also receive Yardbarker's daily Top 10, featuring the best sports stories from around the web. Customize your newsletter to get articles on your favorite sports and teams. And the best part? It's free!
THE HOT 10: Who's Trending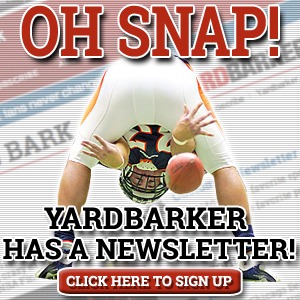 Latest Rumors
The Backyard

Today's Best Stuff

For Bloggers

Join the Yardbarker Network for more promotion, traffic, and money.

Company Info

Help

What is Yardbarker?

Yardbarker is the largest network of sports blogs and pro athlete blogs on the web. This site is the hub of the Yardbarker Network, where our editors and algorithms curate the best sports content from our network and beyond.