Found June 22, 2012 on Midwest Sports Fans:
PLAYERS:
LeBron James
,
Josh Hamilton
,
Calbert Cheaney
,
Tiger Woods
,
Kevin Durant
,
Michael Vick
,
Tony Romo
,
Roger Staubach
,
Troy Aikman
,
Derrick Rose
,
Carmelo Anthony
,
Dwight Howard
,
Chris Paul
,
Blake Griffin
,
Matt Kemp
,
Clayton Kershaw
TEAMS:
Miami Heat
,
Texas Rangers
,
Oklahoma City Thunder
,
Philadelphia Eagles
,
Dallas Cowboys
,
Chicago Bulls
,
New York Knicks
,
Orlando Magic
,
Los Angeles Clippers
,
Los Angeles Dodgers
LeBron James finally fulfilled his destiny and won his championship. It has seemed inevitable ever since he was on the cover of SI in high school. Now, finally, he is finished paying his dues and has stepped to the forefront of the NBA's varsity pecking order. So who's next? Now that LeBron has his championship, what athlete without a title has the most pressure to win one? I think the top spot is an easy one to fill in. 1. Josh Hamilton, Texas Rangers Someday I am going to be talking to my grandkids about what sports were like while I was growing up. I know what the highlights will be:
Being in Assembly Hall for every home game of Calbert Cheaney's spectacular and underrated college career.
The indubitable winning brilliance and competitive fire of Michael Jordan.
The irrepressible dominance of Tiger Woods.
The mind-boggling talent of LeBron James and Josh Hamilton.
Let's focus on that last one. LeBron James and Josh Hamilton are the two most talented athletes I've ever seen. This doesn't mean they are the best athletes I've ever seen, of course, because greatness is measure by far more than talent. But I do believe these two men were born with more natural ability to succeed in their respective sports than anyone else in my lifetime of 30 years. With mind-boggling talent comes mind-boggling expectation. LeBron James has been spun around in this blender of expectation for the past decade, finally emerging from it last night as a champion. Now it's time for Josh Hamilton to do the same and fulfill the one step of his predestined though circuitous sports journey there is still left to take. It's time for Josh Hamilton to follow in LeBron's footsteps and parlay his massive talents into a title. (Image credit: USA Today) Of course there are differences between the two:
LeBron James plays basketball, a sport that can be more easily affected and controlled by a single person than baseball. The burden is always greater on a basketball superstar to deliver a title than a baseball one.
Josh Hamilton has personal health baggage that derailed his career for a time, and he has the unyielding pressure of addiction that maintains. LeBron certainly has never dealt with this.
But there are plenty of similarities too.
Both have been regular season MVPs and performed feats of greatness in non-playoff situations that boggle the mind and tantalize us with their potential.
LeBron lost his first two Finals appearances. Hamilton has been on the losing team in the last two World Series.
LeBron's free agency was the most discussed and notoriously announced in sports history, and it created tremendous additional pressure. Josh Hamilton's impending free agency will be different but epic in its own way, given his baggage, and it will create tremendous additional pressure after he signs what surely will be a huge deal.
Before this year, LeBron mostly struggled to deliver in the playoffs up to his regular season standard. Hamilton, with a career OPS of .923, has a playoff OPS of .672 in 145 plate appearances. (Granted, Hamilton's extra inning home run in last year's World Series should have been the storybook ending to the season and Hamilton's comeback story, but we all know what happened afterwards.)
All of this leaves us, in my mind, with LeBron passing the figurative torch of expectation to Hamilton. Because make no mistake: for the first time here in Dallas, where I live, there is real pressure on the Rangers to win it all this year. Two years ago, the Rangers were a year ahead of schedule. Everyone was just happy to enjoy the ride as long as it went. Last year, everyone for the most part was still happy to make it back to the World Series but crushingly disappointed at having defeat snatched from the jaws of victory. Now it's World Series win or bust. Anything less would be a massive disappointment. With Hamilton in the final year of his contract, which has been a hot topic of conversation all season long, and having such a blazing hot start to the season, the onus is on him to to be the one who leads the Rangers to the summit of this mountain they have been climbing for the last three years. Granted, the pressure Hamilton faces is barely a fraction of what LeBron faced. Different sport, different back story, different media narrative. But at some point the most talented player in his sport should win a championship. It's Josh Hamilton's time to do so. 2. Kevin Durant, Oklahoma City Thunder With LeBron's title out of the way, Durant assumes the role of Best NBA Superstar Without a Title. I don't think anyone doubts he'll win one, and this year was a great learning experience for he and his Thunder team. Thus far the Thunder have generally exceeded expectations and been a nice feel-good story because of their ability to win with such a young core. But now the Thunder have been to the Finals. There is only one achievement left to unlock: win it all. It won't be easy. It's not like LeBron is retiring or the Heat are old like the Celtics. And these Finals proved that any debate about Durant versus LeBron is silly. Durant is a more versatile scorer than LeBron, but LeBron does everything else better. I think we knew that anyway, but this series highlighted it more acutely than I expected. 3. Michael Vick, Philadelphia Eagles The Eagles were supposed to be last year's "Dream Team." Michael Vick was supposed to finally put all of his prodigious talents together and turn in his finest season. Vick fell flat out of the gates and so did the Eagles. With his contract, his past, his style, the inherent pressure of the city he plays in and the position he plays, and the talent on the roster around him, it is Vick's time to do what LeBron just did and what Hamilton now has the pressure to do: fully realize his potential on the way to a title. If Vick wins a Super Bowl, his career is forever validated. If he doesn't, he will always go down as the immensely talented running quarterback who couldn't get a ring. There is no in between. And Vick, because of his style, doesn't have much time left. The time is now. 4. Tony Romo, Dallas Cowboys I may be showing my proximity bias here by having two Dallas-area athletes in the top four, but I'm finding it difficult to posit Devil's advocate arguments even in my own mind for why Romo should be lower. There is always inherent pressure on franchise QBs to win Super Bowls. It's the nature of the position. In the city of Dallas, which has experienced the eras of Roger Staubach and Troy Aikman, that pressure is unyielding. Romo hasn't made an NFC Title Game like Vick, and he doesn't have the national profile or polarizing back story, but he faces nearly as much pressure. Even in his own home market, people are not sold on Romo as the answer at QB despite him being one of the 10 best in the league. He simply hasn't delivered enough in big games to build trust. Romo's talent and statistical achievements are impressive enough that Super Bowl expectations are warranted. Like Vick, there really is no middle ground for his legacy. He either wins and is a legend or never does and goes down as a disappointment. And like Vick, time is becoming a factor. 5. Derrick Rose, Chicago Bulls Rose is a bit of a hard one to rank. He has already been an MVP and led his team on a deep playoff run. But he is also coming off a bad knee injury and no one is quite sure what to expect from him next season. But like Durant, Rose and the Bulls are no longer just a cute, feel good story about a team that has built itself up from being awful into a contender. At some point, the expectations come and with them the pressure. I'd have loved to see what the Bulls could have done in the playoffs this year with a healthy Rose, and we may have to wait two years to finally get to see. Either way, Rose has the burden of being the face of a franchise that once expected and received titles like sunrises. There won't be any pressure next year, but eventually it will return, and it will be strong. 6 & 7. Carmelo Anthony and Dwight Howard I'm grouping these two guys together because I think they are unique cases. I think there is pressure on both of them, but it's not the kind of pressure that LeBron faced, or that even Durant will now face, where there is an inevitable feeling about them winning a title. Inevitability is its own unique brand of pressure. Rather, Anthony and Howard have the pressure that comes with being "max contract" players with high profiles who have experienced a great deal of individual success. Their cities will pin their hopes on them. But with LeBron's Heat and KD's Thunder appearing poised to own the NBA for the next 4-5 years at least, will there be room for Carmelo and/or Dwight to do much beyond what they have already done? Not really. So they have pressure to validate their superstar status and leave a winning legacy, but it's on a totally different level. Note: As I finished this one I started thinking about Chris Paul and even Blake Griffin. Neither has a title, but I just have a hard time expecting a title from guys who play for the Clippers. Thus, do they really have pressure to win one? I suppose they do, but I guess I've just been hard wired to expect nothing from their unfortunate franchise, so let's just consider them honorable mention. 8. Matt Kemp, Los Angeles Dodgers Kemp is a remarkable talent who the new ownership group of the Dodgers is looking to build around. In Kemp and Clayton Kershaw, the Dodgers will have one of the best pitcher/hitter combos in the game for the next decade, assuming they stay healthy. The talent, plus the market, plus the franchise history, plus the energy and investment of the new ownership group, means that Kemp will have the pressure to deliver as he now plays through his prime. He's good enough, but can he stay healthy enough? And can the Dodgers fit enough pieces around him? We'll see. ***** I considered a lot of other guys for this list, but none struck me as no-brainers like the eight above. I'm really curious what you think of the 8 guys on this list, as well as your choices for additional players who haven't won championships that are facing increasing pressure to do so. Also, it's important to note that I don't know much about hockey, which is why no NHL players were included. Please NHL fans, chime in below with what hockey players without titles face the most pressure to get one.
Original Story:
http://www.midwestsportsfans.com/2012...
THE BACKYARD
BEST OF MAXIM
RELATED ARTICLES
LeBron James is the MVP of the NBA Finals. James finished with 26 points, 13 assists and 11 rebounds in Game 5 of the title series Thursday night, leading the Miami Heat to a 121-106 victory over the Oklahoma City Thunder. Miami won the second title in franchise history, and James won for the first time in three finals appearances. James and the Cleveland Cavaliers were swept...
LeBron James is the MVP of the NBA Finals. James finished with 26 points, 13 assists and 11 rebounds in Game 5 of the title series Thursday night, leading the Miami Heat to a 121-106 victory over the Oklahoma City Thunder. Miami won the second title in franchise history, and James won for the first time in three finals appearances. James and the Cleveland Cavaliers were swept...
PASS THE MIC
Let's be honest here, LeBron James celebrating his first NBA title at Club LIV this morning with LMFAO is about as bad as it gets in the celebration category. There were no Ace of Spades bottles that we know of. No massive speeches from the King. No giant bar bills (more on that later this morning). Just LeBron rapping with the douchiest club group of the 21st century. Nice shirt...
MIAMI Forget for a moment the painful grimace on the face of LeBron James. When he was carried off the court late Tuesday by teammate Juwan Howard and trainer Jay Sabol, isn't that how an enduring moment from a defining career turn, rich with symbolism, is supposed to look? It appeared that way Wednesday, the day after, when the buildup to Game 5 revolved less around the minutiae...
Charles Barkley is on the list of great NBA players who never won a title. LeBron James had won three regular season MVP awards before winning his first NBA title, but at age 27 and in his 9th season in the league, he finally won one. Barkley said on NBA TV after Game 5 on Thursday that he was happy for LeBron. "As someone who never won an NBA championship, I always root for...
I stopped watching after the end of the 3rd quarter. I couldn't handle watching LeBron James celebrate. The guy was trying to sell the drama on a freaking cramp on Tuesday. I could only imagine his reaction to winning his first rin as. visions of a giant box of Summer's Eve hitting the court clouded [...]
During the NBA playoffs, there has been some questionable fashion choices by the players and even LeBron James decided to rib one of his teammates about his glasses.When Heat star Dwyane Wade was at the podium for a postgame interview in game four, LeBron was watching on a close-circuit television and decided to point out Wade's nerdy glasses where he called Wade out saying that...
The smoke hasn't cleared from the celebration in Miami, and already the experts, fans, and folks at random water coolers across the globe are wondering will they be able to repeat? Can LeBron James deliver on his bostrous claim of winning seven titles? It's apparent that winning the first one has sparked even more debate about the future. The questions surrounding the...
LeBron James has been called heartless, callous, narcissistic, cowardly and selfish. And that was just in one letter from Dan Gilbert, the man who used to pay him to play for the Cleveland Cavaliers. One more win, and James will have to be called something else: NBA champion. It could happen Thursday, when the Miami Heat play the Oklahoma City Thunder in Game 5 of the NBA Finals...
MIAMI -- The wait is over. Now LeBron James, Dwyane Wade and Chris Bosh can have a championship celebration with an actual championship trophy. Pushing to an early 17-point lead and then building from there, the Miami Heat defeated the Oklahoma City Thunder 121-106 Thursday night at AmericanAirlines Arena, closing out the best-of-seven NBA Finals in Game 5, sweeping the three...
WHAT HOT SEAT?
LeBron James is an NBA champion. James put together another stellar performance in Game 5 of the NBA Finals as the Miami Heat beat the Oklahoma City Thunder 121-106 to win their second NBA title. James, the regular season's most valuable player finished the game with a triple-double. He scored 26, with 13 assists and 11 rebounds and was voted the Finals most valuable player...
Dwyane Wade, Chris Bosh and LeBron James especially got a huge monkey off their back Thursday night when they were able to finally deliver an NBA title to the City of Miami in the Big Three era. Not only that though the Heat did it in convincing fashion disposing of the upstart Oklahoma City Thunder in five games with a very convincing win to close things out. LeBron James was phenomenal...
All Sports News

Delivered to your inbox

You'll also receive Yardbarker's daily Top 10, featuring the best sports stories from around the web. Customize your newsletter to get articles on your favorite sports and teams. And the best part? It's free!
THE HOT 10: Who's Trending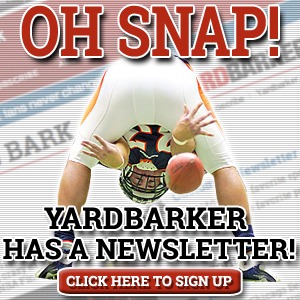 Latest Rumors
Best of Yardbarker

Today's Best Stuff

For Bloggers

Join the Yardbarker Network for more promotion, traffic, and money.

Company Info

Help

What is Yardbarker?

Yardbarker is the largest network of sports blogs and pro athlete blogs on the web. This site is the hub of the Yardbarker Network, where our editors and algorithms curate the best sports content from our network and beyond.