Found February 20, 2013 on The Nosebleeds:
Anyone who has ever had any interest in making improvements in their lives or in training has known that to make improvements one has to have knowledge about what they need to improve on. With technological advancements, information has made the acquisition of knowledge easier than before. With this ease of access many people evaluate and attempt to create the "perfect plan" for their goals. Which I support 110%. I think with anything in life one has to evaluate what we want to accomplish and create a plan of attack to reach your desired goals. And although plans are great it is not the key to achievements. Personally, plans and programming are overrated. If you look at the fitness industry it feels like almost everyday a magazine or television commercial is trying to sell the "NEW" "GROUND BREAKING" method, program, or style of training, that will "change your life forever". Don't get me wrong! some of these programs and methods are fantastic! However, being a marketing major I understand that these programs on TV and magazines are products, with companies looking to make profits. And trust me marketers and advertisers will analyze every angle possible to have consumers purchase their products. Which I have no problem with, its business. The only problem I have with these programs, methods, or styles is that they don't reveal to consumers the real key to what makes these programs so successful. In any program, method, or style of training the common variable in all of them is CONSISTENCY. Consistency is the key to any training regiment, plan, method, or style, it is what is going to "change your life" or give you "amazing transformations". The body is the perfect machine. It will adapt, and defend itself to anything it exposed to. Therefore, if your goals calls upon you to be stronger, and your training is focused on that idea. Your body will adapt and get stronger, but ONLY IF ONE IS CONSISTENT. This concept is what separates failure and success. Is it easy to do? absolutely not, but being consistent is what will get you from point A to B. Take me for example. Prior to this year I've never really trained for strength. I was more of a bodybuilder with not much knowledge. However, by accessing the information around me I borrowed ideas, methods, styles, and training programs and created my own, and with it I've been able to take my Squat from 335lbs to 420lbs in a couple of months. My deadlift has gone from 315lbs to 520lbs, my bench press from 275lbs to 315lbs. And in the mist of all the exercises, programming, failures, and success. I have remained consistent. I have done everything in my power with the things around me to stay on track. If that meant using my brother as some resistance for some squats while I was on vacation for 6 weeks with no access to a weight room then so be it! I've made sandbags, home made gymnastic rings, pull up bars, picked a tire out of a dumpster and used it as a sled, you name it i've done it. There's a reason why the name of this blog is called Learn, Adapt, & Conquer. Every person has the ability to learn, and with technology now days it has become even easier. Every person also has the natural power to adapt to anything, it only requires the right attitude. The final stage, to Conquer is the hardest to achieve because it requires several variables to come together. However, the title of any Conqueror has been given to them not because of what they have achieved, but in how they achieved those feats. Marc Anthony, Vlad The Impaler, Ghangis Kahn. All conquers, would consistently over long periods of time defeat ANY enemy, and ANY challenge in their paths. And at the of the day my friends a conqueror is not defined by their achievements but by their constants dedication to their goals, and their beliefs! So next time, when you feel you are lost in your training, or things around you seem to be falling apart. Remember, that it is part of life and that with consistency and a little bit of faith you to will conquer! Here's and awesome example of a true conquer!      
Original Story:
http://thenosebleeds.com/the-key-to-a...
THE BACKYARD
BEST OF MAXIM
All Sports News

Delivered to your inbox

You'll also receive Yardbarker's daily Top 10, featuring the best sports stories from around the web. Customize your newsletter to get articles on your favorite sports and teams. And the best part? It's free!
THE HOT 10: Who's Trending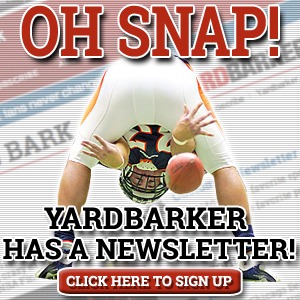 Latest Rumors
The Backyard

Today's Best Stuff

For Bloggers

Join the Yardbarker Network for more promotion, traffic, and money.

Company Info

Help

What is Yardbarker?

Yardbarker is the largest network of sports blogs and pro athlete blogs on the web. This site is the hub of the Yardbarker Network, where our editors and algorithms curate the best sports content from our network and beyond.