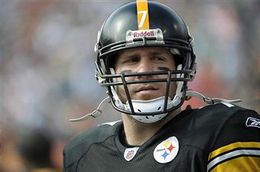 Ben Roethlisberger, Urban Meyer, Randy Moss and Michael Turner, to name a few, are busy otherwise and aren't walking through that door. Still, the good old days are back in the Mid-American Conference. MAC teams and players are earning national recognition, highlighted by Ohio University cracking the Associated Press Top 25 this week. An off-the-national-radar, offensive-driven league that has to think and operate a little differently than its BCS brethren has put together its best combination of talent and victories in years. With its annual November mid-week showcase games and the high stakes surrounding them still to come, college football-watching eyes around the country might just have to take a peek at what's happening in places like Athens, Ohio and DeKalb, Illinois. Theoretically, the 7-0 Ohio Bobcats have a shot at cracking the BCS. Realistically, they might not even be the best team in their own conference. "We're obviously aware of the (attention) and the positive things that can happen for our program, but our players are also of the understanding that it's going to be a battle every MAC game," Ohio coach Frank Solich said. "We have a bullseye and it's just getting bigger. We're going to have to play very good football the rest of the way. We have some really excellent football teams still to play. It's going to be exciting." Toledo and Northern Illinois, co-leaders in the MAC West Division, each stand 6-1 and have already attained bowl eligibility. Toledo enters this weekend's showdown with undefeated and No. 21 Cincinnati having won six in a row after an overtime loss at Arizona on the season's opening weekend. Northern Illinois has lost only in a neutral site game to Iowa. The list of the MAC's 2012 victories over BCS opponents -- Indiana, Kansas, UConn are among them -- isn't exactly a murderer's row, and the fact Kent State's only loss to this point came by 33 points at Kentucky is nothing short of head-scratching. But Ohio's season-opening win at Penn State has looked better and better each week of late. There's a chance Ball State's win over South Florida and Central Michigan's win over Iowa will look better four weeks from now than they do today. A Toledo win over Cincinnati wouldn't eliminate Cincinnati from Big East title and Orange Bowl contention -- and both are possible. "I know the MAC is a better league than people think," Northern Illinois coach Dave Doeren said. "We had the best win percentage of any conference in the bowl games last year, and that's carried over to this year. We've knocked off a bunch of BCS teams. "A lot of credit goes to administrators through the league who have done things that have allowed coaches to stay in tact for a while. There was a bunch of turnover a awhile back and now coaches have been allowed to have third and fourth years to get their recruits in and get their systems in. I also think the style of football the MAC plays, there are a lot of explosive offenses and on any given Saturday an offense can get hot and make it an interesting game against anybody." The shape of today's college football landscape has not only helped the MAC, but allowed it to carve its own high-flying identity. While traditional power programs score multiple top recruits at positions like offensive line, linebacker and defensive back each year, most programs recruit only one quarterback per year, allowing many gifted quarterbacks to seek scholarships and more immediate playing time at the MAC level. Stability in coaching, increased television exposure and facility upgrades across the league have helped, too. The lack of depth in comparison to power-conference makes MAC coaching staffs focus on developing players over four and five years and also makes them lean towards taking chances in recruiting. Kent State defensive end Roosevelt Nix, deemed too small by BCS conference programs and even by Ohio University is his own conference, has been a terror. Kent State's Dri Archer had one FBS scholarship offer coming out of high school and now leads the country in all-purpose yards per game. Almost every top program seeks speed and playmakers from Florida, and the MAC has two lightning-quick Floridians of its own in Archer and Toledo's Bernard Reedy, who's seventh nationally in all-purpose yards per game and has a chance to be All-American as a punt returner. Ohio running back Beau Blankenship ranks 16th on the all-purpose yards list, and that's without the benefit of the return yards Archer and Reedy have racked up. Blankenship is a transfer from Iowa State who came to Ohio to reunite with his Norman North (Okla.) high school teammate and quarterback, Tyler Tettleton. Like many others who have found prominence and success in the MAC, Tettleton was being recruited by Big 12 and Mountain West schools before suffering a knee injury in high school. Ohio stuck with him when many others backed off, and last weekend Tettleton became Ohio's all-time leading passer. He's a junior. "I saw this coming two years ago," Bowling Green coach Dave Clawson said of the MAC's 2012 success. "There were so many young quarterbacks in the league then, and now they're older and better. We have a third-year starter (Matt Schilz) who's a junior, and the list of guys who can really throw the ball and command an offense goes on and on. "This has always been a league that's always been elevated by strong quarterback play, and the maturity of these guys is evident. Every week you're facing another quarterback that can beat you." That was the case in what was the gold standard for MAC seasons, 2003, Roethlisberger's final season at Miami-Ohio before he entered the NFL Draft and went to the Pittsburgh Steelers in the first round. Miami and Roethlisberger went 13-1 in 2003, winning their last 13 consecutively and outscoring opponents for the season by an astounding 374-124. Bowling Green, coached by Meyer, won the West Division and the Motor City Bowl and finished 11-3, and a Turner-led Northern Illinois team went 10-2. In 1999, a 13-0 Marshall team allowed just 91 points all season and ranked 12th in the final BCS standings. Ball State got as high as 12 in late 2008, and that 2003 Miami team achieved the highest rank ever by a MAC team when it finished 11th. In today's system, that would have earned Miami automatic qualification into a BCS game. That's what the Bobcats are playing for, but even if Ohio stumbles or goes unbeaten without gaining automatic qualification the MAC is still in position to make a splash on a national scale. With the Big East, Conference USA and Big Ten potentially not being able to fill their full list of bowl tie-ins come December, some shuffling could land higher-profile MAC teams in bowl games with more sizzle, frankly, than MAC-tied games played in Idaho, Detroit and Mobile. Northern Illinois is a team that could potentially benefit from such shuffling; the Huskies are also a team on the verge of the top 25, something they achieved late in 2010, the season before Doeren took over. "I don't know where it goes if we keep winning," Doeren said. "I like to think we earn the respect we get. If we can keep winning, we'll see." Doeren is now 17-4 overall at the midpoint of his second season. Solich, who was 58-19 as head coach at Nebraska from 1998-2003, has Ohio on track for its fourth-straight bowl game and second-straight double-digit win season. New Akron coach Terry Bowden has a 12-0 season at Auburn on his resume and has already elevated the Zips from maybe the nation's worst program the last two seasons to one that's at least competitive on a weekly basis. Clawson has Bowling Green two wins from its first bowl-eligible season since 2009. The same conference that launched the head-coaching careers of Meyer and Nick Saban has not only some young coaches who might be on their way to brighter lights, but some who have already won at higher levels. If the wins keep coming at Kent State, the calls will come for coach Darrell Hazell. Ditto at Toledo, where Matt Campbell is the youngest coach in FBS football. They're all in place for now, though, and the ingredients are in place for a typically wild finish. The MAC's headline teams have a chance to make real headlines the rest of the way because they have uniquely talented players, starting with the game's most important position and, in many cases, extending from the other skill positions and into the return game. Nine MAC teams are averaging at least 395 yards of offense per game, and Toledo outscoring Eastern Michigan last weekend 28-27 just in the third quarter suggests that a 150-point MAC game sometime between now and the end of the season is a possibility. Ohio winning out and reaching the BCS remains possible, too. The MAC, collectively, isn't especially fond of the mid-major label. Between now and potentially January, it figures to have chances to make a major statement.
Read the rest of this story...
PLAYERS:
Ben Roethlisberger
,
Randy Moss
,
Roosevelt Nix
,
Bernard Reedy
,
Beau Blankenship
,
Tyler Tettleton
TEAMS:
Pittsburgh Steelers
,
San Francisco 49ers
,
Ohio Bobcats
,
Kent State Golden Flashes
,
Penn State Nittany Lions
,
Ball State Cardinals
,
Toledo Rockets
,
Iowa State Cyclones
,
Bowling Green Falcons
MORE FROM YARDBARKER
All Sports News

Delivered to your inbox

You'll also receive Yardbarker's daily Top 10, featuring the best sports stories from around the web. Customize your newsletter to get articles on your favorite sports and teams. And the best part? It's free!