Posted March 28, 2013 on AP on Fox
No list of great NCAA championship game moments is complete unless Keith Smart's jumper for Indiana in 1987 is on it. Known by Hoosiers fans to this day as ''The Shot,'' and known in much less complimentary terms by Syracuse faithful, that 16-foot jumper from the left side with 5 seconds to play is a film clip staple throughout March. The memory of ''The Shot,'' which gave Indiana a 74-73 victory, is still with Smart, now the coach of the Sacramento Kings, while Jim Boeheim, still the coach at Syracuse, revisited it every day for 16 years. ''It's pretty much every day,'' Smart said Wednesday when asked how often he thinks about the jumper that made him a hero in Bloomington and a villain in Syracuse. ''Probably every other day something happens. I'll go somewhere to eat, or when we travel, I check into the hotel and somebody sees the name tag on the bag and they'll mention something about `The Shot' then. Very seldom does a week go by without something that happens.'' Boeheim knew exactly how long it took for him to stop thinking about Smart's play on a regular basis. ''We played very well in the game. When you lose a game like that, you really almost never get over it. I got over it in 2003,'' Boeheim said, referring to the Orange's first national championship, played in the same building - the New Orleans Super Dome. ''I probably thought about it for those 16 years most of the time. ''I never think about it anymore. Coach (Bob) Knight was good after the game. He told me we would get back and win it, he just didn't tell me it would take 16 years. He's smart, just not that smart.'' ''The Shot'' has been summoned from the archives even more than usual this week because Indiana and Syracuse will meet in the East Regional semifinal Thursday night, their fourth meeting since the national championship game, but the first in the NCAA tournament. ''Probably this year more than anything, you had more people talk about its significance,'' Smart said. ''Even when I saw the brackets, I said, `The possibility of them coming together is pretty high.' And lo and behold it came into play. You hear a little bit more conversation because of that now, because it happened against Syracuse.'' A great championship game came down to the final minute. With 38 seconds left, Syracuse's Howard Triche - the uncle of current Orange guard Brandan Triche - made the first of two free throws for a 73-70 lead. Six seconds later Smart scored to cut the lead to one. Four seconds later, Syracuse freshman Derrick Coleman, who finished with 19 rebounds, missed the front end of a 1-and-1. Boeheim had taken his players off the lane, conceding the rebound. Smart got the rebound. The play was supposed to go to Steve Alford, the current coach at New Mexico, who had already made six 3-pointers in the first NCAA tournament played with a 3-point line. ''It was designated for Steve, of course, but we moved the ball around,'' Indiana's Daryl Thomas said that Monday night. ''It came to me and I kicked it out to Keith and he hit the basket.'' Smart, one of the first junior college transfers to play for Knight, summed up the play at the postgame news conference. ''Tonight was my turn. ... I thank Daryl for not taking the last shot and passing out to me. ... It was a wise decision on his part.'' Twenty-six years later Smart is still talking about ''The Shot'' because people keep asking him about it. ''I understand it. Every person, boy, girl, man or child, they want to talk about the moment or what they were doing when it happened,'' he said. ''I don't know this person and this person comes up with all this excitement, what am I supposed to do? `Nah, nah, I don't want to talk to you?' Nah. That's your moment and if you want to talk about, let's talk. It's going to be brief anyway. I won't rain on their parade or anything like that.'' Smart is quick to recall the first time he spoke with Boeheim about it. ''When we were getting ready for the draft, kind of doing some background on different players, I called Jim Boeheim because I was looking at Dion Waiters. I called to get some information on Dion,'' Smart said, referring to the Syracuse guard who went on to be the No. 4 overall pick by Cleveland last June. ''I called him. I said, `Coach, this is a name from the past.' He answers the phone and says, `A name from the past?' I said, `This is Keith Smart. Coach Smart.' He said, `Keith Smart, Keith Smart, Keith Smart. Let me tell you: it took me a long time to get over that.' I said, `Coach, I would not have called you if you hadn't won one. I'd have had somebody else give you a call.' We had a good conversation after that.'' Brandan Triche said he and his uncle haven't spent much time talking about the game. ''I have seen him play, but I haven't seen the actual whole game,'' said Triche, who said he gets called Howard on occasion. ''I think watching, it was like a missed assignment. I haven't directly talked to him about it.'' As with all plays that decide a championship there are the two sides and their reaction. ''It's always difficult when you lose in the championship game, the last game of the year and the last shot,'' Boeheim said. ''That's always a difficult thing.'' Smart said his current players and family are proving his college coach correct. ''They replay it all the time, every year,'' Smart said of his players. ''They all went to college and when Indiana gets beat somewhere, they're always like, `Oh, Indiana lost or this or that.' But I'll always have the last laugh. I played at Indiana and I won. ''That's what Coach Knight said to us after the game, `You guys have no idea what you've done. Sure, you've won a championship. But it won't really sink in until it's 25 or 30 years from now, when your kids see it. That came to fruition about 15 years ago, my son was probably around 10. We were waiting for the tournament to come on, and they showed `The Shot.' My son goes, `Dad, look at you!' I was like, `Wow, cool.' Just like Coach said after the game that night. It came true.'' --- AP Sports Writer Antonio Gonzalez in Sacramento, Calif., contributed to this report.
Original Story:
http://msn.foxsports.com/cbk/story/Th...
THE BACKYARD
BEST OF MAXIM
RELATED ARTICLES
The near and distant future of the Sacramento Kings franchise may be up in the air at the moment, but one thing that is not up for debate is how Keith Smart, the team's head coach, is a hero of sorts as well as a staunch protector of children. During Sacramento's game against the Golden State Warriors at Oakland's ORACLE Arena on Wednesday, Smart snatched an errant pass from...
For those of you thinking about getting courtside seats to an NBA game for your young children, you might want to check out this clip from Wednesday night's Kings/Warriors game.As Golden State's Stephen Curry attempted to throw a pass out of a double team, he threw in the direction of the Kings bench and appeared to be heading towards the head of a young fan.That's when...
Sacramento Kings head coach Keith Smart saved a kid last night. Got a low five. Smiles. **Follow us on Twitter or Facebook. Subscribe, or Return to BobsBlitz.com.Follow us on Twitter.... Full story at Bob's Blitz ~ http://www.bobsblitz.com
Keith Smart is a former college and pro basketball player, and he showed on Wednesday that he still has the moves. Golden State Warriors guard Stephen Curry tried throwing a pass to teammate Jarrett Jack, but it was way off the mark. The ball looked like it was going to head into the first row and hit a young boy wearing a Warriors jersey and jacket who was sitting courtside. Luckily...
Stephen Curry threw a wild cross court pass during Wednesday's game against Sacramento that nearly wiped out a young boy sitting courtside. Luckily, Kings head coach, Keith Smart, was there to save the day, catching the ball just before hitting the frightened boy and giving him a high five. Video via The Score It's even better in GIF form (via SB Nation):
A heads-up play by Sacramento Kings head coach Keith Smart saved the life of baby Newt Gengrich yesterday. Baby Dauber from 'Coach?' This is cute, but my favorite part is the kid next to him. Watch him … he cowers from a bouncing basketball even though it's WAY too far to his left to ever hit him, and when Smart offers a low-five to the kid he actually saved, THIS kid starts...
All Sports News

Delivered to your inbox

You'll also receive Yardbarker's daily Top 10, featuring the best sports stories from around the web. Customize your newsletter to get articles on your favorite sports and teams. And the best part? It's free!
THE HOT 10: Who's Trending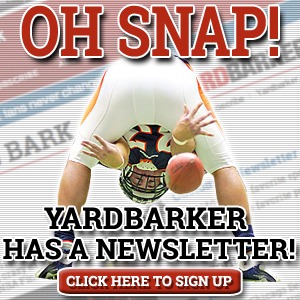 Latest Rumors
The Backyard

Today's Best Stuff

For Bloggers

Join the Yardbarker Network for more promotion, traffic, and money.

Company Info

Help

What is Yardbarker?

Yardbarker is the largest network of sports blogs and pro athlete blogs on the web. This site is the hub of the Yardbarker Network, where our editors and algorithms curate the best sports content from our network and beyond.