Found July 19, 2012 on Extra Pine Tar:
I just don't understand how anybody in the world – besides the competitors – gets fired up for the Olympics. I mean, who cares? Who really cares if we have the best gymnasts in the world, or the best skiers or whatever? If anything, I think everyone who competes in the Olympics is really weird, and it makes me uncomfortable.
They get up at like 4 a.m. every day and train. They have no childhoods, they have overbearing parents and they do it all to compete in an event that doesn't pay the winners. The juice just doesn't seem to be worth the squeeze. You're going to have to give me at least some compensation for working ridiculously hard for 15 years other then the chance at getting a small hunk of gold.
I get the patriotism, too. I'm all for supporting our country, and if I had a preference it would be that the United States wins most of the gold medals. But I don't really care. Am I going to lose sleep if we come in second in the table tennis? No, I'm going to sleep better knowing that I didn't waste my entire life becoming obscenely good at table tennis so I could become a household name for three hours and then fade into obscurity as I struggle to assimilate into the real world.
So everybody needs to stop talking about the Olympics like I'm supposed to get fired up for them. And STOP, please, trying to create these rivalries between athletes that I don't know…for instance.
1. What the hell is a Ryan Lochte? And why do I care about its relationship with Michael Phelps? 
RYAN LOCHTE! MICHAEL PHELPS! THIS TIME IT'S ON!
What the **** is the deal with these two? Why is being shoved down my throat as if I'm supposed to know who Ryan Lochte is, and why is there a rivalry between the two when Phelps won every gold medal at the last Olympics?
And why are we all suddenly big-time fans of swimming?
So many questions. All I know is that this seems like something that the media made up and told us that we should be interested, and people seem to be eating it up. Be honest – before two weeks ago, you had never even heard the name "Ryan Lochte," and you knew Michael Phelps as "that weird vampire-looking kid who got caught smoking a bong and puts Avocado on his Subway sandwiches."
Never, in the a million years, did you know that some strange, homo-erotic rivalry existed between these two men. But every day on Sportscenter and on web sites everywhere, we're told about how "they hate each other now," and "they're putting their friendship aside," and "when they get in the pool, all bets are off."
When were all bets on? WHO IS RYAN LOCHTE? Are there people in the real world who actually follow swimming, making me in the minority here, or is it just kind of a dead time for sports so people are trying to create things to fill the void? If Ryan Lochte walked into my apartment and asked me for a cup of sugar I wouldn't think twice about turning him down because I don't know what he looks like – so I would know that he's not my neighbor. I know my neighbors.
You know what? I'm rooting for ******* Russia in the swimming events. I'm boycotting both of these people, even though I'm not even sure if Ryan Lochte exists or if he's just some person people made up to create drama. I would rather a former Communist nation that waged a Cold War on us and nearly nuked our shores to win the swimming events at the Olympics than the two men who are supposedly the saving grace for America.
That's how unbelievably unlikable this whole thing is. From now on when people say to me, "Who you got? Lochte or Phelps?" I'm going to stare them directly in the eye and say, deadpanned, "Russia," and then kick them in the ******* shins. That's who "I got."
I hope Lochte and Phelps collide in the pool and drown while some Russian guy screams at them from the edge of the pool and the entire audience looks on in horror. Then Sportscenter will have to find somebody new to have its "Sunday Conversation" with.
In fact, I'm rooting for Russia throughout these entire Olympics. I'm going to dress like Stalin, tattoo the hammer and sickle into my chest, drink vodka, become a Brooklyn Nets fan  and start a communism club in the United States.
**** you Ryan Lochte. **** you Michael Phelps. I'm going red.
2. Rex Ryan lost weight?
This might be in poor taste, but is anyone else disappointed that Rex Ryan is now healthier and down from 348 pound to 242? I'm not rooting or something bad  to happen to the guy or anything, but I enjoyed his ever-increasing waistline.
Now he had surgery and apparently dropped 106 pounds? For Christ's sake, he weighs less than Tim Tebow. When the TV used to show him during Patriots-Jets games I would always call him "fat boy" and make all sorts of jokes and his expense. You're telling me I have to retire those jokes and rely solely on my foot-fetish material? That stuff has kind of run its course.
A thinner, slimmer Rex Ryan is just no fun. Even his boisterousness (it's a word) will be limited because he's no longer a big fat ****. Now he's just a slightly large man who makes guarantees that never come to fruition.
Hell, I think this might even hurt his own brand. Watch – he'll be fired next year because people won't find him all that funny anymore. In reality, he was never all that funny on his own, he was just fat. Fat people are, by their very definition, funny. They can make fun of their own weight, wear costumes, do belly-laughs, all of that noise. Now he'll have to come up with material that's actually funny, and since he's a blowhard loser who still think that Mark Sanchez is a viable NFL quarterback, he'll fail.
Luckily, I think foot fungus is very high in saturated fat, so it shouldn't be all that long before Rex goes the way of Charlie Weis and puts on all the weight that he took off with surgery, and then some.
Because, at the end of the day, this is the Rex Ryan that I want in my life:
Now I'm left with some quasi-Rex, and I don't like it. Get fat again Rex, for the love of God.
On a bright note, at least I can always count on Rob to be a fat, disgusting **** for the rest of his life. Keep rocking, Rob, you whale. Taste the Rockies, and then try to take a look at your dick. At least you can do one of them.
Let's go eat a Goddamn snack.
Original Story:
http://www.extrapinetar.com/2012/07/1...
THE BACKYARD
BEST OF MAXIM
RELATED ARTICLES
SEXY REXY
Since undergoing lap band surgery, the Jets brash and outspoken head coach has dropped triple-figure pounds, and now weighs less than his backup QB, Tim Tebow.
Normally talkative New York Jets coach Rex Ryan is now ready to chat about his weight-loss surgery. Once weighing 348 pounds, Ryan wanted to wait until he lost at least 100 of that. More than two years after having the Lap-Band procedure, Ryan is down to about 243 pounds. Ryan said Thursday the device forces him to practice portion control. He still eats Mexican food, but where...
Rex Ryan— the larger than life and bigger than an offensive tackle NFL personality— taped a television talk show Thursday and showed off the new slimmer version of himself. After dropping over 100 pounds and sporting a new hairstyle, the New York Jets head coach taped an interview with CBS-NY's "The Couch" (to be broadcast Friday) and looked like he stepped off...
You'll be seeing a lot less of Rex Ryan this season. The Jets' coach hasn't been one to shy away from blabbering for the microphone, but he's down in the blubber department. Ryan, like his brother and Cowboys defensive coordinator Rob Ryan, underwent lap-band surgery two years ago. He said Thursday he's ready to enter a new weight class, having dropped a total...
TJ Rosenthal was fortunate enough to sit down for a lengthy interview with Connie Carberg, the NFL's first female scout. Yesterday, she discussed her career with the New York Jets and today she and TJ discuss the 2012 Jets roster. Enjoy and make sure to follow both TJ and Connie on Twitter - READ PART 1 HERE 2012 Jets Let's Fast Forward to the 2012 Jets and start with Rex...
Since his injury last December against the Kansas City Chiefs, many wondered if Jim Leonhard would have any sort of future with the New York Jets. Yesterday, the Jets made that decision via the report that they will not re-sign the 29-year-old safety. After a big year for Gang Green when he arrived from the Baltimore Ravens with head coach Rex Ryan and linebacker Bart Scott in...
Look, I am one of the biggest homers there is. Hell, I named the website "Boston's Bettah" for a reason. Despite my blatant homer-ism, I would never in a million years pick the New England Patriots to finish 16-0 in a regular season. The jinx potential there is just too numerous. Unfortunately for the superstitious among us (including myself), Pete Prisco of CBS Sports has...
Kicking Off There are so many ways I could go with this story about the Cowboys' Dez Bryant attacking his mother, but I'll choose this one; NFL Commissioner Roger Goodell has been anything but consistent when handing out fines and suspensions, but he needs to get this one right or risk losing the ounce of respect fans around the league still have for him. If Goodell is going...
All Sports News

Delivered to your inbox

You'll also receive Yardbarker's daily Top 10, featuring the best sports stories from around the web. Customize your newsletter to get articles on your favorite sports and teams. And the best part? It's free!
THE HOT 10: Who's Trending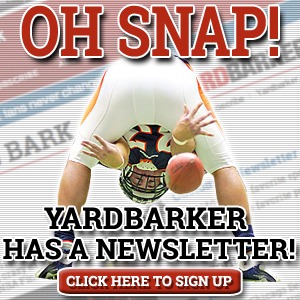 Latest Rumors
The Backyard

Today's Best Stuff

For Bloggers

Join the Yardbarker Network for more promotion, traffic, and money.

Company Info

Help

What is Yardbarker?

Yardbarker is the largest network of sports blogs and pro athlete blogs on the web. This site is the hub of the Yardbarker Network, where our editors and algorithms curate the best sports content from our network and beyond.