2012 was a surprisingly good year for music.  Although no albums particularly struck me as a far and away Best Album as The Suburbs and MBDTF have in the past, the industry was deep with a bevy of solid albums.  Every year around this time writers call for the death of Rock music, I'd like to point out a few great albums.  Join me, won't you? If you haven't checked out the other Nosebleeders favorite albums check out Part I, II, III, IV.   10. alt-j – An Awesome Wave This British alternative indie band burst onto the scene with their first album, An Awesome Wave.  The name of the album lives up to the sound.  The layered, soaring album is good from beginning to end. Even if the singer is often hard to understand, who cares. You all listened to Gagnam Style on repeat for one very regrettable month. 9. Titus Andronicus – Local Business The New Jersey punk rockers released their much anticipated follow up to 'The Monitor' to a lot of indie fanfare.  It didn't exactly live up to The Monitor in scope or size but it's still very much worth your time if you're into anthemic punk choruses, an us-against-the-world vibe, and plain stripped down good rock and roll music. 8. The Vaccines – Come of Age Another British indie band lands on my list.  The Vaccines are more of a traditional rock band in sound.  Simple lyrics, bopping drums, sing-along choruses, it all comes together for The Vaccines.  The pacing is a little more upbeat than their first album even if their singing triumphantly about hopelessness.  Maybe "No Hope" hits too close to home.  That song IS being 24.  (Never graduate, kids). 7. the xx – Coexist The British dream pop trio put out one of my favorite albums of all-time in their self-titled album.  It's an album you can zone out and chill too or find great meaning in it's message or ambience.  When I heard 'Angels' before 'Coexist' dropped I thought we'd be in for another tremendous album.  However, like Titus Andronicus above, the xx couldn't live up to their near perfect self-titled album.  Maybe that's asking for too much to begin with.  That's not saying that 'Coexist' is bad, it's pretty great overall, just not as great.  'Angels' is in a two-horse race to be my first dance at my eventual wedding, it's that great.  Is it gay that I've already thought about that at 24? I think it is.  Whatever. 6. Fang Island – Major One reason you should follow @Sully1289 is because he will never, ever suggest bad music to you.  Ever.  I saw James tweet about Fang Island earlier this year and checked out 'Major' on Spotify.  I've been listening to it for month.  To describe the band is going to make me look weird as hell.  Their sound is kind of hymn-like anthemic rock.  It's uplifting, layered, and melodious to the nth degree.  It brings back feelings of childhood and innocence   The album also builds, ebbs and flows off itself, which makes it easier to listen to the album from front to back. 5. Ty Segall Band – Slaughterhouse Remember how I just talked about uplifting, innocence, and hymn-like songs?  Yeah, that's changing real quick.  Take one look at it's album cover and you'll know what you're getting into with 'Slaughterhouse'.  Ty Segall is a garage rock legend.  Slaughterhouse is one of four records he put out this year, and it's great.  Segall came onto the scene the same time The White Stripes, The Strokes, and other garage rockers did, but Segall never got his share of the spotlight.  He's not as polished (nor does he want to be) as his counterparts but he's worth a listen if you like lo-fi garage rock with a serious edge, but still really catchy.  It's an anomaly, really.  I've included one of his most-polished, less harsh songs below. 4. Of Monsters and Men – My Head is an Animal Hey, something some people might not totally hate!  If you've made it this far into the post without clicking away you're a cool dude in my book.  Of Monsters and Men came out of nowhere (Iceland) to wow Americans with their deep as hell debut album.  Initially I thought the two singers were that of the xx, which is a high compliment for me, but with a more full sound and more exuberance.  If you've only heard 'Little Talks' check out the rest of the album, you won't likely be disappointed. 3.  Japandroids – Celebration Rock Anyone who knows me knows I like rock duos.  It's simple, gives more spotlight to the individuals and when done right, can be some of the best rock bands around now.  Japandroids is one of those bands.  They don't sound like there are only two of them.  Their sound is booming, shout-along garage rock on steroids.  They're catchy as hell, clean, and can listen to them on repeat, which is more than I can say for more bands out there today. 2. Jack White – Blunderbuss Jack White can do no wrong. His first solo venture is an album with varied sounds.  It's just as scatterbrained as Jack is.  Some songs sound like lost White Stripes songs, some are influenced from generations and genres past.  Together it makes for an absolute must-listen of an album.  No matter what genre of music is your favorite I'm confident you can find one song you'll like on this album.  I saw Jack White live this past September and there are few artists out there who put on a better show than Jack.  If you don't like Jack White, I don't like you. 1.  Beach House – Bloom From the second this album starts, this Baltimore dream pop duo puts together the most awe-inspiring album of the year.  It's an album you need to experience, preferably alone in your room or your car.  It doesn't have anything you can really grasp onto and nail down why it's so impactful.  There aren't really memorable hooks or lyrics, but the feel of the album hits you like a train.  It hits you with it's consistency, it's depth, it's layers.  It's an album that you can go back to and feel all over again on multiple listens.  It's beautiful and dream-like throughout.  It's my favorite album of the year in a year with a Jack White album.  Ask my friends how much that means.
Original Story:
http://thenosebleeds.com/top-10-album...
MORE FROM YARDBARKER
All Sports News

Delivered to your inbox

You'll also receive Yardbarker's daily Top 10, featuring the best sports stories from around the web. Customize your newsletter to get articles on your favorite sports and teams. And the best part? It's free!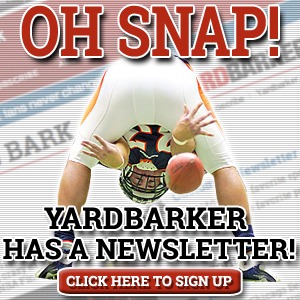 Latest Rumors
Best of Yardbarker

Today's Best Stuff

For Bloggers

Join the Yardbarker Network for more promotion, traffic, and money.

Company Info

Help

What is Yardbarker?

Yardbarker is the largest network of sports blogs and pro athlete blogs on the web. This site is the hub of the Yardbarker Network, where our editors and algorithms curate the best sports content from our network and beyond.