Posted January 31, 2013 on AP on Fox
A California man said he created the hoax in which former Notre Dame linebacker Manti Te'o fell for a fake, online girlfriend because he was in love with the football player. Ronaiah Tuiasosopo spoke publicly for the first time in an interview with Dr. Phil McGraw for the ''Dr. Phil Show,'' the first part of which aired Thursday. The 22-year-old Tuiasosopo said he built the online persona of Lennay Kekua, a nonexistent woman who Te'o said he fell for without ever meeting in person and later believed to have died of leukemia. Tuiasosopo said he felt Kekua was a part of him, and grew feelings and emotions for Te'o that he could not control. He acknowledged that the hoax was cruel, but said it was never intended as a joke and that he got no financial gain from it. ''I pretty much had this escape of Lennay and this was where my heart had pretty much invested, not just time, but all of my energy went into this,'' he said. ''As twisted and confusing as it may be, yeah, I cared for this person,'' he said, referring to Te'o. ''I did all that I could to help this person become a better person, even though I wasn't getting nothing out of it.'' When the ruse was reported by Deadspin.com on Jan. 16, the report raised the questions about whether Te'o was involved. The story about how the All-American played through pain learning about the deaths of his girlfriend and grandmother on the same day led to an outpouring of support from Notre Dame fans. It became the backdrop to the Fighting Irish's undefeated regular season and run to the BCS championship, where they lost to Alabama. Tuiasosopo said Te'o knew nothing of the hoax, and doesn't believe he ever suspected Kekua wasn't real. ''He had no involvement,'' Tuiasosopo said. ''He did not know anything.'' Te'o won seven national awards for his play and was runner-up for the Heisman Trophy. He has denied any involvement from the beginning, and Notre Dame said an investigation of the player's claims backed up his story. But Tuiasosopo said he felt Te'o became a better person as a result of the relationship. ''If you really look at all his interviews, he felt that,'' he said. ''When he was under the understanding that he lost her, he realized all the good that Lennay had done for him.'' Through a spokesman, the Te'o family declined comment. Tuisasosopo said he decided to confess to Te'o earlier this month as the hoax was unraveling because he felt he could not go any further with his own life until the truth was out. ''You've heard of recovering drug addicts? It takes a lot of courage to stand and say that,'' he said ''To recover from homosexuality and this type of thing. Not only that, coming back to your real life, as hard as a task as that is I'm going to do all that I can to live right.'' McGraw said that statement bothered him. ''I hope it's a pressure you don't put on yourself,'' he said. Tuiasosopo said he killed the Kekua character on the day in September Te'o learned his grandmother died, following an argument with Te'o. The football star had told Kekua he didn't need her, Tuiasosopo said. ''It hurt me,'' he said. ''It hit me like a brick wall. I was like, `Whoa, I've given so much into this. And I realized right then in that moment, that I poured so much into Lennay, that I myself was getting nothing, and look what I was left with.'' Te'o said he first learned that something was amiss when Kekua called him on Dec. 6, and told him she had faked her death. He told his parents about what had happened while home for Christmas break and called Notre Dame coaches on Dec. 26 to let them know. Notre Dame officials said that they interviewed Te'o and retained Stroz Friedberg, a New York computer forensics firm, to investigate the case. They learned on Jan. 3 that there were no records indicating Lennay Kekua existed. Tuiasosopo said he was the voice of Kekua but initially refused to recreate it when pressed by McGraw. He eventually agreed to do the voice behind a privacy screen, something McGraw promised to show during part two of the interview on Friday.
Original Story:
http://msn.foxsports.com/cfb/story/ro...
THE BACKYARD
BEST OF MAXIM
RELATED ARTICLES
The man who says he tricked Notre Dame linebacker Manti Te'o into falling for a fake woman he had created online says the hoax had ''everything to do'' with escaping from real life because he had been molested as a child. Ronaiah Tuiasosopo spoke publicly for the first time in an interview with Dr. Phil McGraw for the ''Dr. Phil Show,'' the second...
On the heels of Manti Te'o and Notre Dame looking like complete (you fill-in-the-blank with your favorite adjective), the University of Michigan did some damage control to teach their athletes a lesson on being "catfished". The ever popular "Urban Dictionary" defines a "catfish" as "A catfish is someone who pretends to be someone they're not using Facebook or other...
As we only a few short days away from Super Bowl Sunday, the fine folks over at PETA decided to put together an advertisement to promote the eating of fake chicken during one of the biggest sports days in North America. In keeping with topical humor, they decided to use a photo of former Notre Dame linebacker Manti Te'o in the below billboard: Geez, even PETA...
Notre Dame has lost twice in its last three games played inside the Purcell Pavilion. Tonight's guest Villanova rides a two-game winning streak over top five foes and is fully capable of dealing the Irish tell-tale defeat No. 3 in South Bend.
Inspired by his mother and brother's dedication and persistence, former Notre Dame receiver Braynard "Bobby" Brown did not let adversity slow his eventual path to success. An All-American receiver at St. Thomas Aquinas High School in Fort Lauderdale, Fla., he went on to play both football and track at Notre Dame and broke records in The post Where Are They Now? Bobby Brown...
Notre Dame doesn't have to replace much from its 12-1, national runner-up squad last fall. But with a three-year starter at center and a four-year starter at middle linebacker moving on, its easy to identify head coach Brian Kelly's chief positional concerns.
Notre Dame has increased its recruiting efforts in Florida under head coach Brian Kelly, and this year was no different. The hard work is paying off in the Sunshine State, too.
Tarean Folston's commitment status to Notre Dame has been in question since he began serious discussions with Auburn, where he recently visited, and Thursday brought a new development for the running back from Cocoa (Fla.) High.
Its an unofficial number, but it appears 83 of Notre Dame's 85 allotted scholarships are filled for the 2013 season. For head coach Brian Kelly, the next week and month to follow will be about reaching that limit for the first time in his four seasons in South Bend.
Our latest IrishEyes.com podcast has Brian Dohn and Dave Berk discussing Notre Dame's final efforts with National Signing Day less than a week away. Listen to find out our experts thoughts and also learn about the newest member of the Irish Eyes team.
All Sports News

Delivered to your inbox

You'll also receive Yardbarker's daily Top 10, featuring the best sports stories from around the web. Customize your newsletter to get articles on your favorite sports and teams. And the best part? It's free!
THE HOT 10: Who's Trending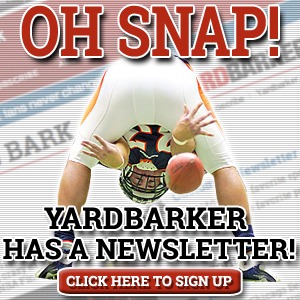 Latest Rumors
The Backyard

Today's Best Stuff

For Bloggers

Join the Yardbarker Network for more promotion, traffic, and money.

Company Info

Help

What is Yardbarker?

Yardbarker is the largest network of sports blogs and pro athlete blogs on the web. This site is the hub of the Yardbarker Network, where our editors and algorithms curate the best sports content from our network and beyond.