Found December 07, 2012 on Turn On The Jets:
PLAYERS:
Carmelo Anthony
,
Tyson Chandler
,
Rasheed Wallace
,
Marcus Camby
,
Ronnie Brewer
,
Jason Kidd
,
Iman Shumpert
,
J.R. Smith
,
Steve Novak
,
Raymond Felton
,
Gary Bettman
,
Mark Sanchez
,
Katy Perry
,
Victor Cruz
,
Aaron Rodgers
,
Woody Johnson
,
Rex Ryan
,
Mike Tannenbaum
,
Brett Favre
,
Manny Pacquiao
,
Juan Manuel Marquez
TEAMS:
New York Jets
,
New York Knicks
,
New York Giants
,
Green Bay Packers
,
Minnesota Vikings
Week 13 Record: 0-3 Season Record: 13-24-2 Well, at least I'm not in last place in The Race For The Steak (sorry, Joe). At this point my picks are becoming valuable, because you can win some money if you do the exact opposite of what I say. I'm sort of like the new Evan Silva. This sucks. Before we get to my picks, a few things swirling around my mind other than football, because the Jets are garbage and I suck at picking football games: -What the hell happened last night? I'm referring to that basketball game played in Miami, where the sans-Carmelo Anthony New York Knicks destroyed the Heat in their building. The Heat have only lost three games by 20-plus points since LeBron Decisioned his way to Florida, and the 2012-13 Knicks are responsible for two of those. Do the Knicks have the Heat's number? Or are these two wins just a weird anomaly? It's probably somewhere in the middle. If the Knicks and Heat began a 7-game series tonight, the Heat would still be favored and rightly so. Regardless, the Knicks do match up well with the Heat and that's not a mistake. You have to hand it to Glen Grunwald and the Knicks' brass for building a team with facing Miami in the playoffs in mind. The Knicks are strong in the defensive paint with Tyson Chandler and Rasheed Wallace and whenever-he-gets-healthy Marcus Camby, have good perimeter defenders in Ronnie Brewer, Jason Kidd and Iman Shumpert, and have perimeter shooting with J.R. Smith, Steve Novak, Raymond Felton, 'Melo, Kidd, etc. What last night proved, if nothing else, is that the Knicks are a true title contender, a Top-5 or so team in the league. And they're that way because they had a great offseason. They made tough and shrewd decisions, the most scrutinized being letting Jeremy Lin go and replacing him with Felton. Do you think the Knicks win last night with Lin at point guard? Do you remember when LeBron and Co. slapped the breaks on Linsanity in Miami last season? Also, the signing of Kidd looks more each day like the smartest roster move they've made in years. There's a team or two in New York, a certain football team comes to mind, that could learn a little bit from the Knicks. -It's hysterical to me that you can read a report about the NHL Lockout negotiations, the quotes from both sides, the predictions from the media, and if you swapped out the names and locations you could be reading about the Fiscal Cliff. Maybe the parties involved should do just that, swap places altogether and give it a shot. Chris Matthews interviewing Gary Bettman would be epic. "You know, Gary, you guys are like a bunch of bullies, shoving the the younger, littler guys into lockers and stealing their lunch money. This is the United States of America, Gary.  This isn't Oak Hills Elementary School!" -The Grammy Nominations came out this week. The Grammys are the most bi-polar awards ever. Some years all the nominees and winners are pop artists, and sometimes the National Academy of Recording Arts and Sciences straight up trolls pop music (also, the "National Academy of Recording Arts and Sciences" is the most asinine, outdated name for the organization that gives out music awards in the 21st century. There is more science to Mark Sanchez trying to parallel park a car than there is to Katy Perry recording a song). Once every five years, the Grammys give out major awards to people you've never heard of or artists 40 years past their prime to serve as a reminder that their awards are meaningless. In 2008, Herbie Hancock won the Album of the Year award. 47 people on Earth have ever listened to that album. This year the five nominees are all popular artists, so expect the 2014 award for Album of the Year to go to k.d. Lang. It will be a grave injustice if "Call Me Maybe" doesn't win Song of the Year. Pick time: Bengals -3 vs. Cowboys - The Bengals like the throw the ball around and the Cowboys aren't very good at stopping it. Could be similar to the Bengals' blowout win over the Giants a few weeks ago. Saints +5 at Giants – You don't need to watch any Giants football the rest of the year because I'm going to spell out for you everything that's going to happen to them from here on out. They'll lose their next two (vs. Saints, at Falcons) to fall to 7-7 and it will be panic time. They'll go into Baltimore in Week 16 and beat the Ravens on a late touchdown by Eli, then blow out the Eagles at home in the regular season finale to finish 9-7 and with a division title. They'll host Seattle in the Wild Card round and win 24-14, setting up a date in Atlanta in the Divisional Round. The Giants will win that game 31-10, then visit the Packers in the NFC Title game and win 27-21 in overtime on a 53-yard touchdown to Victor Cruz after Aaron Rodgers fumbles a snap. Of course they'll play the Patriots in the Super Bowl and win because they own New England. Woody Johnson will respond by firing Rex Ryan and Mike Tannenbaum and hiring Brett Favre as Coach/GM. Rinse and repeat. Packers -6.5 vs. Lions - Anyone who has Aaron Rodgers in fantasy will win this week. Bonus Non-Football Bet of the Week (Season Record: 5-7-1) – Boxing again! Should be a fascinating fourth fight between Manny Pacquiao and Juan Manuel Marquez on Saturday. Quick primer: they fought to a draw in 2004 and Pacquiao eked out highly-controversial decision wins in 2008 and 2011. A fourth fight is definitely a bit of overkill, but all three have been absolute wars and this one should be no different. Marquez is maybe the world's best counterpuncher and because of that he gives Manny fits. But the reason to be excited for this one of that Pacquiao is going to be in total knockout mode, trying to quell any doubts about the first three fights. I think Marquez will be a bit too amped for a knockout himself and may leave himself open. If Pacquiao still has any power left, which is certainly a question at this point in his career, he can score a KO or stoppage in this one. Pacquiao by KO or TKO is +200. Take it.
Original Story:
http://turnonthejets.com/2012/12/turn...
THE BACKYARD
BEST OF MAXIM
RELATED ARTICLES
This week the Jets travel to Tim Tebow's hometown to play the Jaguars, unfortunately for the legion of Tebow supporters who undoubtedly wanted to line up to watch him play quarterback, equally unfortunate for many Jet fans that Greg McElroy won't be getting the start either, as you know, since it's all that anyone has talked about the entire week, Mark Sanchez will remain...
New York Jets tight end Dustin Keller sat out practice for the second straight day with a sprained left ankle, leaving his status for the team's game at Jacksonville on Sunday uncertain. Backup quarterback Tim Tebow was limited for the second straight day with two broken ribs, and might not be ready to go against the Jaguars. Keller, the Jets' second-leading receiver with...
Florham Park, NJ - If you ever get a chance to walk into an NFL locker room you won't be able to avoid the sight of a few gigantic 300 pound plus offensive linemen, it'd be impossible not to notice them as they waddle around room. The irony of course is how often they go unnoticed on the field, yes they are still giants among the other players, but they stay packed in tight...
The TOJ staff discusses what match-ups they are most looking forward to this Sunday when the New York Jets take on the Jacksonville Jaguars.  Make sure to give everybody a follow on Twitter - Thursday Night Picks Joe – Den (-10) Rob – Oak (+10) Chris G – Den (-10) Chris C – Den (-10) Joe Caporoso - Mark Sanchez vs. himself is without question the centerpiece of this...
If one incident proved this week that, while class may be permanent form is certainly a favourable attribute to have, it was in New York as the Jets beat Arizona thanks to the unlikeliest of players. The Jets, on a 4-7 record heading into the game and outsiders in the NFL betting odds thanks to having one of the worst offences in the NFL, overcame fellow strugglers Arizona 7-6 in...
Authorities have raided northeast Indiana properties owned by former New York Jets offensive lineman Jason Fabini and his brother, but the retired player said he's not the focus of the investigation. Federal, state and local officers with the Safe Streets Task Force raided a Fort Wayne property owned by Jason Fabini, a home owned by his brother, Michael Fabini, and five other...
The RBI raided property owned in Indiana by former NFL player Jason Fabini and his brother, but Fabini said Friday that he's the subject of an investigation. The raid apparently was part of probe into the activities of Fabini's brother, Michael. "I have cooperated fully with authorities, and will continue to do so," Fabini said in a statement published by the...
NY Post Jets Beat Writer Brian Costello chats with Deegan and Mojo on JI Radio! The week 8 Jets Insider Radio/Podcast is complete with a full recap of the Jets- Cardinals game, full debate on the Jets QB situation and Mark Sanchez getting his job back. We also have all of  the latest breaking news and information from Florham Park. We also break down and preview the upcoming Jaguars...
The quarterback controversy in New York appears to have no end in sight. And another wrinkle just made it even more complicated. Mark Sanchez is keeping his starting job, for now. But after being benched for third-stringer Greg McElroy last week, and chants for Tim Tebow continuing to fill the stands at MetLife Stadium, Sanchez may not have that job for very long. Now, as the Jets...
No.But let's talk about it. Basically, former New York Jets defensive lineman Marty Lyons thinks that the Jets number three Quarterback Greg McElroy has had a similar story to New England Patriots leader, legend and 3 time Super Bowl champion Tom Brady.And you can see the similarities. McElroy did well at college level with Alabama, but still only got drafted in the seventh...
Do you see random sh$% while driving to work and think it needs to be seen by the masses? Does the guy who sits next to you at work look like a tool on a daily basis? Does your dog lick his balls in an odd fashion? Is your neighbor working on some sort of outer space vehicle behind his shed? We want your WTF photos. Email us: mail@bustedcoverage.com Filed under: Daily WTF
All Sports News

Delivered to your inbox

You'll also receive Yardbarker's daily Top 10, featuring the best sports stories from around the web. Customize your newsletter to get articles on your favorite sports and teams. And the best part? It's free!
THE HOT 10: Who's Trending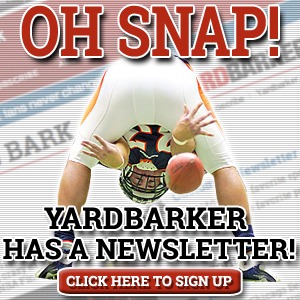 Latest Rumors
Best of Yardbarker

Today's Best Stuff

For Bloggers

Join the Yardbarker Network for more promotion, traffic, and money.

Company Info

Help

What is Yardbarker?

Yardbarker is the largest network of sports blogs and pro athlete blogs on the web. This site is the hub of the Yardbarker Network, where our editors and algorithms curate the best sports content from our network and beyond.