Found September 12, 2012 on Turn On The Jets:
PLAYERS:
Jay Cutler
,
Brandon Marshall
,
Robert Griffin
,
Roddy White
,
Stevan Ridley
,
Jim Harbaugh
,
Aaron Rodgers
,
Jim Schwartz
,
Drew Brees
,
Sean Payton
,
Robert Griffin III
TEAMS:
New York Jets
,
Chicago Bears
,
Atlanta Falcons
,
New England Patriots
,
San Francisco 49ers
,
Green Bay Packers
,
Detroit Lions
,
New Orleans Saints
,
St. Louis Rams
,
Washington Redskins
,
Baylor Bears
In case you missed my Jets Week 1 Stock Watch, you can read that here. Today I'm taking a look around the NFL and in familiar fashion will be buying and selling the comings and goings of a chaotic week 1. But since this column and site in general have a distinct Jets flavor to them, let's start with the St. Louis Rams and their new genius offensive coordinator… The Schotty Watch – I tweeted about this the other day, but it was wild how many people rushed to their keyboards to make some lame version of the same joke as the Jets struggled this preseason. You know, the "Ohh, Schotty must be loving watching the Jets not score down in St. Louis lol", or "Yeah but Schotty was the problem, right?" garbage. So clever. What was even wilder is how those very people who made those knee-slapping quips hardly had anything to say when the Jets dropped 48 points on the Bills and looked sharper, more organized, and better prepared since, well, since before Schotty was the Jets offensive coordinator (Check out this breakdown of Sparano's game plan). What's even more curious is I haven't seen anybody make mention of the fact that while the Jets were marching up and down the field on Sunday, the Rams offense sputtered and is currently the 31st ranked offense in the NFL, racking up a paltry 251 yards of total offense. I guess Schotty isn't the one laughing so much anymore, huh? I am. BUY: The Cutler to Marshall Connection – The Bears were my pre-season darling team to go from out of the playoffs to being a legit contender this year (believe it or not, I didn't pick the Bills!). I know it was a popular pick, but the Bears could really make some noise this year. Jay Cutler looked like a new man out on the field Sunday as he got to throw pass after pass after pass to his favorite target from his Denver days in Brandon Marshall. Does this make me absolutely giddy as a Marshall fantasy owner? Yes, yes it does. BUY: Adrian Peterson - Ohhh, that's right. It's Adrian Peterson and we shouldn't have doubted him. Remind me not to make that mistake ever again. BUY: Robert Griffin III and the Redskins - I'm not ready to anoint RG3 as a Hall of Famer already like some others, but that was quite an impressive debut. I fully expected Mike Shanahan to ruin this poor guy, but he looked spectacular. Unfortunately he won't get to play the Saints laughable defense every week, but still. BUY: Julio Jones – I couldn't have been higher on Julio heading into this season, both in real life and fantasy football. I know I wasn't alone in that camp, but last year when he was healthy, he was Matt Ryan's favorite target, not Roddy White. Now that he's in year 2, the sky is the limit. BUY: Patriots Run Game – Just when it seemed like teams like the Jets may have started putting together the pieces to deal with the Patriots passing game, Belichick goes and changes his whole offense and incorporates a newfound running attack that absolutely tore up the Titans this week. Stevan Ridley to me is just a more talented and explosive version of Benjarvus Green-Ellis, and the Pats seem intent on riding him. BUY: The 49ers – Wow, what a performance in Lambeau this week. They tore that Packers team apart in all phases of the game and quite frankly, exposed them in the process. Enough can't be said about what a great coach Jim Harbaugh is, even if he appears to be a Grade-A lunatic. SELL: The Packers and Saints defenses – All those years of people saying "Oh, well of course those defenses give up yards, their offenses are always so far ahead" look pretty silly right about now. It turns out their own offenses had nothing to do with it. Their defenses are just completely and utterly useless. Would it kill either of these teams to actually maybe cover someone? At one point in the Packers game, Aaron Rodgers threw an incomplete pass on 3rd down and had a look on his face like he knew they were about to be down by even more the next time he took the field. Hard to play with that kind of pressure. SELL: Russell Wilson – I was on record as saying I didn't understand all the Russell Wilson hype. I don't know how it got started, I don't know why it got started, but I sure hope it's nearing the end of it's run. Sure, he looked decent in the preseason against defenses that weren't game-planning or preparing in any way, but when the lights turned on and the games counted, Wilson looked exactly like what he is: an undersized third round rookie quarterback on a bad team. SELL: The Lions – My pick for team that stumbles form the playoffs to a 6-10 season, Detroit and their wackjob coach Jim Schwartz looked awful across the board on Sunday, as they almost lost to the Rams. The RAMS! SELL: Drew Brees – I think the "Maybe that offense was more about Sean Payton than Drew Brees after all" whispers are going to start picking up soon. Drew Brees is the ultimate stat-padder late in games, so it may take a few weeks before people start to really realize there are problems with the Saints offense, but don't be surprised when it happens.
Original Story:
http://turnonthejets.com/2012/09/stoc...
THE BACKYARD
BEST OF MAXIM
RELATED ARTICLES
Just one game into the 2012 campaign, questions on Tim Tebow's long term future with the Jets are already beginning to pile up, and while he's been careful to toe the company line during his time thus far in New York, the signs are beginning to point towards Tebow pushing his way out of town at season's end. Citing an NFL source, the New York Daily News is of the belief that...
On Tuesday the New York Jets made several roster moves that may impact this Sunday's game versus the Pittsburgh Steelers, including waiving wide receiver Patrick Turner. Last week they brought cornerback LeQuan Lewis back as part of the practice squad, but he was released to make room for linebacker Ricky Sapp, who was released when Lewis was added. The waiving of Patrick Turner...
Hot New York Jets Cheerleaders.  Today's ladies are from the AFC East and represent the last team in the division, the New York Jets.  Feels appropriate to drop them today since they had probably the best showing in the first weekend of the NFL.  They didn't score any points in the pre-season and came out and dropped 48 to beat the Bills.  Not a bad way to start.  (not...
Tim Tebow has said how excited he is to play for the New York Jets. he has been saying it since his introductory news conference, and he has continued to say it entering the regular season. Tebow is a team player if nothing else. But does he seem as excited to sit on the bench? Is he excited getting in on seven snaps during a Jets' blowout win over the Buffalo Bills? Will he be...
You probably didn't hear all that much about the Jets the past two days from the national media. Well, at least not as much as you did the previous four weeks anyway. Funny how that works, huh? After weeks and weeks of the media portraying the Jets as an absolute joke and pundits everywhere seemingly taking great joy in taking shots at them, the Jets went out and absolutely slaughtered...
Many sports writers (myself included) ate their words when the New York Jets demolished the Buffalo Bills in Week 1. After struggling throughout the preseason the Jets scored on five consecutive possessions against Buffalo and did not allow a sack. Mark Sanchez was on his game, completing passes to eight receivers.But beating the Bills is not enough to convince fans that the Jets...
The New York Jets will make a decision on the availability of Darrelle Revis before the team travels to Pittsburgh on Saturday for their game against the Steelers. Coach Rex Ryan says Thursday that the status of the star cornerback, who's recovering from a concussion, remains unchanged: Revis is cleared for physical activity, but not contact. The team will monitor Revis throughout...
New York Jets head coached Rex Ryan told the Pittsburgh media on Wednesday during his conference call that All-Pro cornerback Darrelle Revis will not practice today as he continues to recover from the mild concussion that suffered in the Jets week 1 win against the Buffalo Bills. https://twitter.com/DVEMike/status/245914248167948288 Revis, who was kicked in the head by linebacker...
Last week: 23 (+4) Record: 1-0 The Jets didn't score a touchdown with their 1st or 2nd team offense all preseason and then they score 48 against the Bills week 1? What the hell? Well, all of their offensive problems are not solved. They may have scored 48, but 14 of those were scored by the defense or special teams and several other scores were helped by great field position as...
The New York Jets will not risk quarterback Darrelle Revis if he is not fully fit for Sunday's NFL match...
HOF quarterback and current FOX Sports football analyst Terry Bradshaw talks with the Joe & Evan show on WFAN in NY every Tuesday at 11 am. Today he had some pointed advice for NY Jets QB Mark... Full story at Bob's Blitz ~ http://www.bobsblitz.com
IRVING, Texas (AP) -- The Dallas Cowboys have signed cornerback LeQuan Lewis. Dallas announced the move Wednesday, a day after Lewis was released from the New York Jets practice squad. Lewis filled the roster spot created when the Cowboys released tight end Colin Cochart on Tuesday. Undrafted out of Arizona State, Lewis signed with the Tennessee Titans in July 2011, but was released...
All Sports News

Delivered to your inbox

You'll also receive Yardbarker's daily Top 10, featuring the best sports stories from around the web. Customize your newsletter to get articles on your favorite sports and teams. And the best part? It's free!
THE HOT 10: Who's Trending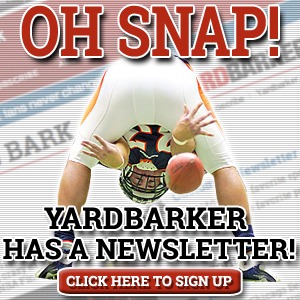 Latest Rumors
Best of Yardbarker

Today's Best Stuff

For Bloggers

Join the Yardbarker Network for more promotion, traffic, and money.

Company Info

Help

What is Yardbarker?

Yardbarker is the largest network of sports blogs and pro athlete blogs on the web. This site is the hub of the Yardbarker Network, where our editors and algorithms curate the best sports content from our network and beyond.