Posted August 05, 2012 on AP on Fox
PLAYERS:
Gabby Douglas
,
Mckayla Maroney
,
Aly Raisman
,
Aliya Mustafina
,
Jordyn Wieber
,
Danell Leyva
,
Jonathan Horton
,
Jake Dalton
,
Sam Mikulak
,
Sui Lu
,
Beth Tweddle
Gabby Douglas and the rest of the Fierce Five might have to learn how to share. After hogging the gymnastics golds to themselves so far, the Americans will find their prospects a little tougher when the event finals start Sunday. Sure, McKayla Maroney is considered a shoo-in on vault, with the gap between her and everyone else so great it's a wonder they haven't already given the world champ the gold. But the Russians and Romanians aren't about to let this next batch of goodies go so easily, and no way China is going home empty-handed after its epic haul four years ago. ''They know they put lots of work in and they should not waste it,'' U.S. women's team coordinator Martha Karolyi said. ''I hope we are able to keep our focus.'' The Americans will have six chances to medal over the next three days, beginning with Maroney in Sunday's vault final. She won the world title by almost a half-point last year, and topped qualifying here by a similar margin. Her 16.233 in the team final is the highest score yet in the women's competition. Maroney was so impressive in that final Tuesday that U.S. coach John Geddert suggested they rename her vault ''The Maroney,'' and Karolyi wondered where judges found almost three-tenths worth of deductions. ''That. Was. The. Best. Ever,'' Karolyi said. ''It definitely deserved a 10, just to make a statement she is that much better than anybody else.'' And she's doing all this despite a fracture in her big right toe. ''I'm here to try to get that gold medal and I know that I can do it,'' Maroney said. Douglas will get two chances to add to her pile of gold, competing on uneven bars Monday and balance beam Tuesday. Aly Raisman, who missed out on an all-around medal despite finishing with the same score as bronze medalist Aliya Mustafina, also competes on beam. But best chance for an individual medal will be on floor exercise Tuesday. Raisman won a bronze medal on floor at last year's worlds, and had the highest qualifying score by far. She had a 15.325, while defending Olympic gold medalist Sandra Izbasa of Romania qualified with a 15.066. Floor will also be the only shot at an individual medal for world champion Jordyn Wieber, whose failure to qualify for the all-around final was the biggest shock in the first week of competition. The U.S. men didn't get the gold they wanted in team competition, finishing fifth, but a few individual medals can take away some of the sting. Danell Leyva already has a bronze from the all-around, and will compete on high bar Tuesday with Jonathan Horton. Jake Dalton will compete on floor Sunday, and Sam Mikulak made Monday's vault final. China will be hard pressed to duplicate its gold rush from Beijing, where the men won all but one of the event titles and the women medaled on every apparatus but floor. The men don't have anyone in the pommel horse or vault finals, and the women failed to qualify for vault or floor exercise. Where China did qualify, look out. Chen Yibing isn't called the ''Lord of the Rings'' for nothing, winning four of the last five world titles to go with his Olympic gold from Beijing. Zou Kai is a favorite to defend his Olympic titles on floor and high bar, while Sui Lu could add a gold medal to the world title she won on balance beam last fall. He Kexin, the Olympic champion on uneven bars, is back with another stunningly difficult routine. He's routine is going to be easy compared to tuning out the crowd. Her main competition should come from Beth Tweddle, beloved in Britain for kickstarting the country's rise in gymnastics. Tweddle's world title on uneven bars in 2006 was the country's first, and she has since added one on floor exercise (2009) and another on bars (2010). Tweddle has yet to win an Olympic medal, and was so devastated after missing a bronze in Beijing by 0.25 points that she considered retiring. She posted the highest bars score in qualifying, and is sure to have all of Britain - to say nothing of the crowd in the O2 Arena - rooting for her Monday night. It can be tough carrying the expectations of an entire country, but Tweddle caught a break when the British men won a surprise bronze medal. It was Britain's first team medal in 84 years. ''The boys went out and smashed,'' she said. ''To be honest, one medal takes the pressure off me and Louis.'' That would be Louis Smith, whose bronze on pommel horse four years ago was Britain's first individual medal in a century. Since then, all anyone has asked is whether he's going to upgrade that to a gold here in London. Smith struggled the first time he competed in front of an adoring home crowd, finishing last in the pommel horse final at the 2009 world championships. But he's gotten downright comfy at the O2 since then. He ran away with the title at the test event here in January, and posted the highest score in qualifying. He did even better in the team final, where his 15.966 tied for its second-highest score. Smith wept with joy after qualifying, so imagine what he might do if he finds himself at the top of the podium Sunday night. ''We're on new ground,'' he said. ''We've already exceeded expectations, and we're just going to enjoy it.''
Original Story:
http://msn.foxsports.com/olympics/sto...
THE BACKYARD
BEST OF MAXIM
RELATED ARTICLES
You know it must have been a slow news day, when FOX News targeted gold medal winning gymnast Gabby Douglas for her "un-patriotic" uniforms. Really. FOX News reporter Alisyn Camerota took issue with it when she said that the "famous flag-style outfits" of past Olympics have been replaced by "yellow shirts, grey track suits and pink leotards" Camerota...
What would you say if I told you that the best female gymnast in the world nearly quit the sport a few months ago? It would be hard to believe, right? But that's actually what happened with Gabby Douglas. Douglas, who won the gold medal in the women's all-around gymnastics competition at the Olympics on Thursday, had some struggles before making the Olympic team. The 16-year...
Women's gymnastics all-around champion Gabby Douglas likes her hairstyle just fine, thanks. The 16-year-old said Sunday she was a little confused when she logged onto her computer after winning her second gold medal in three days and discovered people were debating her pulled-back look. ''I don't know where this is coming from. What's wrong with my hair?'...
Women's gymnastics all-around champion Gabby Douglas likes her hairstyle just fine, thanks. The 16-year-old said Sunday she was a little confused when she logged onto her computer after winning her second gold medal in three days and discovered people were debating her pulled-back look. ''I don't know where this is coming from. What's wrong with my hair?'...
NBC apologized for the timing of one of its commercials that featured a monkey on the Olympic rings. The commercial was promoting NBC's upcoming sitcom "Animal Practice" and it aired immediately after Bob Costas discussed Gabby Douglas' gold-medal winning effort in the women's all-around gymnastics. You can see the awkward segue below: The poorly-timed commercial received...
Russia's Aliya Mustafina claimed gold in the women's uneven bars Monday, ending American Gabby Douglas' stranglehold on the top of the podium. Douglas would finish out of the medals, coming in eighth after a pair of significant corrections during her routine. Mustafina was delighted to finally get Russia a gold in gymnastics. Beth Tweddle was thrilled to finally get...
AP photographer Gregory Bull knew it would come - the moment when Gabby Douglas does that little bit extra. Her leap, high above the beam, in the women's all-round individual gymnastics competition on Thursday is one of the iconic shots of the London Games. ''I know there is that one moment where she jumps higher and stretches further back than everyone else,'&...
Gabby Douglas' struggles on uneven bars reveal the downside to sudden fame.
Not since Gabby Douglas was six months old has any Olympics been as big of a ratings draw as the 2012 London Games. Tape delayed primetime coverage of the 2012 Summer Olympics earned 21.1 final rating and 36.8 million viewers on NBC Thursday night, up 18% in ratings and 24% in viewership from Beijing in 2008 (17.9, 29.708M), and up 9% and 16%, respectively, from Athens in 2004 (19...
Go GABBY, GO!! Gabrielle Douglas also known affectionately as "The Flying Squirrel won her first Gold medal Thursday night in the all-around Gymnastic category. Next up for Gabby? The cover of Kellogg's Corn Flakes! As the first African-American woman to win the Gold in the all-around, I imagine we'll be seeing Gabby EVERYWHERE soon!   [...]
United States gymnast McKayla Maroney is one of the young rising stars on Team USA gymnastics and it appears that she has become famous for her fierce look. Check out this short compilation of many of her fierce faces made during competition:
Too excited to sleep and too early to wander the Olympic village, Gabby Douglas messaged her family and asked if they could have a video chat. When her mom turned on the computer, there sat her daughter, eyes wide, hands on her cheeks, mouth agape. ''It reminded me of Macaulay Culkin in `Home Alone,''' said Natalie Hawkins, Douglas' mother. And this was...
All Sports News

Delivered to your inbox

You'll also receive Yardbarker's daily Top 10, featuring the best sports stories from around the web. Customize your newsletter to get articles on your favorite sports and teams. And the best part? It's free!
THE HOT 10: Who's Trending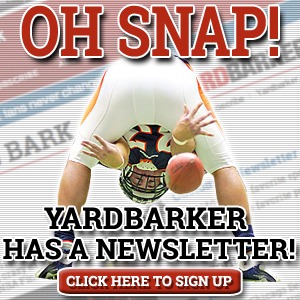 Latest Rumors
The Backyard

Today's Best Stuff

For Bloggers

Join the Yardbarker Network for more promotion, traffic, and money.

Company Info

Help

What is Yardbarker?

Yardbarker is the largest network of sports blogs and pro athlete blogs on the web. This site is the hub of the Yardbarker Network, where our editors and algorithms curate the best sports content from our network and beyond.