Found July 30, 2012 on Fox Sports:
The U.S. women's gymnastics team, on the cusp of claiming only the second team gold in American history, enters Tuesday's team finals with one person on whom everything could turn: Jordyn Wieber. This is the best women's squad America has produced since the Magnificent Seven won the country's only team gold medal at the 1996 Games in Atlanta. But its most talented teammate faces the most important question of her life. Does Wieber, who missed out on the all-around finals at Sunday's qualifying, focus on the death of her dream or on the team that needs her to take them to the top of the podium? Let us hope she is ready. This team is so deep that its dominating qualifying performance could very well serve as a prelude to a triumphant Tuesday worthy of the millions of Americans who will be hanging on their every moment. Aly Raisman and Gabrielle Douglas, the two teammates who bested Wieber in the all-around qualifiers, give the American three of the best four gymnasts on earth. McKayla Maroney is a vaulting specialist who is absolutely the best on earth at what she does - a mix of power and grace so compelling that watching her routine can take your breath away. Even young Kyla Ross, who will compete in uneven bars and balance beam, has all-world talent. But it's on Wieber that this team's fortune hangs, just as it's on Wieber - heartbroken, devastated, perhaps distracted - who must be its leader. She is the reigning world all-around champion, the U.S. woman with the most international experience, and the teammate most able to put the weight of this opportunity on her shoulders and take the Americans home to gold. "We have to be able to turn the page and go on with the next chapter - the team final," said Marta Karolyi, the national team coordinator. "This is what happens when you have so many high level gymnasts on one team. I think Alexandra and Gabrielle had just a better day than Jordyn had." Yes, but it is Jordan's performance Tuesday that will dictate everything. So let's start by politely asking her coach, John Gebbert, to keep his mouth shut, or at least focused on the task on hand, until the team finals are over. His remarks Monday that the rule allowing only two women per country into the all-around individual finals is an "injustice" is an injustice itself: A slap to a team that must have its star forget, at least for now, what she has lost. Gebbert pushes only a single-minded focus on something that is already gone. Wieber will not be an all-around medalist, and so the time for that talk is over. But she can bring home gold. And everyone around her must put the spotlight on that truth. Talk about that, Gebbert, or don't talk at all. It is rare we turn to the young girls who make up these teams to give its coaches wisdom, but Douglas had it right Sunday. "We kinda have to deal with disappointment," she said. "It is what it is." Yes. It is what it is. And it turns out it's this: The U.S. team needs to win this. It is their moment. It is the right team, it is the right time, it is within their grasp. What was accomplished in 1996 can be done again here. They're called once-in-a-lifetime moments for a reason, and on Tuesday all of us will have the chance to watch one unfold knowing that this can - this should - happen. "That's the most important thing now," said coach Mihai Brestyan. "We really have to win it. That's the goal of every single one. We have the line-up and we won't change that. We just need to keep our gymnasts to stay focused and hopefully they will be back in better shape (Tuesday)." The road to gold looks like this: On the vault, Weiber, Douglas and Maroney, a startling group. On the uneven bars, Wieber, Ross and Douglas will be excellent. Ross, Douglas and Raisman will take the balance beam. And then on the floor exercise Douglas, Wieber and Raisman can be among the field's finest in that event. That means Jordyn Wieber, star of the team, will have three chances to flash her brilliance in pursuit of glory. This is the moment America chases one of the rarest of gold medals. To catch it, they need her at her most focused, her most able. They need her at her best: Thinking only of her team. You can follow Bill Reiter on Twitter or email him at foxsportsreiter@gmail.com.
Original Story:
http://msn.foxsports.com/olympics/gym...
THE BACKYARD
BEST OF MAXIM
RELATED ARTICLES
There is no joy in saying this to a 17-year-old whose entire world has just come crashing down around her, but it must be said because too much rests on her hearing it: Jordyn Wieber, US-gymnastics anointed star who failed Sunday to qualify for the all-around finals, needs to get over it. Right now. Perhaps her coach, John Geddert, has already impressed upon Wieber that her country...
All Jordyn Wieber needed to bounce back from the biggest disappointment of her career was a little pep talk. Teammate McKayla Maroney was only too happy to provide one. Thanks to a few kind words from her best friend, Wieber returned to her world championship form in the women's gymnastics team finals on Tuesday, helping the U.S. to its first gold medal since Atlanta in 1996...
Shortly after failing to qualify for the individual all-around finals, the face of USA Gymnastics walked unsteadily past the media. Jordyn Wieber walked with wide eyes, steered by a handler, past her teammates, including the two who had replaced her in an event she was expected to dominate. Even then the tears would not stop. Aly Raisman, who came from nowhere to vault ahead of...
Defending world champion in gymnastics all-around, Jordyn Wieber, has failed to qualify for the finals and will not medal. Wieber only finished third out of the US team and, per Olympic rules, a country can only carry two members for the individual all-around finals. Aly Raisman and Gabby Douglas will represent the Americans in the event. Raisman was surprised that she learned...
Day two of the London Olympics is in the books. Sure many of our watching our Female Gymnasts on Qualification day on the TV (paying special attention to Michigan Native Jordyn Wieber of course), but for the most part the day has come to an end. We still have yet to see the men's relay team on TV, but for those of us who have been following the games full time over the past few...
The Americans need Jordyn Wieber to regain her swagger in a hurry if they're going to hold off Russia for Olympic gold. The two gymnastic powers have been trading places in team competition for two years and will face off again on the biggest stage for an Olympic title Tuesday night. The Russians won the world championship in 2010, then finished second to the U.S. last year...
McKayla Maroney, Jordyn Wieber, Gabby Douglas, Aly Raisman & Kyla Ross on the podium after receiving their gold medals. The image of the Women's Gymnastics team holding hands and backing up to view the screen will forever be in our memory. Even though we all knew that the USA team had blown the competition away, it was good to see them unite and stand as one. From the moment...
This was the moment they had waited for their entire lives, the moment America had waited for since 1996, the moment the rest of the gymnastics world had feared as London approached: Each member of the U.S. women's gymnastics team walking slowly toward the podium, the gold medals being carried onto the floor theirs and theirs alone, American dominance in the sport now absolute...
On Thursday, having already helped her team claim the women's gymnastics team gold medal, Gabrielle Douglas will try to do what no American gymnast has done before: Add an individual all-around gold medal to her team gold. This is history in the making, a 16-year-old taking her own shot at Olympic immortality, and it would culminate a remarkable journey for a gymnast who has...
[caption id="" align="alignleft" width="300"] English: Deng Linlin (Photo credit: Wikipedia)[/caption] After watching the Olympic Games over the weekend, I became very upset and disappointed in hearing about a certain rule during the Women's Gymnastics competition.  There are some stipulations to the rules/competition format that need to be addressed...
Ballertainment The Women's USA Gymnastics team earned the gold medal for team competition Tuesday in London. Gabby Douglas, Aly Raisman, Jordyn Wieber, McKayla Maroney, and Kyla Ross, along with their coaches, excitedly await the overall scores … Team USA stands proudly as the United States National Anthem is played and the flag is raised… The ladies contributed strong performances...
All Sports News

Delivered to your inbox

You'll also receive Yardbarker's daily Top 10, featuring the best sports stories from around the web. Customize your newsletter to get articles on your favorite sports and teams. And the best part? It's free!
THE HOT 10: Who's Trending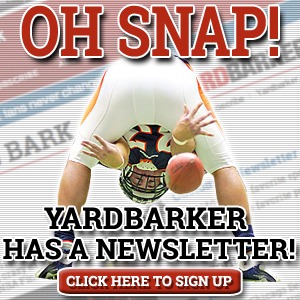 Latest Rumors
The Backyard

Today's Best Stuff

For Bloggers

Join the Yardbarker Network for more promotion, traffic, and money.

Company Info

Help

What is Yardbarker?

Yardbarker is the largest network of sports blogs and pro athlete blogs on the web. This site is the hub of the Yardbarker Network, where our editors and algorithms curate the best sports content from our network and beyond.