Found August 21, 2013 on Fox Sports West:
The declaration was loud and clear. Silas Redd smiled. Offensive linemen danced. USC coach Lane Kiffin said he wanted to focus more on the run game. Enter offensive line coach and running game coordinator Mike Summers from Kentucky, No. 5 on our list of USC Keys to Success for the 2013 season. He joins James Cregg, giving the Trojans two offensive line coaches. They each focus on all aspects as it relates to the offensive line. However, Summers' presence on the run game has been undeniable. Offensive linemen have raved about his attention to detail in that aspect. Running backs have raved about what the offensive line is doing in front of them. It's simplicity at it's finest. Sure, having an extra coach on the field and in meeting rooms allows things to be broken down even more on the offensive line opposed to years past. Summers takes it a step further analyzing the little things to make sure each player's technique is what it should be. "(We focus on) footwork and hands and eyes," Summers said. "Communication with each other, understanding how to work with the guy next to you all of those things that go into the foundation of learning of playing inside there." Having two coaches on the offensive line allows drills related to the group to be split up. It's not uncommon to see Summers working with a player during or after practice on those small details. "A lot of times the difference between success and failure on a play is just your eye placement or your hand placement and each one of those plays can be broken down into many different facets," Summers said. "Which direction is my toe pointing? Where are my thumbs on my punch? Are my thumbs up or my thumbs down? All of those things make a difference. "Those aren't things that you think about when you snap the ball. They have to be grained into muscle memory. Until they get to that point we have to drill them enough that they understand it." Importance of Summers You can blame injuries, youth, guys playing out of position or all of the above for USC's offensive line troubles a season ago. As a group, they quickly learned that replacing a first-round talent like Matt Kalil is far from an easy thing to do. Enter Summers, who's paired up with James Cregg to give this position group two sets of eyes from which they can be taught and evaluated. Summers' attention to detail has been something that has been welcomed by the offensive line. Number of note: 392 USC head coach Lane Kiffin was far from pleased from the output of the running game in 2012. The team didn't have one back rush for 1,000 yards. They're rushing attempts, all 392 of them, were the second fewest in the Pac-12. In 2011, the number of attempts were identical. If Kiffin really wants to emphasize running the ball more, he's going to have to show it by being more committed to the ground game. With Summers in the fold, the USC coach says he's already seen tremendous strides in the run game and the offensive line as a whole. Has he seen enough to run the ball more? 2012 recap As a team, the Trojans rushed for 1,958 yards last season on 5.0 yards per attempt. Quoteables "Anytime that you get an opportunity to run block it's something that excites you," said center Marcus Martin. "You get to come off the ball and knock somebody off of the ball. We anticipate a lot of (rushing) yards this year just working together (as an) offensive line. That's our emphasis." "Coach Summers has definitely focused a lot more on the run game really," said right tackle Kevin Graf. "(He's) emphasized it and really taken it step by step to make sure that our technique is perfect." 2013 outlook The 5.0 yards the Trojans averaged per rush attempt last season were third in the Pac-12. If Summers, as the run game coordinator, can improve that number it would be tremendous for the running game. USC's rushing attempts and yards per attempt have been identical over the past two seasons, 392 and 5.0, respectively. If Summers can increase the yards per attempt by half a yard, considering USC has a similar amount of carries, they'd break the 2,000-yard mark as a team which isn't great but serviceable. Kiffin has compared this running back corp. to 2004 and 2005 several times this offseason -- that group averaged 6.6 yards per carry in 2005. Oregon is the only Pac-12 team to average over six yards per carry in the last three seasons and it's done it twice.
Original Story:
http://www.foxsportswest.com/collegef...
THE BACKYARD
BEST OF MAXIM
RELATED ARTICLES
USC's All-American wide receiver Marqise Lee and coach Lane Kiffin decided to mend their little "tiff" (if you can call it that) over engaging in a kind act of delivering ice cream together to the USC marching band this week. Lee was a bit miffed that his coach had still not picked a starting quarterback and he let the media know his thoughts. Well, just one day later coach...
TREATING TROJANS
The ice cream during practice trend continues. We've seen it in the NFL with the Ravens and with a college team in Rutgers  but now we have USC's All-American wide receiver Marqise Lee and head coach Lane Kiffin delivering ice cream to the Southern California marching band after their practice on Thursday afternoon. A post-practice surprise from @Lane_Kiffin & @TeamLee1...
USC head coach Lane Kiffin discusses day 19, the final day of the Trojans fall camp before preparing for their season opener on Aug. 29 at Hawaii....
USC football head coach Lane Kiffin debuted his new coaches show, "Trojans Live," produced by FOX Sports West and featured on KFWB NEWS TALK 980 on Thursday night. There was much debate on whether or not Kiffin would debut the show with a bang. Perhaps, by announcing a starting quarterback? The answer, as it was throughout every day of fall camp, was...no. He and wide...
USC head coach Lane Kiffin discusses Monday's day 17 fall camp practice.
Silas Redd's street cred is being called back, apparently because of a false start. When the standout running back visited USC before he transferred from Penn State in 2012, Redd was so highly anticipated that he arrived at the airport in a private jet and was picked up by Snoop Dogg in a limo, according to Fourth and Long, a new book by author John Bacon. Not so fast, USC...
USC football is denying reports this morning that ex-Penn State running back Silas Redd was picked up by Snoop Dogg in a limousine upon arriving in Los Angeles last summer. Redd of course chose to transfer from Penn State after the Sandusky sanctions were handed down, and USC reportedly did their best to woo Redd by picking him up in a Mercedes jet, and introducing him to celebs...
USC Trojans coach Lane Kiffin and superstar wide receiver Marqise Lee rode over to a field full of sweaty marching band members in a surprise ice cream truck.
LOS ANGELES -- Josh Shaw and Marqise Lee were roommates during training camp before players were allowed to move out of the dorms on Monday morning. Shaw and Lee had talks at night about how they could liven up practice. The energy had been good throughout camp but they felt they needed more. Ideally, they started jawing at one another. With the Trojans practicing under the...
Twitter/@SnoopDogg After Penn State's numerous sanctions from the Sandusky scandal were announced last summer, Nittany Lions players were all given the opportunity to transfer elsewhere with no restrictions or penalties. While the majority of the program's players stayed put, a few stars left, including running back Silas Redd. Redd eventually landed with the USC Trojans, a team...
Southern California has wrapped up training camp without choosing a starting quarterback, and receiver Marqise Lee says the situation is ''crazy.'' Coach Lane Kiffin says he still hasn't decided between Cody Kessler and Max Wittek after the 24th-ranked Trojans' final scrimmage at the Coliseum on Wednesday. Kiffin says not much separates the two passers hoping...
Representatives for USC's football program issued a statement to the media on Tuesday to refute a report that said ex-Penn State running back Silas Redd was picked up by Snoop Dogg in a limousine upon arriving in Los Angeles last summer. Redd was a star running back at Penn State and decided to transfer after […]
Trojans News

Delivered to your inbox

You'll also receive Yardbarker's daily Top 10, featuring the best sports stories from around the web. Customize your newsletter to get articles on your favorite sports and teams. And the best part? It's free!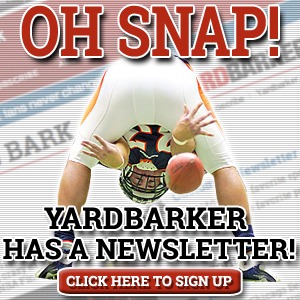 Latest Rumors
The Backyard

Today's Best Stuff

For Bloggers

Join the Yardbarker Network for more promotion, traffic, and money.

Company Info

Help

What is Yardbarker?

Yardbarker is the largest network of sports blogs and pro athlete blogs on the web. This site is the hub of the Yardbarker Network, where our editors and algorithms curate the best sports content from our network and beyond.