Found March 28, 2013 on Bush League Chronicle:
Your browser does not support iframes.The Cubs and Mariners played a spring training game in Mesa, Ari. Thursday afternoon.As you can imagine, it gets pretty warm under the desert sun. And the heat was apparently so much for one fan at Hohokam Stadium during the game that he decided to shed his shirt to keep cool.But one stadium vendor didn't believe that was enough to keep the fan properly cooled. So, he decided to dump an icy cold beverage over the fan's head during the eighth inning."I'm going to pretend I didn't see that," said one broadcaster.Oh, but you did. There is no turning back, sir.It's good to know at least one fan enjoyed watching the Cubs play this season. The prospects of another losing campaign look imminent for Chicago.
Original Story:
http://www.theblcblog.com/2013/03/vid...
THE BACKYARD
BEST OF MAXIM
RELATED ARTICLES
Brett Jackson singled twice, walked, scored a run, and drove-in another, and Zeke DeVoss smacked a solo HR, but it wasn't enough as the Inland Empire 66ers (Los Angeles Angels Hi-A affiliate) defeated the Daytona Cubs 5-3 on Field #3, and Oliver Zapata knocked-in three runs with two run-scoring triples, Yasiel Balaguert doubled twice, Carlos Penalver walked and tripled, scored...
SHIRTLESS, NOT SEXY
Your browser does not support iframes. A shirtless Chicago Cubs fan made an extra effort to keep cool during the late innings of Thursday's Chicago Cubs spring training game in Mesa, Arizona when he asked a beer vendor to pour a cup of ice water over his head. After the initial shock, the fan appeared to feel pretty refreshed. We hope he gave that beer vendor a nice tip for...
This SWOT analysis was written by Berselius of the fantastic Chicago Cubs blog Obstructed View. Check the blog out, and follow Berselius on Twitter @STAnteater. The Cubs are coming off a 100-loss season, with a decent chance of another one in 2013 in what should be another rebuilding year. Theo Epstein and his braintrust inherited a team full of aging, expensive veterans that...
Roni Torreyes knocked-in three runs with a bases-loaded triple, John Andreoli tripled and walked, scored two runs, and drove-in two more, Rafael Lopez reached base three times on a double, a single, and a walk, and scored three runs, and Alberto Cabrera tossed five innings of shutout ball with five strikeouts and four relievers threw four perfect innings, as the Tennessee Smokies...
  The Chicago Cubs have played at Wrigley Field since 1916. Ivy covered brick wall in the outfield, the manual scoreboard, the bleachers, and of course the red marquee out front that welcomes you to the Friendly Confines. All of these things help make Wrigley such an iconic ballpark, and are a key part of the history of the baseball team on the North Side of Chicago. I personally...
Yes, a Zubaz pants giveaway is in store for Chicago Cubs fans. It's an ugly, but pretty exciting move, if we say so ourselves.
Chicago's Edwin Jackson got off to a slow start on Friday night against the Houston Astros. When he settled down, he was almost unhittable. Jackson struck out nine as the Cubs and Astros played to a 6-6 tie in 10 innings in an exhibition game. Jackson plunked leadoff hitter Jose Altuve before walking Brett Wallace. Chris Carter then doubled in a pair with one out before Jackson...
You walk through the turnstile and concourse until you see the ballpark itself. The grass is the lush green that reminds one of spring and, more importantly, baseball.   You take your seat down the third base line and watch as the players go through their pre-game rituals: stretching, running, playing catch.   You take a moment to check the flags to see which way the wind is blowing...
Ozzie Timmons smacked a two-out game-winning walk-off HR in the bottom of the 9th to give the Cubs the victory in the last game played at HoHoKam Park before the stadium was to be demolished...  Tags: Cubs Spring Training RecapCarlos VillanuevaHisanori TakahashiAlfonso SorianoArismendy AlcantaraBrett JacksonRead more about Where Have You Gone, Ozzie Timmons?
MARINERS 6, CUBS 4 MESA, Ariz. (AP) -- One last time at HoHoKam Stadium, "Take Me Out to the Ball Game" during the seventh inning was changed to include the lyric, "If the Cubs don't win it's a shame." Thursday's game marked the end of a 17-year stay by the Chicago Cubs at HoHoKam as their spring training home. The club moves into a new facility...
NL Central At A Glance Chicago Cubs: If you think it can't get worse than where the Mets were – take a look at the Cubs. However, they are getting to a point of respectability. Jeff Samardzija went from that guy who played tight end for Notre Dame to a potential ace. He has some serious talent, but is he an ace for a good team or does he just happened to be the best pitcher on...
Cubs News

Delivered to your inbox

You'll also receive Yardbarker's daily Top 10, featuring the best sports stories from around the web. Customize your newsletter to get articles on your favorite sports and teams. And the best part? It's free!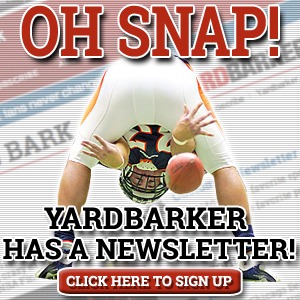 Latest Rumors
Best of Yardbarker

Today's Best Stuff

For Bloggers

Join the Yardbarker Network for more promotion, traffic, and money.

Company Info

Help

What is Yardbarker?

Yardbarker is the largest network of sports blogs and pro athlete blogs on the web. This site is the hub of the Yardbarker Network, where our editors and algorithms curate the best sports content from our network and beyond.