Found November 04, 2012 on Waiting For Next Year:
While We're Waiting serves as the early morning gathering of WFNY-esque information for your viewing pleasure. Have something you think we should see? Send it to our tips email at tips@waitingfornextyear.com. Hey, don't hate on the Gator Bowl. "In a normal season, OSU would be celebrating being undefeated this deep into a year.  In a normal season, OSU would be licking its collective chops over needing just a win over Wisconsin next weekend to clinch one of the two spots in the Big Ten Championship game.  In a normal season, OSU would be celebrating Notre Dame stubbing its toe and calculating how that would impact a push upward in the next set of BcS rankings. Thanks to the aforementioned arrogance, this is not a normal season.  Instead, and aside from the wins, development and shot at a trophy for winning their division, it's a hollow one. That's it, given what could've been.  No Big Ten title or BcS bowl or even a long-shot at BcS crystal. Take a bow, Gene Smith.  Buy another bow tie and celebrate, E. Gordon Gee.  The best the B1G has to offer in 2012 will be on the sidelines thanks to the collective egos involved in last summer's inexplicable decision." [John Taylor/College Football Talk] - Ah, what might have been. " Grady Sizemore and former Cavaliers big man Brad Daugherty both made their pro debuts at the age of 21 and played their final games (at least for now in Sizemore's case) at 28. That's eight seasons a piece in a Cleveland uniform—following remarkably similar career trajectories that carried the eventual fates of their respective franchises right along with them. Of course, it wasn't Father Time, or "diminishing skills," or any easily identifiable on-field tragedy that pushed these popular stars out of the limelight. It was the slow, gradual betrayal of their own bodies—the same muscle and bone that they'd each spent their lives crafting into machines of their trade. Once the pictures of durability, Sizemore and Daugherty wound up as Cleveland's unlikely poster children for how fleeting athletic success can be—and how damaging the loss of a central star can prove for a team." [Andrew Clayman/The Cleveland Fan] - Wanna see Kevin Durant break Sasha Pavlovic's ankles? Sure ya do. [Pro Basketball Talk] - I like Trent Richardson. He's good. "This performance came only a few days after speculation led people to wonder if Richardson's rib injury (sustained against the Bengals on Oct. 14) would force the Browns to shut him down through the Week 10 bye. While he continues to deal with the lingering effects of the injury, he showed he was still capable of dominating one of the league's top rush defenses. Before Sunday's performance, there was somewhat of a nervous anticipation regarding Richardson. It's not that nobody thought he could do it — there have certainly been glimpses of his immense talent this season — but most people were simply waiting to actually see it. After all, the Browns still rank near the bottom of the league in rushing yards per game — 29th to be exact. That, of course, is also an indictment of constantly playing from behind, but Richardson's presence was supposed to move the Browns away from the usual rushing offense basement dwellers. After getting more than 20 carries for the first time this season, it would appear that Richardson will actually be able to do that. As the Browns' offense continues to improve, so too will Richardson's ability to exceed those expecations." [Steve Dimatteo/Pro Football Weekly] - I will say that this year's Browns offense actually looks like a real, honest-to-god, NFL offense. Kinda neat. "For such a long time, the Cleveland Browns never quite knew who their quarterback was. That has been only half the problem in one of the league's traditionally weak passing games. The other half has been chronic uncertainty about who the quarterback is supposed to throw to. Change is in the air as the Browns get ready to try to throw Baltimore for a loop. • Passing philosophy: One thing Mike Holmgren promised would change when he took over as president was a step out of the stone ages. Progress has been made. The Browns trailed opponents in passing yards 4,149-2,255 in 2009 and 3,709-3,203 in 2010. Mostly behind Colt McCoy in 2011, they actually led their foes in passing yards 3,300-3,158." [Steve Doerschuk/Canton Rep]
Original Story:
http://www.waitingfornextyear.com/201...
THE BACKYARD
BEST OF MAXIM
RELATED ARTICLES
There's just no doubting how great Phil Dawson is at this point, and Peter King has his ticket for the bandwagon. Twenty-three straight field goals, 21 of them this year, and his consecutive kicks of 32, 28, 29, 33 and 41 in a 32-minute span between the second and fourth quarters gave the Browns a 15-14 lead late against Baltimore. Dawson's an unsung player, in part because...
Who caught your eye? Did someone stand out? Who blew it? That's what were interested in this morning. Winners and losers. The Browns kicked five field goals after falling behind 14-0. Unfortunately, they couldn't hold that lead. This morning we start picking it apart. LOSER: Communication. Unreal. Get your stuff together. The Browns continue to waste timeouts and opportunities...
15 Years ago, the dilapidated Cleveland Stadium -- former home of the Browns and Indians -- was demolished. Though Cleveland was without a football team for a bit, it's since been replaced by Progressive Field and Cleveland Browns Stadium -- shiny new-age facilities featuring all the amenities you'd expect. After the demolition, pieces of the stadium were...
CLEVELAND (AP) -- The Browns' defense got a whole lot bigger, and a whole lot healthier. Massive tackle Phil Taylor was activated Friday from the physically-unable-to-perform list and will play Sunday against Baltimore. It will be Taylor's season debut after missing Cleveland's first eight games after undergoing surgery on a torn chest muscle he hurt lifting weights...
It isn't Hard Knocks, but it appears the Browns are going to be the stars of a television series- "The National Football League will announce a deal with the network to provide unprecedented access to one of its teams as it travels to away games. NFL Road Tested: The Cleveland Browns will premiere Dec. 4 at 10 p.m. and follow the Browns as it prepares to play in New York, Baltimore...
Might we be able to go streaking? A win against the Ravens today would give the Browns an honest-to-God win streak AND they'll have won two-in-a-row within the division. While I'm not super duper confident heading into this game, there is some reason for optimism. The Browns played the Ravens fairly well in Baltimore (without Joe Haden), Phil Taylor is making his season debut...
With time to reflect, Browns coach Pat Shurmur says he would change some play calls and reconsider other decisions he made in the fourth quarter of Sunday's loss to Baltimore. The Browns were beaten 25-15 by the Ravens, who put the game away in the final four minutes after stopping Cleveland on a fourth-and-2 play. Instead of punting from his own 28, Shurmur, who still had two...
Blake Wood missed the entire 2012 season while recovering from Tommy John surgery.  He underwent the surgery in May and will likely not be available to pitch again until the middle of the 2013 season.  But that did not deter the Cleveland Indians.  They picked Wood up after the Kansas City Royals waived him.  Yet, that wasn't the only player with elbow issues to be impacted...
Serving as a mid-season review that couples in ensuring he maintains his relevance throughout the regular season, ESPN draftnik Mel Kiper Jr has unveiled who he feels each team would select tomorrow if given the chance. Coupling this with the Cleveland Browns most recent loss, a ten-point beating at the hands of the Baltimore Ravens, the position of "need" labeled byKiper may...
The Toronto Blue Jays traded shortstop Mike Aviles to the Cleveland Indians with infielder Yan Gomes in exchange for right-hander Esmil Rogers, reports Shi Davidi of Sportsnet. Well that didn't last long. Mike Aviles era is over traded by #Jays to Indians with Yan Games for RHP Esmil Rogers. — Shi Davidi (@ShiDavidi) November 3, 2012 Aviles spent the 2012...
Head coach Pat Shurmur demands better execution in short yardage.
Not in a long time can I remember this much talk between teams heading into a game as there has been leading up to this Sunday's match-up between the Browns and Ravens. Trent Richardson is going to exchange jerseys with Ray Rice. The Browns think they're a different team than the one that lost on Thursday night. Trent Richardson is the hardest player to tackle in the league according...
All Sports News

Delivered to your inbox

You'll also receive Yardbarker's daily Top 10, featuring the best sports stories from around the web. Customize your newsletter to get articles on your favorite sports and teams. And the best part? It's free!
THE HOT 10: Who's Trending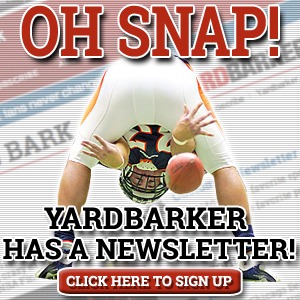 Latest Rumors
Best of Yardbarker

Today's Best Stuff

For Bloggers

Join the Yardbarker Network for more promotion, traffic, and money.

Company Info

Help

What is Yardbarker?

Yardbarker is the largest network of sports blogs and pro athlete blogs on the web. This site is the hub of the Yardbarker Network, where our editors and algorithms curate the best sports content from our network and beyond.