Found June 16, 2012 on Waiting For Next Year:
While We're Waiting serves as the early morning gathering of WFNY-esque information for your viewing pleasure. Have something you think we should see? Send it to our tips email at tips@waitingfornextyear.com.
I agree with a lot of this. "And you know what? This all makes me a bit aggravated. I'll definitely be writing a different post on the matter later next week, but I don't want to beat around the bush — I have Cleveland roots, and I have absolutely seethed with distaste for LeBron James for the last two years. I can't stand the stupid "get over it" crowd, those who are quick to whine that Cavs fans are too judgmental and mean to LeBron. Absolutely can't stand them. But at this point, I find that I ALSO can't stand completely baseless criticisms of one of the greatest talents in the history of the league. I can't stand the fact that fans and the media have decided to completely ignore fatigue as a real factor, and I can't stand that LeBron is being held to a standard that nobody else has ever been held to in the history of the sport. This overarching conversation has had an effect on me that I never, ever expected would happen. It's made a lifetime advocate of the Cleveland Cavaliers — a person who (still) can't really stand LeBron James and probably never will — actually a bit sympathetic to the plight of a millionaire who soullessly ripped out the hearts of his fellow fans on national television. That's ridiculous. The narrative has officially divorced from reality entirely. [Aaron McGuire/Gothic Ginobili]
I thoroughly enjoyed this piece, Harvey Pekar's Cleveland, and Ours: "I've never had one of those good days. My mother—b. 1950—only had one, and it wasn't in her favorite sport, and it wasn't a Super Bowl; it was almost 50 years ago, and that got kind of ugly, too, eventually. Odd as it may seem to say when you helped make a play about the tremendous and infantilizing power of Cleveland sports, but when I was a kid I was more or less indifferent to it all. My mother played News Radio 1100—then all sports, now all Limbaugh—while I read comics and Dragonlance in the backseat. The voices on the radio were so loud and so certain, what they declaimed and yelped and whined about so clichéd. It drove me crazy, and I tuned it out.
Of course, being indifferent to Cleveland sports isn't quite like being indifferent to sports in other places, and it certainly doesn't mean complete ignorance, blissful or non-. I saw more than one Bulls-Cavaliers playoff game at the Richfield Coliseum, I remember where and when I saw Earnest Byner fumble, I inexplicably loved Ben Poquette. I was not as committed as some, or as I would later be, but in Cleveland sports are like the lake: always there, even if you're not really paying attention.
I was re-rabidified as an adult, mostly because Cleveland sports are the language of Cleveland bars, and for a while I made my living tending Cleveland bars. When I moved away from Cleveland and bartending, it only got worse. And though I'll be buying tickets to the NBA Draft this week, and am likely to be in Las Vegas for NBA Summer League, I'm still ambivalent about the decision to re-immerse in and recommit to these teams. It has been a consistently brutalizing experience, after all, but I do it anyway. Today, I find all that old, loud certainty reassuring; I subject my kids to sports talk radio while they read comics in the back seat." [Scott Henkle/The Classical]
-
Top Five Places to Watch a Game at Progressive Field:
4. The Bleachers/Home Run Porch
There is not one spot in the park that could be compared to the left field viewing area. I couldn't say the view of the field is the best but it has a certain charisma to it. There is just something special about watching a baseball game in the bleachers. The fans are enthusiastic and the tickets themselves are very affordable. It always feels like a party when you are in the bleachers and the host is John Adams ("The Drummer"). [ Jason Kaminski/Did the Tribe Win Last Night]
-
I want my eyes to tell me the same thing. "Yes, the refs suck both ways — I don't subscribe to popular NBA conspiracy theories — but it's absolutely fair to note that two Heat wins so far in these playoffs have resulted directly from end-of-game officiating so inept that even ESPN, the Heat's loving pimp, has been unable to spin it away.
At the end of the day — and I do hope that at the end of the day, I live long enough to experience the death of the phrase "at the end of the day" — these Finals already seem special. I'm loathe to admit the obvious — that LeBron is no longer a crunch-time cipher — and eager to believe my eyes when they tell me that the Thunder are a superior team in almost every way. Watching this series unfold will be thrilling, especially when Chris Bosh finally molts." [Scott Raab/Esquire]
-
Every time I turn around, Ohio State is constructing new buildings. "Good things come to those who wait. For the past six years, that tired refrain has been David Egelhoff's reassuring grace.
Egelhoff is a man behind the curtain of Ohio State basketball. A former student manager for OSU, he's now in his sixth season as Director of Basketball Operations under Head Coach Thad Matta. Egelhoff is responsible for anything from coordinating practices to the tedious negotiations of scheduling; and if curing cancer were in the job description, he'd be doing that too.
In 2006, he sat down with Matta to embark on what seemingly has been his biggest challenge: sketching out a vision to build a dedicated practice facility for the basketball program." [Kyle Lamb/Eleven Warriors]
-
Jim Brown's relationship with the post-1999 Browns has always seemed a bit 'off' too me. "The Cold War between the two parties has gone on long enough. The Browns need Jim Brown and Jim Brown needs the Browns. He's by far the biggest name in Cleveland Browns history, and is in many ways the face of the Browns.
Brown shouldn't spend these later years of his life being estranged from his beloved team, and the Browns shouldn't have their outspoken icon criticizing them at every turn.
It shouldn't be this way, and it's got to stop." [Mary Kay Cabot/Cleveland Plain Dealer].
Original Story:
http://www.waitingfornextyear.com/201...
THE BACKYARD
BEST OF MAXIM
RELATED ARTICLES
The actual Plain Dealer headline to a Mary Kay Cabot piece on yesterday's Mike Holmgren press conference reads as follows: Browns' Mike Holmgren on HOF running back Jim Brown: "I'd welcome him with open arms" Seemingly big news given the depth of the rift that's grown between the Browns organization and the legendary running back since Holmgren assumed duties as Team...
The thing about the NFL is that if the stars are aligned properly a team can come out of nowhere to get to the Super Bowl. But, I will explain why Warren Sapp is way off base as usual after you hear what he has to say about the Cleveland Browns. Sapp said the Browns are putting the pieces together to make a Super Bowl push. "They have a quarterback now, they have a running...
Seneca Wallace is currently the Browns' 3rd string quarterback and when asked about staying the 3rd string quarterback, Seneca Wallace said today, in an interview with the Cleveland Plain Dealer, that he might request a trade if that continues to be the case. Wallace will almost definitely be the Browns' #3 quarterback unless the Browns lower their asking price on Colt McCoy...
Looks like both Bradley Beal and Harrison Barnes performed well for the Cavaliers today.  Jeff Goodman, of CBS Sports, tweets: From Joe Kotoch at ProBasketballDraft.com: Cleveland is seriously considering Kidd-Gilchrist, Brad Beal, Harrison Barnes, Andre Drummond, and Austin Rivers.  Rivers has been a name that is rising on the Cavs board with his creative scoring ability and...
After drafting quarterback Brandon Weeden out of Oklahoma State in the first round of April's draft, it appears the Cleveland Browns are willing to deal previous starter Colt McCoy relatively cheap. It's not so much that the Browns aren't sensitive to the fact that McCoy has already endured a difficult situation in Cleveland, but rather that they're looking to start Weeden...
Chuck Booms holding a birthday cake for Mike Holmgren? Who saw that coming? (Photo Chris Allen / 92.3 the Fan) Up is down. Black is white. Dry is wet. Most importantly screaming is quiet. That's what happened this morning when Mike Holmgren visited Kiley and Booms at 92.3 the Fan this morning for an interview. You know Booms as the screaming lunatic that has accused Mike Holmgren...
Admit it, you have seen a few Tweets from @AdarnSchefter or @rnortreport and thought they were the real deal. The font on Twitter can be deceiving at times. Cleveland Browns quarterback Colt McCoy was announced to have been traded yesterday by a fake ESPN Twitter account, and it duped his younger brother, Case. This led [...]
WAIT...WHAT?
NFL analyst Warren Sapp said that the Cleveland Browns are finally putting the pieces in place to make a legitimate run at the Super Bowl.
With Brandon Weeden impressing in offseason practices, speculation has picked up once again about the Browns possibly trading Colt McCoy. The Browns tried to move McCoy on draft day, after using a 1st round pick on Brandon Weeden, but could not find a suitor. According to ESPN Cleveland's Tony Grossi, the Browns are not only interested in moving McCoy, but won't ask much in return...
Josh Cribbs of the Cleveland Browns dropped 10 thousand dollars to get a flash mob of Kent State students to Omaha for the College World Series. He got an interview from the easy on the eyes ESPN reporter Jenn Brown. Cribbs is known for his kick off return skills and happens to be a Kent State alumnus. Kent State is taking on the Arkansas Razorbacks in Omaha. Notice most of the...
All Sports News

Delivered to your inbox

You'll also receive Yardbarker's daily Top 10, featuring the best sports stories from around the web. Customize your newsletter to get articles on your favorite sports and teams. And the best part? It's free!
THE HOT 10: Who's Trending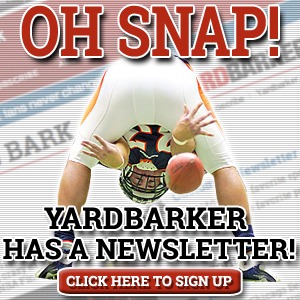 Latest Rumors
The Backyard

Today's Best Stuff

For Bloggers

Join the Yardbarker Network for more promotion, traffic, and money.

Company Info

Help

What is Yardbarker?

Yardbarker is the largest network of sports blogs and pro athlete blogs on the web. This site is the hub of the Yardbarker Network, where our editors and algorithms curate the best sports content from our network and beyond.