Found October 25, 2011 on Fox Sports:
The uproar after Sunday's race has been focused on Trevor Bayne, in his Ford, hanging Jeff Gordon, in his Chevrolet, out to dry late in the race. After spending two days in the garage area leading up to Sunday's race, it became really clear to me the message was: The Fords were not to help another manufacturer in the race. It was even taken a step further: The Ford drivers were not to help a member of another manufacturer that was in NASCAR's Chase for the Sprint Cup. Do I blame team owner Jack Roush and the Ford camp for that? I absolutely do not, because, let's face it, it is crunch time. The championship is on the line. We are down to the final hours of the 2011 season. There are only four races left. So I totally support Roush mandating this. I truly, truly do. What had me scratching my head were the negotiations that went on between Bayne and Gordon prior to that last restart in the race. I just knew listening to it that it wasn't going to work because of the Ford mandate. So my point is, if Bayne really did agree to help Gordon and then hung him out to dry, well, that is totally wrong. Knowing the champion and veteran racer he is, if Gordon asked Bayne for help and Bayne said he couldn't, Gordon could have accepted that. He really would have. Do not tell the man you will help him and then hang him out to dry like that if that indeed is what happened. With these next four tracks, the drafting component becomes much less of a factor; and at Martinsville this week, no factor. So team orders should be a non-factor the rest of the way. Now there are things teammates can do at these last four stops to help each other. Can you let a teammate lead a lap for the Chase points? Sure. Can you maybe help a Chase teammate on pit road if the situation arose? Sure. * * * I really enjoyed the end of Sunday's race. Jeff Burton and Clint Bowyer raced all day long. Unlike others, they didn't fall to the back and hang out there until the end. They raced to win. So I just thought it was appropriate that it came down to them when the checkered flag waved. I am not going to sit here and tell you Hendrick Motorsports' strategy of staying back until the end was wrong. It's worked for them in the past, and most recently this spring at Talladega, where Jimmie Johnson won the race. I mean, let's face it, they also had three drivers in the top five of that finish and four in the top eight. With all that said, it simply wasn't the right strategy Sunday. The facts are unfortunately very clear. Jimmie Johnson's finish of 26th, coupled with his 34th-place finish at Charlotte, has all but put the final nail in the coffin of his dream of a sixth straight championship. I think you saw Dale Earnhardt Jr. do what was asked of him because he is a team player, but I just think he absolutely hates the lagging back strategy. He's just like his dad -- he wants to be leading the pack around. I mean, c'mon, we didn't give him the nickname the "Pied Piper" just because. He earned that nickname race after race at Talladega being up front and pulling the field around. So I just suspect you will see a new type of strategy especially for him when we go restrictor plate racing next year. I think Carl Edwards received a huge gift on Sunday. He used the same strategy and came home 11th. With Matt Kenseth losing his dance partner there at the end, plus Kevin Harvick and Kyle Busch having problems, he put distance between himself and the others. Actually, he eliminated a lot of contenders for the championship. He has to be thrilled that he got out of there with an 11th-place finish and boiled this down to basically a five-car field for the championship, with four races to go.
Original Story:
http://msn.foxsports.com/nascar/story...
THE BACKYARD
BEST OF MAXIM
RELATED ARTICLES
NASCAR team owner Jack Roush disputes a ''Ford only'' edict existed at Talladega Superspeedway, even though there's plenty of evidence to suggest otherwise. ''At Roush Fenway Racing we expect our individual drivers to make decisions that put themselves in the best position to win each and every race,'' Roush said in response to mounting criticism...
Almost everyone involved admits it looked kind of odd. With a few laps to go in the Good Sam Club 500, Trevor Bayne looked like he was all lined up to draft with Jeff Gordon on a restart in the restrictor plate race on Sunday. As the green flag was waved, though, Bayne moved over to run with fellow Ford driver Matt Kenseth. Gordon, who was in contention to win the race, was forced...
NASCAR team owner Jack Roush disputes a ``Ford only'' edict existed at Talladega Superspeedway, even though there's plenty of evidence to suggest otherwise.
In Formula One racing, team orders are commonplace. It's an accepted practice for a racing organization to have an alpha driver and a beta driver. And the latter is expected to help the former do whatever it takes to win a race and/or a championship. Fundamentally, I have no problem with the concept of team orders whatsoever. Any success showered on a company benefits everyone...
Heart or head. Dreams or reality. Pleasure or business. When you've got to choose between them with a moment's notice, you may end up in the right place without much liking how you got there. Such was the dilemma of Trevor Bayne at Talladega. The Bayne/Jeff Gordon "team orders" story isn't going away, and it's not going away because some of the key players...
With the NASCAR community talking about Trevor Bayne and talk of "team orders" or "strong arming" did we forget there still were some teams doing some actual cheating on the track? Michael Waltrip Racing got hit hard with a penalty due to unapproved modifications to the windshields of the #00 of David Reutimann, #56 of Martin Truex and affiliated #47 car of Bobby Labonte...
Trevor Bayne should have drafted with Jeff Gordon at Talladega and not bailed on him in favor of Ford teammate Matt Kenseth...
Trevor Bayne took a lot of heat for dumping Jeff Gordon late at Talladega...
Jeff Gordon, Tony Stewart feels your pain. Stewart said at a fan question and answer session on Tuesday at the NASCAR Hall of Fame that Paul Menard was instructed not to push him to the win after the final restart of Sunday's race at Talladega. From SB Nation: "Somebody heard (Menard) change to a different channel and heard that conversation in the trailer on a scanner...
All Sports News

Delivered to your inbox

You'll also receive Yardbarker's daily Top 10, featuring the best sports stories from around the web. Customize your newsletter to get articles on your favorite sports and teams. And the best part? It's free!
THE HOT 10: Who's Trending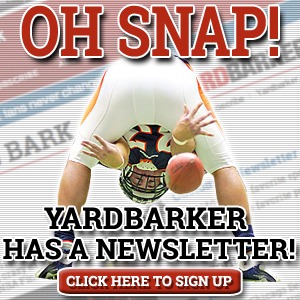 Latest Rumors
The Backyard

Today's Best Stuff

For Bloggers

Join the Yardbarker Network for more promotion, traffic, and money.

Company Info

Help

What is Yardbarker?

Yardbarker is the largest network of sports blogs and pro athlete blogs on the web. This site is the hub of the Yardbarker Network, where our editors and algorithms curate the best sports content from our network and beyond.