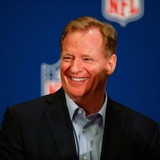 NFL commissioner Roger Goodell will join broadcaster Al Michaels to speak at the annual Los Angeles Rams All-Access event at the Coliseum in June.This gives fans an opportunity to take photos with and chat up current and former members of the Rams. It's also going to cost a pretty penny.According to the Los Angeles Times, single tickets for the event cost $550.00. A table of 10...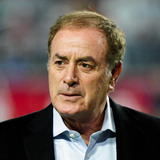 If you were tuned in last Thursday night when the Dallas Cowboys eked out a win over the Minnesota Vikings, then you likely heard Al Michaels tout Tony Romo as a potential star NFL broadcast analyst. In a phone interview with SportsDay on Tuesday, Michaels doubled down on that notion. While Peyton Manning is viewed as the hottest commodity on the market when it comes to ex-NFL...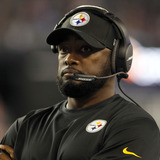 How much more convenient can you get? The same week a report comes out rehashing all the alleged cheating by the Patriots over the years, there is some funny business going on at Gillette Stadium during the season-opening game on Thursday. NBC's Al Michaels and Cris Collinsworth shared on the telecast that the Steelers were having communication problems on their coach-to...
One of my favorite Super Bowl traditions are the wacky Super Bowl prop bets.  This year is no different.  The folks at Bovada have done an awesome job putting forward such bets as Russell Wilson's passing yards versus the national gas price average, how many times "deflated balls" will be said (I'd take the over 3), and even how many viewers the game will have (again,...
The transitions between anchors are sometimes the best moments of the Olympic coverage.  On NBCSN as early morning host Rebecca Lowe passed the baton to Al Michaels, the voice of Sunday Night Football dropped one of his patented gambling references that are the stuff of internet legend.  Michaels bet Lowe "even up, 15 pence" on an American curling victory against Great Britain...
If you asked me to list every prominent sports figure in order of most to least likely to get a DUI, Al Michaels would be at the very bottom. Check that — Michaels wouldn't even make the list. Sure, Al keeps a keen eye on the point spread and enjoys playing the stock market, but this guy is as wholesome and American as it gets. Michaels has that great, fatherly figure persona...
Police in Southern California say that NBC Sports announcer Al Michaels has been arrested on suspicion of drunken driving. Santa Monica police Sgt. Thomas McLaughlin says Michaels was taken into custody Friday night. McLaughlin could provide no additional details. Greg Hughes, a spokesman for NBC Sports, says the company ''is aware of the situation'' and has been in contact with...
TISK TISK
Discouraging news in the wee hours of Sunday morning as one of the top announcers in this or any era was reportedly arrested in Santa Monica on suspicion of DUI Friday night.  TMZ broke the story that NBC's Al Michaels failed a field sobriety test after being pulled over and was placed under arrest... "Al Michaels -- perhaps the most well-known sportscaster in the world -- was...
Al Michaels — the legendary sports announcer most famous for his call of the "Miracle on Ice" hockey game at the 1980 Olympics — was arrested Friday for suspicion of DUI, reports TMZ. Law enforcement officers told TMZ the 68-year-old Michaels went through a a DUI checkpoint in Santa Monica at approximately 10 p.m. on Friday.  The officers detected the odor of alcohol while...
Al Michaels and Howard Stern discussed the extremely delicate Penn State situation on Monday's show. In true Stern fashion, he does not tiptoe around the outrage and disgust he feels about those who were allegedly responsible and covered up the unfathomable scandal that has rocked sports in the last week. The majority of Stern's venom is directed at Mike McQueary, the...
MORE STORIES >>
All Sports News

Delivered to your inbox

You'll also receive Yardbarker's daily Top 10, featuring the best sports stories from around the web. Customize your newsletter to get articles on your favorite sports and teams. And the best part? It's free!
THE HOT 10: Who's Trending