from Michael Russo of Russo's Rants, "All I can tell you is my full attention is on that guy right there," Yeo said, pointing to veteran Niklas Backstrom on the ice during Wednesday's informal practice. "He's the one who is here, he's the one who put in the work. "You make plans over the summer. I mean, my staff, we've been making plans on who's practicing...
On my way home from classes this morning, I was listening to Paul Allen and Michael Russo on the Nine to Noon show on KFAN for some preseason Minnesota Wild talk. Right now it looks as if Parise is playing with Granlund and Pominville, which puts Vanek down with Koivu and Coyle.Now I know that many of us Wild rubes wanted to see Vanek with Pommer and Granny, however, according to...
In case you missed it, the Rangers blog-o-sphere picked up a story from Michael Russo of the Star Tribune saying the Rangers had been speaking to Ryan Malone. Usually this is something we would post here, but the problem is that the article is from August 21, one day after the Rangers landed Kevin Hayes. […] The post Quickly addressing these Ryan Malone rumors appeared first on Blue Seat Blogs.
from Michael Russo of Russo's Rants, Fletcher has also spent the month dialing up some veterans to check in. Two include the goalies, Niklas Backstrom and Josh Harding. Backstrom had season-ending abdominal surgery and hip surgery last season and Harding didn't play in 2014 due to complications with multiple sclerosis. Fletcher has talked with both the past two weeks...
from Michael Russo of Russo's Rants, The Wild still needs a physical defenseman to replace Clayton Stoner, who hit the mother lode today with a four-year deal worth, wait for it, $3.25 million annually. The wanted Willie Mitchell, but the Florida Panthers wooed the ex-Wild and two-time Cup champ with crazy money $4.25 million a year for two years. Then take into consideration...
In a fascinating and in-depth profile of Minnesota Wild center Zenon Konopka, Star Tribune hockey writer Michael Russo reveals how the bruised-and-battered enforcer has flipped the script when it comes to not only so-called goons, but hockey players in general. Konopka, 32, isn't a beer-swilling miscreant that many would expect him to be, given that […]The post Minnesota Wild...
Russo, Holt, Burke & Minnaert Debut on SaturdayFOX Sports North today announced the addition of four new faces, all will make their debut on the regional sports network this Saturday, January 19 as part of Hockey Day Minnesota 2013. Michael Russo, Tori Holt, Brendan Burke and Sophia Minnaert will join the broadcast team.Michael Russo @russostrib-- Russo will serve as an NHL...
Happy new year folks from everyone at SILVERMAN: On Sports! Fun show tonight previewing and talking about the BCS Championship Game in South Florida. As much I wanted a tie (I know, I know it isn't possible) I knew that Notre Dame would be routed! Thanks to Bob Wieneke of the South Bend Tribune and Jeff Speegle of ABC in Birmingham for checking in with us from Sun Life Stadium...
The Wild's GM feels like his young players form a strong group, but there's that pressure to make the playoffs.
Join Michael Russo at noon Thursday for a Live Chat about the Wild, the NHL and all things pro hockey.
MORE STORIES >>
All Sports News

Delivered to your inbox

You'll also receive Yardbarker's daily Top 10, featuring the best sports stories from around the web. Customize your newsletter to get articles on your favorite sports and teams. And the best part? It's free!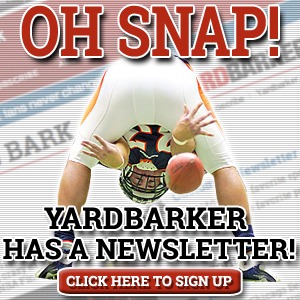 THE HOT 10: Who's Trending