Peter Gammons appeared on the MLB Network program High Heat with Christopher Russo, and the legendary sportswriter wasn't about to lay down for Russo and take his crap. Gammons was very combative towards Russo during the seven minute segment, burying nearly every Russo point and getting in several snarky replies. The best part had to be Gammons telling the clearly animated Russo...
My latest Chicago Tribune column is on Peter Gammons anticipating a much different Hall of Fame weekend than what he encountered last year. You also can access the column via my Twitter feed at @ShermanReport. From the column: ******** Peter Gammons was on the road Thursday, making one of his favorite drives: His annual trek from his home in New England to Cooperstown, N.Y., for...
You know, Peter Gammons commenting about hockey is like me commenting about women's fashion. It's just absolutely not his spectrum. He has no validity. He has no credibility. If the guy were at the rink all the time, maybe we'd consider his opinion. That was one of the comments famed NESN Bruins play by play announcer, and possible insane person, Jack Edwards had for Peter...
Hockey commentator Jack Edwards called out Peter Gammons following a tweet the baseball writer made in reference to the NHL.
Just a very bad choice of words and analogy from Peter Gammons. I understand what he was trying to say, but you just can't describe it in that way. He went on the Mike Lupica show and while trying to explain what is going on with A-Rod he said this. I have a lot of respect for Gammons and I am sure in hindsight he wished he would have worded his thoughts a little differently...
In the previous four free agent off-seasons, 8 players changed teams for contracts greater than $100M. None have a ring — Peter Gammons (@pgammo) November 18, 2013 Here, let me make that a little bit bigger. In the previous four free agent off-seasons, 8 players changed teams for contracts greater than $100M. None have a ring Got it? Good. Because there's a movement among some...
I want to preface this article by saying that I have an immense amount of respect for everything that Peter Gammons has done for the game of baseball throughout his career as a journalist. He's a pioneer and a legend in the industry, and I think that his new venture, Gammons Daily, has potential to be a must-read. But honestly, I have no idea why Gammons Daily is running...
It was a sad Monday for all of Red Sox Nation, as word spread that Johnny Pesky had passed away. Involved with the team for parts of eight different decades, Pesky filled numerous roles in the organization, from player to coach, to manager, to broadcaster, to ambassador for the Red Sox and all of baseball. His number may reside in right field forever retired, and the right field...
MORE STORIES >>
All Sports News

Delivered to your inbox

You'll also receive Yardbarker's daily Top 10, featuring the best sports stories from around the web. Customize your newsletter to get articles on your favorite sports and teams. And the best part? It's free!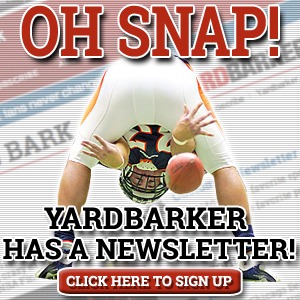 THE HOT 10: Who's Trending