ROYAL FLUSH
If I'm gonna do this I need my cigar T.. We all know Michael Jordan loves to get his gamble on, and during this tumultuous period in NBA History, MJ's love for cards hasn't waned a bit…MJ usually plays extreme high stakes, so my guess is based on his stack, this is just a friendly game…His stack does look nice though… Thanks to Viraltoob for the heads up. -TO Michael...
IF WE ONLY HAD A KICKER
For fans of Boise State's football team, the Broncos had a chance to crash the National Championship party in back to back seasons but sadly came up short because of terrible late game field goal kicking. Recently, Boise State fan Steve Cash decided to let his singing do the talking in this song about Boise State getting a competent kicker in the future:
DO YOU BELIEVE IN MIRACLES?
When a football team is holding on to a lead late in the fourth quarter and they have the chance to run the clock out, the smart thing to do is run out the clock instead of trying to put more points on the scoreboard. Unfortunately for one high school football team, they had to learn this the hard way and the worst thing is–it happened during the state playoffs. The video above...
STICK TO LINGERIE
If you thought Old Navy forgetting an apostrophe in a "Let's Go Blue!" Michigan... [[ This is a content summary only. Visit my website for full links, other content, and more! ]]
SLEIGH YOUR FOES
Chris Weidman has been doing pretty well in his UFC and MMA career so far. He's beaten Alessio Sakara and Jesse Bongfeldt, and has compiled a 6-0 MMA record. Weidman felt that he needed a little extra for his fight against Tom Lawlor this Saturday, so he went to Santa Claus to ask for a win. The big man was a little confused at first about what the UFC was, but he figured it...
TALKIN' FOOTBALL
In the Week 11 NFL Rant Face-off Preview, Lauren Strec and Dan Parzych debate whether or not Matt Leinart still makes the Houston Texans a threat and which playoff content faces the most pressure in Week 11.
FREAKSHOW POOL PARTY
ARod is at it again this week at his Miami mansion where we now have meathead chicks doing handstands and cartwheels for Centaur. Paparazzi photographers hit the motherlode yesterday when ARod's dream came true. A couple ladies were just running around like maniacs and the Yankees slugger couldn't take his eyes off the ripped thighs. You might remember that earlier this week...
ONE MOMENT IN TIME
After last night's improbable victory, Tebow looks like they will continue to rise in the NFL.com Power Rankings. Right now, there's nothing save for a Mayan apocalypse that can stop Tebow now... except for maybe a team that has a better quarterback than Mark Sanchez. Maybe Tebow Time could be brought down a couple notches if there was actually an NBA season to talk about...
SEPARATION ANXIETY
A Nashville Predators fan was unhappy that his view was impeded by Maple Leafs left wing Joffrey Lupul, and he let Lupul know about it. Instead of slapping the glass, as is normal, the fan kicked the glass and as you can tell by Lupul's reaction, he was none too pleased. via The Score Link to original article: Perk of Sitting In the Front Row at a NHL Game, Kicking Opponents...
A BLAST FROM THE PAST
A blast from the past? Most certainly. The Blue Jays have unveiled their new logo for the 2012 season; but I wouldn't say new. Think back to the early 90′s where the Jays had immense talent, a winning culture and of course two world series titles! I think this is a fantastic decision by the organization and hopefully it can translate back into that "bringing home the bacon"...
IT'S AN EPIDEMIC
BLINDED HIM WITH SILENCE
If there's one thing I learned from attending my first PGA golf tournament over the summer, it's that the players don't like to be distracted. By distracted I mean they don't want to hear people talking, see people moving, or hear you take a sip from your beer when they are about to take a [...]
All Sports News

Delivered to your inbox

You'll also receive Yardbarker's daily Top 10, featuring the best sports stories from around the web. Customize your newsletter to get articles on your favorite sports and teams. And the best part? It's free!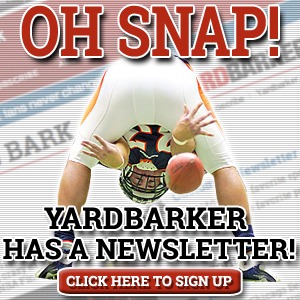 THE HOT 10: Who's Trending
Latest Rumors
Best of Yardbarker

Today's Best Stuff

For Bloggers

Join the Yardbarker Network for more promotion, traffic, and money.

Company Info

Help

What is Yardbarker?

Yardbarker is the largest network of sports blogs and pro athlete blogs on the web. This site is the hub of the Yardbarker Network, where our editors and algorithms curate the best sports content from our network and beyond.